Archive: November, 2011
Mike Armstrong

, Inquirer Columnist

Tengion Inc., one of the most innovative life-sciences companies to call the Philadelphia region home, is in full restructuring mode.

When it is done, the company will have far more presence in North Carolina than in Montgomery County where its corporate headquarters has been located since its founding.

Tengion said it will cut 30 employees, or about 58 percent of its workforce. All research and development functions will be moved to its Winston-Salem, N.C. location.
Mike Armstrong

, Inquirer Columnist

The Parsippany, N.J. company that restarted the Delaware City oil refinery earlier this year wants to become a public company.

PBF Energy Inc. has filed documents with the Securities and Exchange Commission for a possible initial public offering. That registration statement does not list how many shares PBF is looking to sell or their price range.

The privately held PBF's primary financial backers have been the private-equity firms Blackstone Group and First Reserve Corp. since its formation in March 2008.
Mike Armstrong

, Inquirer Columnist

Endo Pharmaceuticals Holdings has halted development of an implant to treat the abnormal growth of hands and feet that caused by the body's overproduction of growth hormone. The Chadds Ford company had been asked by the Food and Drug Administration in February for more animal studies on the implant, Reuters reports.

Worth reading is a Wall Street Journal update on online-only annual shareholder meetings. Nutrisystem is one of the 25 companies nationwide that have held their annual meeting online since December 2009. But, as Joann Lublin reports, the format's not exactly catching on in a big way.

In other local business news, Kenexa acquired Batrus Hollweg, a human resources consulting firm based in Dallas. Kenexa, a Wayne-based tech firm focused on the HR world, did not disclose what it paid, but is picking up an organization that has strong sales into the hospitality sector.
Mike Armstrong

, Inquirer Columnist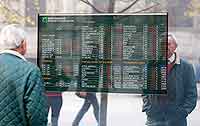 As appropriate as it is to focus on the tea leaves of the U.S. economy, Wednesday's stock market sell-off makes it plain that uncertainty over Europe's debt crisis trumps all.
I've heard experts claim that a European recession won't matter to the U.S. economy, while others say it will drag the U.S. down as well.
I've heard some say a default by Greece would be like the failure of MF Global, not Lehman Bros. -- in other words, not a systemic risk. But what about Italy? Wouldn't that be Lehman-like?
Mike Armstrong

, Inquirer Columnist

The Federal Reserve should not raise its implicit inflation-rate target above 2 percent in an effort to lower the unemployment rate or inflate away bad debts, said Charles I. Plosser, president of the Federal Reserve Bank of Philadelphia.

Plosser made the remarks in a prepared text for a speech to be given at the Union League of Philadelphia Tuesday afternoon.

Known as an inflation hawk, Plosser argued that Fed policymakers in the 1970s failed in their efforts to lower unemployment by allowing inflation to "steadily drift upward."
Mike Armstrong

, Inquirer Columnist

Tyco International Ltd. CEO Edward D. Breen is stepping down from the board of Comcast Corp. after serving 6-plus years.

In a letter filed with the Securities and Exchange Commission, Breen said that Tyco's plans to split into three companies over the next year will keep him too busy to remain on Comcast's board.

"In addition to my day-to-day responsibilities as Tyco's chairman and CEO, I will be devoting significant time and energy over the next 12 months to the selection of new boards of directors and management teams for the three companies and to ensuring their successful luanch as independent public companies," he writes in a letter dated Nov. 3 to Comcast chairman and CEO Brian L. Roberts.
Mike Armstrong

, Inquirer Columnist

Yardley-based MobileMD Inc. has been acquired by Siemens Healthcare, a Malvern-based unit of German conglomerate Siemens AG.

Terms were not disclosed, but the 55-employee provider of cloud-based health information exchange services to hospitals and other health-care providers is expected to continue to operate from its Bucks County location.

MobileMD was spun off by Intraprise Solutions Inc. in 2009. It subsequently raised $4.75 million in capital, according to the MoneyTree Report, released by PricewaterhouseCoopers and the National Venture Capital Association.
Mike Armstrong

, Inquirer Columnist

Shares of Central European Distribution Corp. were down as much as 37 percent Friday after the Mount Laurel-based vodka producer lowered its sales and earnings guidance.

The company cut its projected 2011 sales range to $850 million to $950 million, from $900 million to $1.05 billion. It also slashed the earnings per share range to 25 cents to 45 cents, from 80 cents to $1.

Central European Distribution reported a net loss of $839.9 million, or $11.59 per share, for its third quarter ended Sept. 30. For the same three months of 2010, the company had net income of $99.9 million, or $1.42 per share.