Mike Armstrong, Inquirer Columnist
U.S. Rep. Patrick Meehan (R., Pa.) said Wednesday he believes the two companies planning to exit refining in the Philadelphia area are serious about trying to sell their three refineries, not just shut them down.
To help in that sale process, Meehan organized a meeting at the Marcus Hook Community Center in the small Delaware County community bookended by refineries run by Sunoco Inc. and ConocoPhillips. Citing competitive pressures, both oil giants announced plans this month to sell or close their local refineries, meaning the loss of more than 2,000 jobs.
Meehan and fellow Congressmen Bob Brady and Chaka Fattah, both Democrats who represent Philadelphia districts where Sunoco operates its biggest refinery, were on hand as part of an effort to show prospective buyers that labor, regulators and elected officials are eager to do what it might take to keep a major industry going in the region.
Mike Armstrong, Inquirer Columnist
ConocoPhillips made it official: It wants to sell its refinery in Trainer, Delaware County.
In the meantime, the integrated oil company said it will immediately begin the process of idling the 185,000-barrel-per-day refinery, which will close in six months if no buyer is found.
Spokesman Rich Johnson said the refinery now has 410 employees -- 220 union and 190 salaried. While the refinery will no longer be processing crude oil by the end of the week, all employees will be working through the end of the year, he said.
Mike Armstrong, Inquirer Columnist
As Monday grinds into gear, we await a Senate vote that could avert a federal government shutdown later this week.
The futures markets don't seem to be obsessing about that as trading there indicates a higher open on the stock market. But questions remain about Europe's response to the Greek sovereign debt crisis.
The only economic report due out is new home sales for August. Later this week, we'll get consumer confidence (Tuesday), durable goods (Wednesday), gross domestic product for the 2nd quarter (Thursday) and personal income and personal spending (Friday).
Mike Armstrong, Inquirer Columnist
It may be another rough ride in the markets if widespread losses in European stock markets wash over the Atlantic again.
Once more, the worry is Greece's struggles with its sovereign debt and how badly European banks may be hurt by a possible default.
The European Commission on Friday also said it was extending its review of Teva Pharmaceutical Industries' pending acquisition of Cephalon, the Frazer-based biopharmaceutical company. Bloomberg News reports the new deadline is Oct. 13 and that Teva -- which has North American headquarters in North Wales, Pa. -- had offered "remedies to allay possible competition concerns." No word on what those remedies may be.
Mike Armstrong, Inquirer Columnist
With great fanfare, Boeing Co. toasted Wednesday the recent opening of the renovated factory in Ridley Township where it makes the CH-47 Chinook helicopter.
Actually, the Delaware County factory where Boeing's signature tandem-rotor transport helicopter has been manufactured since the early 1960s never closed.
Production of the latest version of the aircraft for the Army, which began in 2006, hasn't been interrupted during the ongoing construction. Currently, Boeing produces four Chinooks per month for the military.
By 2014, when the $130 million project is slated for completion, Boeing will have transformed a building that originally was built in 1929 by Baldwin Locomotive to manufacture railcars.
Mike Armstrong, Inquirer Columnist
Hope your thumbs are in good shape, because all signs point to a lot of twiddling to be done between now and late November.
The Federal Open Market Committee meets Tuesday and Wednesday to chew over the health of the U.S. economy, its interest rate policy and what, if anything, it should do to support growth. All this talk of a "twist" strategy -- swapping short-term bonds for long -- sounds like deck-chair rearranging.
As for what passes for constructive debate in Washington over taxes and spending, well, it looks from Broad Street like the equivalent of World War I trench warfare. If anyone had high hopes for an elegant solution from the Congressional supercommittee on deficit reduction by Nov. 23, the last week of rhetorical mortar fire has probably dashed them.
Mike Armstrong, Inquirer Columnist
Constar International has moved its corporate headquarters from Philadelphia to Troy, Mich.
In addition, Constar has moved its accounting, legal, human resources, purchasing, and sales and marketing opertions to a new center in Trevose from One Crown Way in Philadelphia -- which is where its former parent company (Crown Holdings) is based.
Crown Holdings spun off Constar in 2002.
Mike Armstrong, Inquirer Columnist
Count Vanguard Group among those unfazed by the whipsawing stock market.
The Malvern-based mutual fund giant certainly noticed the spike in volatility last month when the widely watched Standard & Poor's 500 index moved up or down 2.5 percent every day between Aug. 5 and Aug. 30.
While reluctant to play the cause-and-effect game, Vanguard turned to history for guidance on whether or not the recent market volatility is exceptional. Its researchers conclude the ups and downs are quite ordinary compared with what occurred during the 2008 global financial crisis and the period following the 2001 terrorist attacks.
Mike Armstrong, Inquirer Columnist
Mount Laurel-based ImpactRx is an information-technology company that measures how drug company promotions affect doctor's prescribing habits.
Horsham-based TargetRx is an information-technology company that also tracks prescribing behavior but also tries to predict how drug company promotions will fare.
If it sounds like two similiarly named companies competing in the same market, you're right and that may help explain why ImpactRx bought TargetRx on Tuesday. (Yes, terms were not disclosed.)
Mike Armstrong, Inquirer Columnist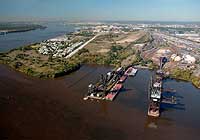 Federal officials have awarded $1 million each to two Philadelphia economic development groups.
Ben Franklin Technology Partners of Southeastern Pennsylvania and the Philadelphia Industrial Development Corp. received the funding through a new Small Business Administration program to provide financing to start-ups and small firms.
Acting U.S. Commerce Secretary Rebecca Blank and Small Business Administrator Karen Mills were at the Navy Yard Tuesday as part of a meeting of the National Advisory Council on Innovation and Entrepreneurship, an advisory organization.