Archive: August, 2010
Redshirt sophomore forward Chris Clarke has left the Temple basketball program and will transfer to Division II Morehouse College in Atlanta.
He sat out last season after coming to North Broad Street from Pensacola (Fla.) Junior College.
The Owls had also recently learned that another sophomore, forward Carmel Bouchman, would not be returning.
La Salle has named Will Bailey an assistant men's basketball coach, head coach John Giannini announced today.
Bailey, who formerly worked under Giannini at Maine in 2002-03, spent the last 7 seasons as an assistant coach at East Tennessee State.
"Having worked with coach Bailey at Maine, I have first-hand knowledge of his work ethic, professionalism, teaching ability, character and relationships," Giannini said in a statement. "Without exaggeration, he is outstanding in all areas. He will help our recruiting. He will strive to make our players better and be a quality role model. He will also add to the positive chemistry on our staff."
Villanova freshman guard James Bell has stress fractures in the tibia of both legs and will be sidelined from basketball activities for an undetermined period of time, the school announced.
Bell will be re-evaluated in October.
"We're disappointed for James," coach Jay Wright said in a statement. "He has acclimated himself very well academically and socially at Villanova in his short time with us. I am sure he will take that same kind of mature approach with his rehab. We don't know how long he will be out, but we will monitor his rehab closely."
ESPN is bringing "College GameDay" to Villanova.
The network announced on Wednesday that the Wildcats' game against Pittsburgh on Feb. 12 will serve as the backdrop for "College GameDay."
The network will air a two-hour "College GameDay" show from 10 a.m.-noon from the Pavilion (this year the program's first hour is to be broadcast on ESPNU, the second hour on ESPN). Then, at 8 p.m. ESPN will again be live from the court at the Pavilion for 60 minutes ahead of the 9 p.m. tipoff.
Villanova, Saint Joseph's and La Salle will play in ESPN's third annual College Hoops Tip-Off Marathon on Nov. 16.
Villanova will play host to Marist at 5:30 p.m. on ESPNU; La Salle will visit Baylor at 2 p.m. on ESPN; and Saint Joseph's will play at Penn State at a time to be determined.
ESPN will cover 12 live college games in 24 consecutive hours, starting with Miami at Memphis at midnight.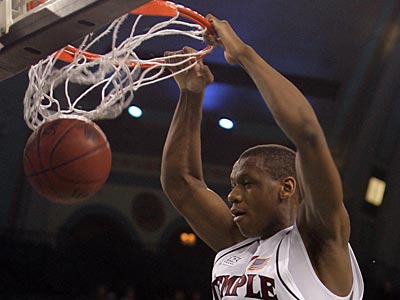 Temple senior center Lavoy Allen was added to the USA Men's Select Team today, replacing Georgia forward Howard Thompkins.
Allen trained with the Select Team last month in Las Vegas. Villanova coach Jay Wright is the coach of the Select Team.
The Select Team will train against Team USA in New York from Aug. 11 to 13. Team USA will compete in the world championships from Aug. 28-Sept. 12 in Turkey.
Temple will play California in the first round of the Old Spice Classic on Thanksgiving night in Orlando, Fla.
The Owls and Cal, both NCAA Tournament teams last season, will tip off at 9. The game will be on ESPN2.
Temple and Cal have met four times, the last a 51-42 Owls win at the Palestra in 1973.
Darrun Hilliard has watched his stock steadily rise this summer, from being an Atlantic 10 player to gradually gaining the eye of some Big East coaches, namely Villanova's Jay Wright.
The smooth-shooting, 6-5 senior guard from Bethlehem Liberty High made an oral commitment to the Wildcats today.
"I will attend Villanova University," Hilliard announced at a late-afternoon news conference at Liberty High. "The reason why I chose Villanova [is] because they have great academics, and I'm guaranteed a great life after basketball, and I felt real comfortable there, like a home away from home. They have a great tradition there."