Archive: March, 2010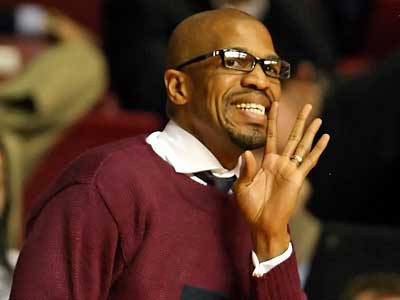 Interim Penn basketball coach Jerome Allen has been named the program's permanent coach, the university announced in a press release this afternoon.
Before the official announcement, sources told the Daily News that Allen would be named.
A news conference will be held at 2:30 p.m. Wednesday at the Palestra to introduce Allen.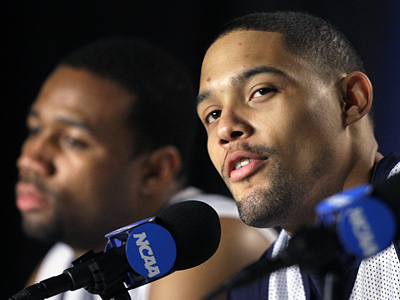 Villanova senior guard Scottie Reynolds was picked first team All-America today by the Associated Press.
Reynolds averaged 18.5 points and shot 40 percent from three-point range in becoming the Wildcats' go-to player with several spectacular second-half efforts.
"You go through a season not expecting to get All-American,"
Reynolds said. "You just go out there every day and try and do the
best you can, try and play Villanova basketball. It's in the back
of your head, but if you concentrate on that, that stuff will never
come."
Saint Joseph's announced that it will induct former former standouts John Griffin and Bill Phillips into its Men's Basketball Hall of Fame on Friday, April 9, at the Hawks' annual Men's Basketball Awards Banquet. The event will be held in the Campion Banquet Facility on campus.
Here is some background on each from St. Joe's:
The 13th coach in the program's history, Griffin served as head coach from 1990-95 and compiled a 75-69 record in five seasons. Taking over in 1990-91, he guided the Hawks to 13 wins in each of his first two seasons, and to an 18-11 record in 1992-93, which ended a four-year streak of sub-.500 campaigns. Griffin led the Hawks to NIT appearances in 1993 and 1995 and coached Hawk greats such as Bernard Blunt, Rap Curry and Craig Amos.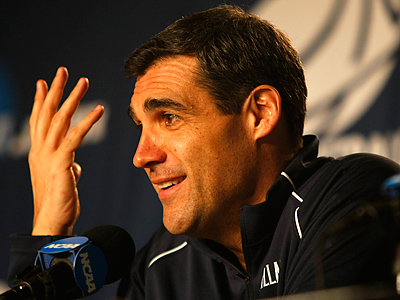 Villanova's Jay Wright reiterated today that he isn't interested in any other coaching job, either in the college game or NBA.
"No one's contacted me," Wright said before he addressed his team, 3 days after they were eliminated by St. Mary's in the second round of the NCAA Tournament. "I'm happy about that. I love my job. Unless something changed here, I don't think I want to go anywhere.
"I really don't want to have to think about it, but I understand I might have to. Right now I can tell you I don't want to leave."
Neither Villanova nor Temple came close to playing to their seeds. I did not think Villanova had much jump against Robert Morris. Liked their effort much more against Saint Mary's, a team that runs great offense and has the amazing Omar Samhan (24-for-32, 61 points in two games).
You can coach a lot of things, but you can't coach the possibility that Scottie Reynolds, a truly special player for 4 years, is going to shoot 4-for-26 in his last two NCAA games, Nor can you coach against a well defended banked three as the decisive shot. One could, of course, make the argument that, as the favorite, you have only yourselves to blame if you are in position to get beat by a lucky shot.
Somewhere, the spark went out for this Villanova team. And they could not get it relit. Still, it is kind of amazing the Wildcats almost made the Sweet 16 again despite shooting 36 percent against a team that shot 50 percent. The program is a consistent national player now and this finish doesn't change that.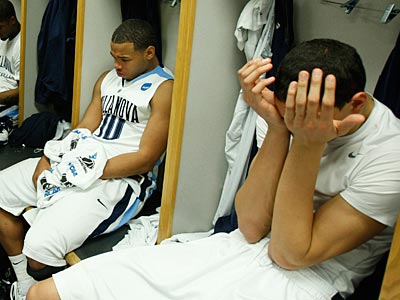 PROVIDENCE, R.I. – Villanova will not be playing in the second weekend of the NCAA Tournament for the fifth time in six seasons.
The Wildcats, the second-seeded team in the South Regional, had needed overtime to get past 15th-seeded Robert Morris in Thursday's opener. Saturday afternoon at the Dunkin' Donuts Center, they were eliminated by 10th-seeded Saint Mary's College in the second round, 75-68.
Coming off a Final Four appearance a year ago, this was probably not quite as early as most of Nova Nation envisioned the season ending. Especially when the Wildcats won 20 of their first 21 and got to No. 2 in the polls. But they lost five of their last seven coming into the Madness. So maybe another long run was just asking a little too much from this group, which did have six first-year players.