Archive: October, 2011
Temple received the most points among City Six team in the USA Today-ESPN men's preseason college basketball poll that was released today.
Temple was 29th. Villanova was 34th and Drexel was 44th.
North Carolina received 30 or 31 first-place votes and is No. 1. Kentucky is No. 2 and received the other first-place vote.
Villanova was picked to finish eighth in the Big East in a presason poll by the conference's coaches. The poll results were released today at Big East media day in New York.
Villanova was 21-12 last season and do not have a senior on the team. Junior guard Maalik Wayns (Roman Catholic High) is the top returning scorer with a 13.8 average.
Connecticut and Syracuse were picked to finish first. UConn received seven first-place votes and Syracuse had five first-place votes. Coaches could not vote for their own team.
Drexel, which returns six of its top seven players, has been picked to win the Colonial Athletic Association in a vote of the league's coaches, media relations directors and media members.
The Dragons were followed in the voting by George Mason, VCU, Old Dominion and James Madison. Picked sixth was William & Mary, followed by Delaware, Hofstra, Northeastern, UNCW, Georgia State and Towson.
Drexel has four players who received postseason recognition a year ago. Senior forward Samme Givens, a second-team All-CAA pick, led the conference in rebounding and was the only player in the league to average a double-double (12.2 ppg/10.1 rpg). Junior guard Chris Fouch averaged a team-high 14.9 ppg off the bench and was named to the All-CAA third team. Forward Dartaye Ruffin (8.4 ppg/7.4 rpg) and point guard Frantz Massenat (5.5 ppg) were selected to the CAA All-Rookie squad. Also back in the starting lineup are junior guard Derrick Thomas (6.9 ppg) and junior forward Daryl McCoy (5.4 ppg/7.8 rpg).
Temple was picked to finish second behind Xavier in the Atlantic 10 preseason basketball poll, released today at the league's media day in Brooklyn. The voting was done by a panel of head coaches and media members.
Xavier garnered 304 total points and 18 first-place votes to place first. Temple, which has won three of the last four Atlantic 10 tournaments, had four first-place votes and a total of 287 points.
The Owls finished at 14-2 last year in the A-10 and 26-8 overall.
La Salle just got its first commitment for the Class of 2012. Jermaine Davis is listed at 6-9, 260 pounds. He is from Garfield Heights (Ohio) High, the same school that produced Carl "Tay'' Jones, a junior at Saint Joseph's and the leading scorer in the Big 5 last season.
Davis was mostly being recruiting by Mid-American Conference and Horizon League schools, but chose to come east to play for John Giannini at 20th and Olney. Garfield Heights had one of the best teams in Ohio last year. The star guard on that team, Trey Lewis, is now a freshman at Penn State so the school's players keep leaking over the border.
-- Dick Jerardi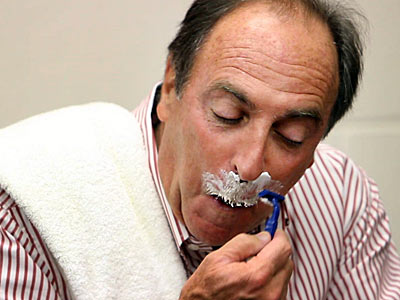 Gone.
Temple basketball coach Fran Dunphy had sported his trademark mustache for 40 years, going back to his days in the Army. But today at the Liacouras Center he shaved it off, in front of an amused crowd and a row of cameras capturing the moment, for the best of reasons.
A couple of years ago he made a promise. Now it was time to keep his word, because this summer former Owls standout Dionte Christmas took an online elective class that gave him the final three credits necessary to earn his degree in African-American Studies.
A few years ago, Temple basketball coach Fran Dunphy made a promise to Dionte Christmas. Now, he's going to keep his word.
Since his former standout player has earned his degree, Dunph is going to shave his trademark mustache, the one he's been sporting for 40 years. The honors will take place late Thursday morning on campus, with Christmas by his side for the historic moment.
No word yet on whether - as was the case when New York Jets' quarterback Joe Namath got rid of his Fu Manchu mustache some four decades ago - it's going to be made into a commercial.