Temple
Teams across the Atlantic 10 are announcing their basketball schedules today. So far Temple and Saint Joseph's have released their slates.
The Owls have a number of big games. Their non-conference schedule includes neutral-site games against Duke at the Izod Center and Syracuse at Madison Square Garden. There's also a trip to famed Allen Fieldhouse to face Kansas.
That game and the season-ending home game against Virginia Commonwealth will be televised by CBS over-the-air. It is the first time since the 2001-02 season that Temple will appear on network television.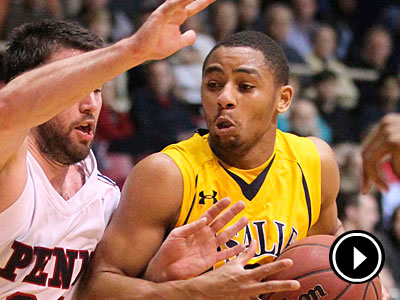 Video: All six Philadelphia hoops teams are on the road Saturday. La Salle has a particularly tough road test at Dayton. The Daily News' Dick Jerardi discusses the unusual all-road schedule for the Philly teams.
Temple has received a verbal commitment from 6-10 senior center-forward Devontae Watson, of Lincoln Park Performing Arts Charter in Midland, Pa., a Pittsburgh suburb. He's considered perhaps the best big-man prospect in the western part of the state, and had also been considering Saint Joseph's, Dayton, Florida State and Duquesne.
He visited Temple this past weekend. Last season, he led his team to the state Class A title game, averaging a triple-double that included blocked shots.
Sources have confirmed the Owls are also a finalist for 6-6 wing player Quenton DeCosey, from St. Joseph's High in Metuchen, N.J. He's also being recruited by Penn State, and its new coach, former Villanova assistant Pat Chambers. He's scheduled to visit North Broad Street this week, and Happy Valley this weekend. The Nittany Lions just beat out the Owls and a handful of other programs (including Miami, Minnesota, DePaul and Richmond) for the services of 6-7 Brandon Taylor, of Trenton (N.J.) Catholic Academy.
The Daily News' Mike Kern breaks down Temples 78-61 loss to Duke at Cameron Indoor Stadium in Durham, N.C.
Losing Scootie Randall wasn't enough to keep the Temple Owls from beating the Saint Joseph's Hawks, 66-52, at the Liacouras Center. Lavoy Allen broke the all-time record for rebounds in the game. Philly.com's Dave Isaac recaps the action with Bernard Fernandez of the Daily News.
Lavoy Allen finally showed his potential Wednesday night in a 76-67 victory over the Charlotte 49ers. Philly.com's Dave Isaac and the Daily News' Bernard Fernandez recap the game from courtside at the Liacouras Center.

It was wonderful to see so many fans in the stands for our win over Georgetown. Clearly the atmosphere contributed to the team's success and for that I am grateful. The support for our team on that night was special, and made the victory more meaningful as the entire Temple community shared in the win.
Now the challenge is to recreate that environment through the remainder of the season.
Temple University touches so many in the Delaware valley, more than any school in the city. And Temple basketball, from the days of Harry Litwack through the quarter century under my predecessor, John Chaney, have provided great memories and have been a rallying point for Owl Nation.

Philadelphia basketball is more than a game. It is a community, and on Wednesday morning this great community came together to celebrate the life of one of its own, longtime Philadelphia Daily News sportswriter Phil Jasner, who passed away Friday at the all-too-young age of 68.
It was a tribute to this great man to see the multitude of people who came out to pay their respects, including Philadelphia 76ers coach Doug Collins to longtime friend and Temple classmate Merrill Reese, two of the five speakers at the service.
I first met Phil when I was a lifeguard at Park City West apartment building during my college days. I could not tell then that he would go on to have such a storied career that would warrant his induction into five Halls of Fame. What I could tell, however, was that he had a passion for life and that was a theme that came across yesterday.