Archive: March, 2009
In case your favorite team does not happen to be either Villanova or Temple, we thought it might help your planning to provide the TV lineup on CBS3 for the first-round games Thursday and Friday.
Of course, you know CBS will be zooming all over the place to the hot game or the big story, but it always helps to know what game will be coming on when Greg Gumbel gives that list of tip times.
Thursday
La Salle sophomore guard Darryl Partin has been granted his release from his scholarship and will transfer, the university announced today.
Partin appeared in 50 games over two seasons. He made four starts and averaged 3.5 points per game. He is from Seattle, but played his final years of high school ball in North Carolina.
The eight teams coming to Philadelphia for the NCAA Tournament will have practice sessions Wednesday at the Wachovia Center. The sessions are free and open to the public. You do not need a ticket to the games to attend the practices.
Here is the practice schedule:
12 p.m. - 12:40 p.m.: Texas A&M
12:45 p.m. - 1:25 p.m.: Chattanooga
1:30 p.m. - 2:10 p.m.: BYU
2:15 p.m. - 2:55 p.m.: UConn
4:25 p.m. - 5:05 p.m.: Villanova
5:10 p.m. - 5:30 p.m.: UCLA
5:55 p.m. - 6:35 p.m.: American
6:40 p.m. - 7:20 p.m.: VCU
In 2006, the Wachovia Center hosted eight teams for first- and second-round NCAA Tournament games.
In Villanova's victory over Monmouth, Randy Foye and Allan Ray combined to score 36 points.
Connecticut's Marcus Williams hit several key three-pointers to help the Huskies overcome No. 16-seed Albany.
Villanova and Connecticut, albeit with different stars, return to Philadelphia for first-round games on Thursday.
For the first time since 2006, Philadelphia will be at the center of March Madness.
Saint Joseph's is the host for this year's first- and second-round games at the Wachovia Center, with play beginning on Thursday and continuing Saturday.
Villanova, as a No. 3 seed in the East, will be the main attraction. The Wildcats will face the Patriot League's American University – the 14th seed. Villanova is allowed to play at the Center because they did not play more than three games there this season.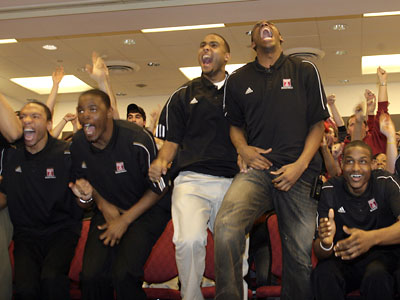 Temple knew it was heading back to the NCAA Tournament, but the Owls had to wait until the very last slot was announced tonight to find out the particulars.
The 11th-seeded Owls (22-11) will face No. 6 seed Arizona State (24-9) on Friday in Miami in a South Region first-round game. Tipoff will be at 2:45 and will be on CBS-3 and WPHT (1210-AM).
The winner faces either Syracuse or Stephen F. Austin on Sunday.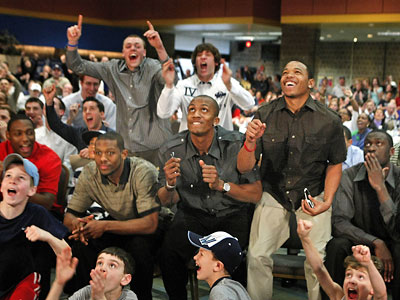 Villanova has earned a third seed and will open the NCAA Tournament against American University on Thursday at the Wachovia Center.
The game will begin at 7:20 p.m. and will be on CBS-3 and ESPN (950-AM).
"There are pluses and minuses [to being at home], but I think the plus\ses outweight the minuses," Villanova coach Jay Wright said. "It's an advantage. You get to stay at home an extra day and keep some normalcy. We went in so wide-eyed [in 2006] saying this is awesome. Then you find out about the distractions. We learned from that. We have three seniors who were part of that. We want to make sure they enjoy this, play like we always play and try to have some fun.