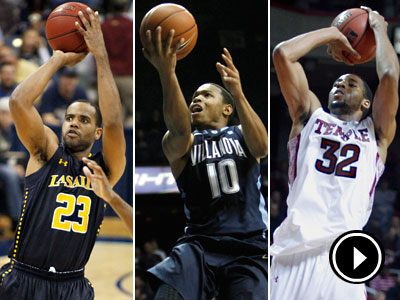 The Daily News' Dick Jerardi discusses 'Nova's first visit to Hawk Hill, Temple's trip to Texas, and La Salle's recent resurgence.
Saint Joseph's junior guard Carl Jones and Temple senior guard Ramone Moore have been named co-player of the week by both the Atlantic 10 Conference and the Big 5.
Moore averaged 20 points, 5.5 rebounds and 4.5 assists as the Owls went 2-0. He scored a career-high 32 points in a victory over Villanova.
Jones averaged 21 points, 4.5 rebounds, 5 assists and 3 steals as the Hawks also went 2-0. He scored his 1,000th career point in a win over Boston University, becoming the 49th Hawk to do it and 17th to accomplish it as a junior.
Villanova junior forward Mouph Yarou has been named Big 5 player of the week.
Yarou had a double-double of 21 points and 11 rebounds in the Wildcats' win over Penn.
On the Big 5 men's honor roll:
Dick Jerardi of the Daily News looks at Nova's struggles, Kentucky vs. UNC, and which team is the most impressive thus far.
Temple senior forward Micheal Eric will miss 6 weeks due to an injured right knee.
The injury occured during practice on Friday.
Eric is fourth on the Owls in scoring with a 10.5 average and he is the leading rebounder in the Atlantic 10 with an 11.3 average.
Saint Joseph's sophomore forward CJ Aiken was picked as the Big 5 player of the week, it was announced today.
Aiken averaged 16.5 points, 8.5 rebounds and four blocks in two games. He scored a career-high 19 points in a loss at Iona in double-overtime
Selected for the Big 5 men's honor roll are:
This was not artful. Last season, however, La Salle had many artistic moments. And lost 18 times.
If the Explorers had made just 33.3 percent of their shots in a first half a season ago, the game would have been over because defense was generally a rumor.
In a late afternoon Philly Hoop Group Classic game at the Palestra, the Explorers missed twice as many shots as they made in the first half against Robert Morris, yet found themselves in a dead heat. Why? This La Salle team plays defense so they can hang in games when the ball does not go in the basket.
Saint Joseph's junior guard Carl Jones has been named Atlantic 10 Conference player of the week.
Jones led the Hawks to a third-place finish at the Charleston Classic with victories over Georgia Tech and Tulsa. Jones averaged 26 points per game and was named to the all-tourney team.
Jones also was honored by the Big 5 as the co-player of the week along with Temple's Ramone Moore.