Every Saturday, offensive records are being set on college football fields from coast to coast. Baylor scores 70 just about every week. When Oregon has a drive longer than five plays or a minute, it is news. Huddles are an anachronism
Watching college football is fun. Coaches actually are letting their players control the games. If you are not trying to score 50, you are not trying. Even the SEC has become wide open. Michigan is setting offensive records.
This brings us to college basketball which beyond the wonderful championship game when Louisville beat Michigan, 82-76, was generally hard to watch last season.
La Salle gave John Giannini a contract extension 3 years ago when it was not all that popular. The Explorers had just gone 12-18, a season after going 18-13. But there were extenuating circumstances. The rotation had been devastated by injuries.
The university just gave its basketball coach another extension Thursday. It will be as popular as Giannini's team was in March on the way to the Sweet 16.
No details on money or years were revealed, but it can be assumed that the coach got a healthy raise and many more years.
With the departure of 6-10 senior Mouphtaou Yarou, who averaged 9.5 points and 7.7 rebounds last season, Villanova's basketball team needed to add a big man. Especially since 6-11 Daniel Ochefu, who averaged 3.7 and 4.3 in just under 18 minutes a game as a freshman, remained the only player on the roster over 6-7.
Well, the Wildcats got some help Tuesday afternoon, when former Lower Merion High 6-8 power forward Darryl Reynolds, who is completing a post-graduate year at Worcester (Mass.) Academy, as anticipated has made a commitment to play on the Main Line for coach Jay Wright.
Reynolds made the announcement at a news conference at his former school.
Villanova basketball coach Jay Wright's salary is $2,290,346, 10th among coaches who made the NCAA Tournament, according to USA Today.
Temple's Fran Dunphy's salary of $724,557 was 40th and La Salle's John Giannini's salary of $426,230 was 47th.
Duke's Mike Krzyzewski was the top paid at $7,233,976, followed by Louisville's Rick Pitino ($4,078,327), Kansas' Bill Self ($4,750,763), Michigan State's Tom Izzo ($3,220,769) and Florida's Billy Donovan ($3,689,200)
The Syracuse Orange face the Michigan Wolverines, while the Louisville Cardinals face the Wichita State Shockers. CineSport's Noah Coslov and the Daily News' Dick Jerardi preview the Final Four.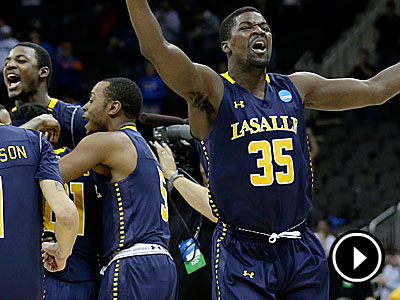 La Salle and Florida Gulf Coast are the Cinderellas of the NCAA Tournament. CineSport's Noah Coslov & the Daily News' Dick Jerardi preview the Sweet 16 and discuss Louisville's dominance.
Temple forward Anthony Lee said he was optimistic about his ability to play in Friday's first-round game against North Carolina State.
Lee has been bothered by concussion-like symptoms since taking an elbow to the head against Massachusetts on March 15. He practiced Wednesday and will do so again Thursday.
"I've just been taking the medicine that the doctors have given me, and that's definitely helped out a lot," said Lee, a sophomore. "The pain has gone away, so I do feel pretty good."
Which Philly school is playing with nothing to lose and which school would benefit the most from an NCAA Tournament win? The Daily News' Mike Kern and CineSport's Noah Coslov discuss this & more.