Archive: August, 2009
Dan Gross
Puppy-killer turned Eagles quarterback Michael Vick posed for pictures and signed autographs for fans during a Saturday afternoon visit to Talk of the Town (3020 S. Broad), a team favorite. He went for a chicken cheesesteak...Actor Paul Rudd sat in the Diamond Club last night at Citizens Bank Park watching the Phils defeat the Braves...George Benson and his crew stopped for late drinks and snacks at Chris' Jazz Café (1421 Sansom) after playing the Mann Center Thursday night. They had tempura shrimp, cheese plates and bourbon-glazed frog legs...Felicia "Snoop" Pearson, from HBO's "The Wire," hosts the The L Word 215's party Sunday at VII Luxe Lounge (724 Arch). DJs Dior and DJ Sparkle(S) will spin the Sapphic celebration, which is $15 before 11 p.m. No athletic apparel or hats allowed, say promoters. For more info, text 215-432-4517. For the rest of today's column click here.
Dan Gross
Dusk, the new nightclub at Caesars in which DJ AM was a strategic partner, will be closed tonight out of respect for the DJ, who was found dead of an apparent drug overdose today in his New York apartment.
He was 36.
AM, raised as Adam Goldstein near Rittenhouse Square, had just performed at Dusk's industry party on Tuesday. He also performed there Saturday after throwing out the first pitch at the Phillies/Mets game at Citi Field in Queens.
Dan Gross
Despite his involvement in an early morning brawl outside a Los Angeles nightclub, Brody Jenner, of MTV's "The Hills" and "Bromance," will still appear tonight at the Providence nightclub at Atlantic City's Tropicana, a spokeswoman confirms. According to TMZ, Jenner socked "Girls Gone Wild" founder Joe Francis outside the Guys and Dolls club after Francis punched Jenner's girlfriend, Playboy model Jayde Nicole, threw her to the ground and kicked her. Before Jenner could further pound on Francis, he was tased and fell to the ground, according to the report. Nicole reportedly threw a drink on Francis to try and get him to stop hitting on a friend of hers. We're not sure how festive he'll be feeling tonight, but Jenner, son of Olympic champion Bruce Jenner, will be hosting tonight at Providence, celebrating his recent 26th birthday tonight while DJ Jason Smith will be spinning.
Dan Gross
Reese Witherspoon and Paul Rudd went for a late dinner Thursday at El Vez (13th & Sansom). Rudd later joined Owen Wilson for drinks at Parc on Rittenhouse Square.
Dan Gross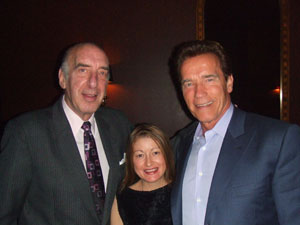 Harry Jay Katz says he's in the worst hurtin' pain of his life after breaking six ribs Tuesday in two falls at his East Falls home and one off a barstool at Chops (401 City) in Bala Cynwyd.
Katz, 68, a reformed playboy, is a big drinker, but swears that he had only one drink that day, a vodka and grapefruit juice at 11 a.m., and that he was sipping ice water at the steakhouse when he fell off the stool.
He says that he felt dizzy and had fallen at home while dressing to go out that night, and also felt dizzy at the bar.
Dan Gross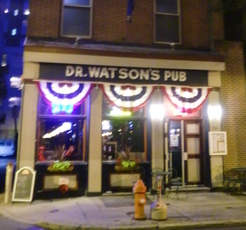 "I never put the pub on the market, but when the offer came I just felt maybe it's time for me to fade into the sunset," says Barry Sandrow, the longtime owner of Doc Watson's Pub (216 S. 11th).
Sandrow yesterday signed an agreement of sale with a few local buyers he declined to identify. They must now get financing, as well as approval from the state Liquor Control Board, to operate the bar.
"This time I'm selling the whole works, lock, stock and barrel," said Sandrow. "This time I'm going out. I guess I'm just getting old," says Sandrow, 77, whose long list of past doormen includes boxer/actor Randall "Tex" Cobb, comedian Dom Irrera and Villanova basketball star Fran O'Hanlon, now coaching at Lafayette.
Dan Gross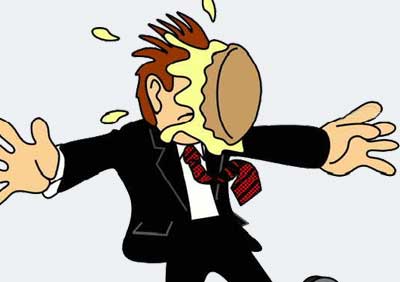 610 WIP's Rob Charry and Pieface, a producer from ESPN 950 AM, got into a heated argument Thursday night at Bishop's Collar (2349 Fairmount). We're told Pieface, whose real name is Sean Brace, initially approached Charry to politely introduce himself. Charry, says an eyewitness, soon insulted ESPN 950 and said that if the station were any good, he would be on it. We hear the conversation escalated into Pieface calling Charry a "c---sucker" and telling him that if he said one more cross word about ESPN 950, they would have to take it outside.
"The guy was drunk," said Charry last night. "The conversation I had with him was absurd, and to be recalling it now with you is even more absurd," said Charry, who has worked for WIP for more than 20 years. "Apparently something I said rubbed this guy the wrong way. All of a sudden he got a little testy." Charry says he is "friends with people at 950" and didn't recall badmouthing the rival radio station.
We could not reach Pieface, but spoke with ESPN 950 program director Matt Nahigian. "I don't condone that type of behavior from my guys," Nahigian says. "But, that type of passion from our radio station is why we are as close to WIP as ever and are defeating their afternoon show," he said. "If someone was taking shots at our station, I would expect our guys to stand up for the station," says Nahigian. Mike Missanelli's afternoon drive show, on which Pieface works, has been beating Howard Eskin's WIP show in men 25-54 for the past three months.
Dan Gross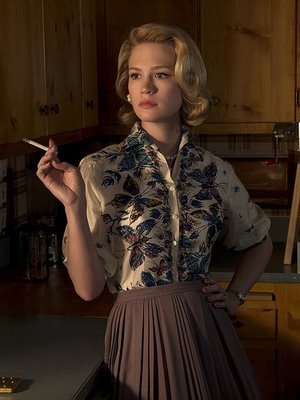 On Sunday's episode of "Mad Men," Betty Draper's father Gene holds a big paper bag in the air and proclaims "We went to Pat's Steaks," when he arrives at the New York home of Betty and ad exec husband Don Draper.
As we learned last season on the AMC hit series, Betty Draper comes from the Main Line, so it is not a stretch to think the Pat's that was referenced is Pat's King of Steaks, founded in 1940 by Pat Olivieri, who is credited as having co-invented the cheesesteak with his brother Harry Olivieri. Harry's grandson Frank Olivieri, Jr., freaked out yesterday when we told him of the namedrop.
"It's my favorite show in the world," Olivieri said, who planned to catch the episode on his iPod last night. "It's an honor for them to reference my family's restaurant and a cheesesteak," Olivieri said. On the show, Betty's father said he had brought a "half" for one of the kids and also said he'd gotten a "chicken parmesan." Olivieri said yesterday that in 1963, when the show is set, that they did sell half-size steaks, for 35 cents, while wholes were 55 cents, but they never had chicken parm at 9th and Wharton, but they did offer it at another Pat's Steaks at 33rd and Ridge.