Archive: July, 2013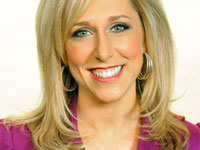 NBC 10 meteorologist Michelle Grossman is leaving the staion to become a full time mom. Grossman, who grew up in Doylestown and graduated from Central Bucks East, had been with the station since January of 2008.
She'll be leaving '10 to stay at home with new son Jeremy who was born in December. She has another daughter, Ella, from a previous marriage.
But Grossman won't be straying too far from the NBC family. Her husband, Jamie Simmons, the station's digital assets manager. She'll also be doing fill-in work when necessary.
Law blog Above the Law posted an email from a desperate job seeker who email-blasted many Delaware attorneys in hopes of finding a job.
Brian Zulberti, a Wilmington native and Villanova Law '09 grad, gave few personal details in his email blast, but did include a picture of himself in a sleeveless Villanova shirt. The letters on the shirt are backward in the photo so it's also a selfie he took in the mirror, making it all the more classy.
Unfortunately for Zulberti, his Facebook profile is public, leading Above the Law to find his gem of a profile pic:
Philly is having a boob tube moment.
It's a straight up Philly reunion in "Wayward Pines,' the new limited series created by M. Night Shyamalan and "The Playboy Club's" Chad Hodge. Lafayette Hill's Terrence Howard has joined the project as Sheriff Pope, a cop in small, Idaho town plagued by weirdness. Howard will play opposite Matt Dillon (as a fed who travels to Wayward Pines to investigate the disappearance of two colleagues), Toby Jones, Melissa Leo and Carla Gugino. Unfortunately, the show won't be shot in Philadelphia.
But that's not the only Philly TV project in the works: Syfy is developing a backdoor pilot that could turn in to a 10-episode order of "12 Monkeys," based on the Terry Gilliam movie (that is itself based on Chris Marker's "La Jetee") starring Brad Pitt and Bruce Willis. The 1996 film was shot and set in Philadelphia. The model is not unlike how they handled the mega-popular "Battlestar Galatica."
A Miami club is suiing North Philly-born comedian Kevin Hart, who recently hosted the Welcome America 4th of July Jam, after he bailed on a scheduled appearance. Instead of hosting a night at Miami's Cameo Nightclub, Hart bailed to host a Miami Heat championship party with buddy Dwyane Wade and BET personality Terrence J at another venue on June 22.
The interesting part is that Cameo says they spent $4,680, and are suing for $15,000 to cover a hit to their reptutation. That's a paltry sum for a celeb appearance. The already-famous can rake in big bucks just for showing their face at a club, like the Philly promoter who sued Mario Lopez in excess of $50,000 for not showing up.
TMZ says Hart's rep denies the kerfuffle and says everything is good with the club after Hart rescheduled his appearance. Maybe Hart, who last film "Let Me Explain" has grossed $30 million at the box office, decided the 15 thou was chump change paid the club in cash?
"I don't like goodbyes so I'm not going to use that word. Instead, I'm simply going to say 'Thank you.'"
After 36 years at 6ABC, longtime weekend anchor Rob Jennings signed off for the final time last night. He plans on retiring to his native Florida with his wife Karen, a former broadcast journalist herself. When Jennings announced his retirement in May, he joked that Karen was just excited ot have someone to watch football with.
Born in Miami, Jennings went into radio right after high school, switching to television news in 1966 and starting his job as a weekend anchor at 6abc in 1977. In addition to holding down the weekend chair, Jennings spent 16 years as the face and producer of Action News Crimefighters. The segment profiled criminals, leading to the arrest of nearly 200 suspects.
In my column for today, I talked to Josh C. Waller, the director of "McCannick," starring Cory Monteith, the star of "Glee" who was found dead in his hotel room last weekend. A coroner's report said that he died from a mix of alcohol and heroin.
Waller discussed how impressed he was with Monteith, never expecting the 31-year-old to bring the gravity that he did to the role of Simon, a street hustler recently released from prison, and tailed by David Morse's Detecitve Eugene McCannick.
A clip of the film was released online, and can be seen below.
Eagle DeSean Jackson will guest on Disney XD's "Crash and Bernstein," in an episode airing Monday, July 22 at 8:30 p.m.
The two-time Pro-Bowler is no stranger to TV stardom, playing himself on a 2011 episode of FX's "The League."
Here's the episode description:
"Man Crash": Mr. Poulos dupes Wyatt and Crash into doing his building repairs so he can go on a men's camping trip with his buddies. The boys find out and stow away in his van but are disappointed when the trip does not turn out to be the men's weekend they expected. Guest starring is Philadelphia Eagles DeSean Jackson as himself.
Thomas Drayton said goodbye to Fox 29 last Friday after five years with the station. The former nighttime anchor (and Sexy Single, of course) replaced Dave Huddleston at the desk in 2008.
"It has been a pleasure. You guys are unbelievable, talented, wonderful to work with," Drayton told "Good Day Philadelphia's" Mike Jerrick and Sheinelle Jones.
"We want to thank Thomas for his many contributions to our station, as he was an important part of our news team for several years. We wish him success in the future," Jim Driscoll, vice president and news director, said in statement.