Archive: April, 2013
Benj Pasek, who grew up in Ardmore, is having a really good day. The 2003 Friends Central grad is nominated for a Tony, along with writing partner Justin Paul, for Best Original Score (Music and/or Lyrics) Written for the Theatre for their work on "A Christmas Story," the musical adaptation of the beloved holiday flick. "A Christmas Story" was also nominated for Best Book and Best Musical.
"It's the craziest day of my life. I've never gotten more text messages in my life. It's so overwhelming," Pasek told me
He continued that he always watched nominations, and it was surreal knowing his name could be called (of course, he didn't expect it and was "shocked" by the announcment). "When you write a show that's nominated for best score, best book and best musical, you know your show really resonated with people," Pasek said.
Eyewitness News anchor Susan Barnett is leaving CBS3 and the CW Philly. Barnett has been at CBS since 2006, anchoring the evening newscasts since 2008. Barnett anchored the 5, 6 and 11 p.m. on CBS, and the 10 p.m. broadcast at the CW Philly. Her contract expired in March.
"I have decided to not renew my contract with the stations at this time. I am incredibly thankful for having been a part of the CBS Philly family, but I feel that this is the right decision at this time," Barnett said in a statement.
Barnett had been noticeably missing from the evening broadcasts, which she co-anchors with Chris May, for some time, tweeting that she had pneumonia. (Barnett, by the way, was legitimately sick, coming down with something after she returned from covering the Pope succession.)
Matt DeLucia, who graduated from La Salle ('07), is coming home to roost. He's the newest hire at NBC10, returning to Philly from the Fox affiliate in Las Vegas, where he called home since 2009. DeLucia was a reporter and fill-in anchor.
DeLucia grew up in Cherry Hill and is an alum of Camden Catholic High School. He began his broadcast career while still in college, working as a reporter and segment producer at the New Jersey Network. He'll begin at 10 as a reporter in June.
While I'm sure DeLucia had a wide and varied career out in Vegas, my favorite point of his bio notes he "introduced the world to the controversial 'Stripper-Mobile' -- an advertising venture that featured a truck carrying live dancers on Las Vegas Boulevard." Last year, the Associated Press Television and Radio Association named DeLucia reporter of the year.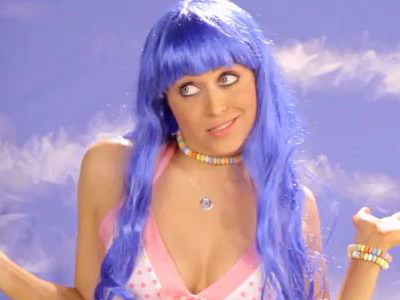 The Passyunk Post alerted me to the alter ego of Kelli Mandruk, owner of South Philly's new Hip & Thrifty women's boutique.
Before Mandruk was selling chic, she was pretending to be Katy Perry in a video that garnered 43 million views since it was posted in 2010. My favorite part, for the record, is the autotuned dog.
As someone who has interviewed my fair share of difficult subjects, I totally feel for Mike Jerrick and Sheinelle Jones on this one.
The "Good Day Philadelphia" hosts sat down with Olympic swimmer/major bro-wad Ryan Lochte, who is promoting his new E! reality show "What Would Ryan Lochte Do?" Lochte is not known for his way with words, as evidenced by his short satellite sitdown with Jerrick and Jones, who cannot control themselves once the inteview is over.
"How are they going to put together 13 weeks of programming?" Jerrick asks, astonished. Jones, at least, tries to be a little kinder, adding that at least he's good looking (Shenielle: Totally agree).
Philadelphia News, Weather and Sports from WTXF FOX 29
Former CBS3 anchor Alycia Lane was at the Lenox Hotel in Boston, about a half a block away from the finish line, yesterday to cheer on a friend. She gave a first-person account of what she experienced to the "Today" show this morning. She also spoke with Brian Williams on NBC's primetime special report last night.
"We could feel the ground shake below us, and everything on our table shook," she recalled to Williams. "Ten seconds later, a second blast hit and we looked outside and saw a plume of smoke up in the air."
She also brought up an interesting point: Police told Lane and other bystanders to turn off their cell phones so no devices were accidentally detonated remotely, out of fear that a suspect was still in the crowd.
Visit NBCNews.com for breaking news, world news, and news about the economy
In a moment of technical difficulties, WIP morning show host Angelo Cataldi dropped a not-so-nice word on the air, according to my many spies who heard it live this morning.
At about 5:40 a.m., during the overlap show between Cataldi and Big Daddy Graham's shift, the show was about to cut to commercial. In the space between, Cataldi let slip "What the f--- am I supposed to do?"
"I was trying to get a handle on what I should I say about Roy Halladay, because I watched him pitch eight innings against an awful team. I went to hit the button [that takes him off air] and I missed," an apologetic Cataldi told me. "My wife said 'I'm amazed it took 23 years for this happen.'"
Philly's own comedic superstar Kevin Hart was arrested in the wee hours of this morning on suspicion of driving under the influence, according to TMZ.
The California Highway Patrol stopped Hart's black Mercedes at 4:30 a.m. after they saw him driving erratically and "almost collid[ing] with a gas tanker truck" on the 101 Freeway.
Hart was booked for misdemeanor DUI and is being held on $5,000 bond.