Archive: September, 2009
Rodney King fought a cop Friday night, and this time he won. King, who came to involuntary fame in 1992 when he was the subject of a videotaped and savage beating by LAPD officers, defeated Simon Aouad, a former Chester police officer, by decision Friday night, winning the Celebrity Boxing Federation Heavyweight belt. While in the area, King also attended the Daily News Sexy Single party Thursday at the Water Works Restaurant and Lounge, behind the Philadelphia Museum of Art. He accompanied Mayfair Civic Association President Scott Cummings, who also fought Friday night, in the CBF 11 event at the Ramada Philadelphia Airport. Cummings won after twice knocking down opponent Mike Tate. Cummings, a former bodyguard for Donald Trump, was billed as "Michael Jackson's former bodyguard." He protected Jackson for two days in the early 1990s when the King of Pop visited Atlantic City.
Meanwhile Celebrity Boxing Federation promoter Damon Feldman and local tailor Daniel Morroni will be seen on the Sept. 21 episode of "Judge Jeanine Pirro" which airs at noon on the CW Philly 57. Feldman was sued by George "Tailor Made" Weisgerber - seen on several VH1 reality shows - after Weisgerber was kicked off one of Feldman's cards earlier this year. Pirro, a former district attorney and judge in Westchester, N.Y., was here the other day promoting the new season of her courtroom show. She was happy to be able to see her daughter Cristi Pirro, who is in her final year at Penn law school. Pirro, who blogs at JudgeJP.com, says that Cristi - who was a Penn undergrad, too - is going into commercial and business law, and has no interest in following in her mother's criminal-law footsteps.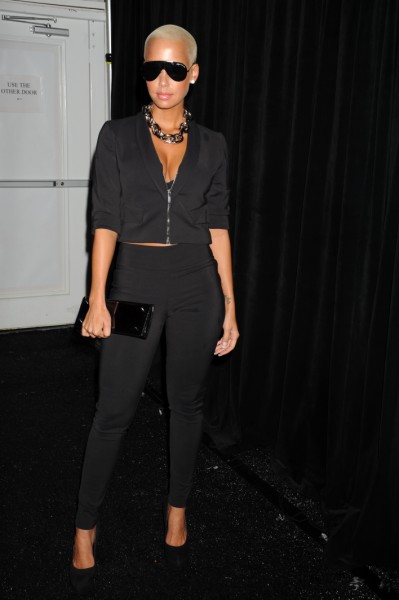 We hope South Philly native Amber Rose won't get a bum rap for her boyfriend Kanye West's shameful VMA antics, snatching a microphone from Taylor Swift during her acceptance speech and saying Beyonce should have won instead. Here's the model and ex-Delilah's dancer yesterday backstage at the Nicole Miller show at New York Fashion Week.
Don't be surprised if 610 WIP soon announces that former Eagle Ike Reese becomes a permanent co-host of Howard Eskin's 3 to 7 p.m. show. We're told that Rob Ellis, of Comcast SportsNet, who guest-hosted with Eskin for a little while earlier this year, will take over Reese's 7-11 p.m. slot.
WIP operations manager Andy Bloom told us yesterday he could neither confirm nor deny our information.
Meanwhile, Angelo Cataldi and his morning crew beat 93.3 WMMR's Preston and Steve show in the coveted demo group of men 25-54 for the first time ever, according to the new Arbitron ratings. WIP's midday show of Glen Macnow and Anthony Gargano is also newly first in that demo.
Charles Barkley has been getting back in shape by boxing with "Joltin' " Joey DeMalavez at his Joltin' Jabs (4313 Main) boxing studio in Manayunk. Sir Charles trained a bit last summer with DeMalavez, a former Daily News Sexy Single, but has now returned hardcore, boxing nearly every day...Comedian Wanda Sykes sipped Ketel One and club while bowling late Monday night at Lucky Strike (1336 Chestnut) with friends. The funnywoman owns a home in Delaware County...Curt Schilling, the former Phillies ace who recently experessed interest in the Massachusetts Senate seat vacated by Edward Kennedy's death, was in town over the weekend. Schilling and pals enjoyed two bottles of wine, tenderloin tips and mushrooms, pork chops and trout at City Tavern (138 S. 2nd) Saturday night. Schilling paid the bill, tipping generously..."Monk" star Tony Shalhoub was on US Airways' Flight 36 from LAX to PHL overnight Friday/Saturday. He flew coach..."Real Housewives of New Jersey" Caroline and Dina Manzo danced it up at Bob Pantano's Beach Bar party at the Atlantic City Hilton Saturday night. The sisters and a few of their co-stars from the Bravo series had appeared earlier at their own event at the hotel, taking questions from the audience and talking about the show. Caroline tore up the floor with Ten Pennies florist Ann Catania and West Deptford Mayor Anna Docimo when Pantano played Neil Diamond's "Sweet Caroline." For more from today's column, click here.
Eagles Mike Patterson, Juqua Parker, Reggie Brown and Victor Abiamiri were among the crowd taking in R&B singer Mya's performance at Dusk inside Caesars in Atlantic City Friday night. So did the just-released A.J. Feeley.
Turns out it was a sad occasion that brought Bruce Willis to town for the holiday weekend.

His father David Willis, Sr. died Thursday at age 79. He lived in Penns Grove, NJ where the actor was raised. Bruce Willis, ex-wife Demi Moore, their three daughters Rumer, Scout and Tallulah, Moore's husband Ashton Kutcher and Willis' new bride Emma Heming were all in town for the funeral services, which were held Sunday.

Willis, Heming, Moore and the girls were part of a large party at Parc on Rittenhouse Square Friday night. Willis and Heming dined there the night before as well.

On Saturday night Kutcher and Rumer, who turned 21 August 16, went for appetizers and drinks at Ladder 15 (1528 Sansom) and Sunday morning Willis, Heming and Rumer brunched on pancakes, and eggs Benedict at Rittenhouse Square staple Rouge. Sunday night Willis and some family members dined at Smith & Wollensky inside the Rittenhouse Hotel which is where the family was headquartered during their visit.
The Bruce Willis/Demi Moore family Labor Day weekend in Philadelphia continued yesterday. In the afternoon, Willis, his new bride Emma Heming and his daughter Rumer Willis lunched at a window table at Rouge on Rittenhouse Square, and Saturday night Rumer and her step-father Ashton Kutcher had appetizers and drinks at Ladder 15 (1528 Sansom). Kutcher wore a Chicago Bears hat as they tried to keep a low profile.
Bruce Willis, his ex-wife Demi Moore, their three daughters Rumer, Scout and Tallulah, his new wife Emma Heming, and his brother are all dining tonight at Parc on Rittenhouse Square.
They're seated indoors and it looks like one big happy family at one long table, we're told.