Archive: September, 2008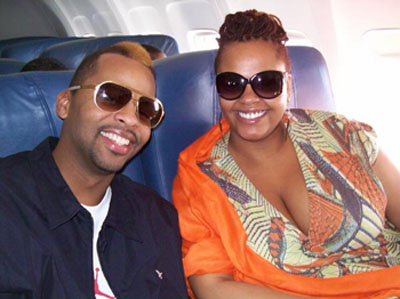 Philly-raised drummer "Lil" John Roberts is engaged to one R&B diva, Jill Scott, but touring with another, Janet Jackson, with whom he'll perform Oct. 2 at the Wachovia Center. He's played for Jackson before and just left a tour with Scott to rejoin Jackson's. Roberts and Scott were engaged in June with Scott announcing the happy news on stage at Carnegie Hall after Roberts came out from behind the kit to give her flowers and a passionate kiss. The lovebirds have since gotten the other's first name tattooed on their necks, but we hear they're both so busy touring that they're having trouble planning the wedding. Roberts is a grandson of Hall of Fame boxer Harold Johnson.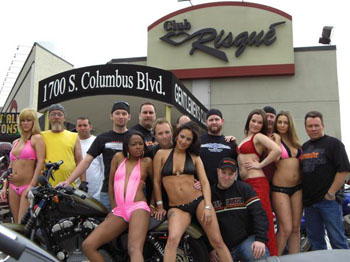 Club Risque
has acquired what used to be Dangerous Curves (5921 Tacony), and co-owner Nick Saponara says he expects to open what will be Club Risque Northeast in two weeks.
In May, Kevin Rankin, co-owner of the Wissinoming strip bar, was sentenced to three years in federal prison on gun and fraud convictions. The Daily News reported then that Rankin was liquidating his interest in Dangerous Curves, which had been raided in 2005 by federal agents seeking evidence linking Rankin and co-owner Bishop Krabsz to then-Councilman Rick Mariano, who was convicted of corruption charges in 2006.
Krabsz was convicted of similar charges and also was sentenced, in August 2007, to three years.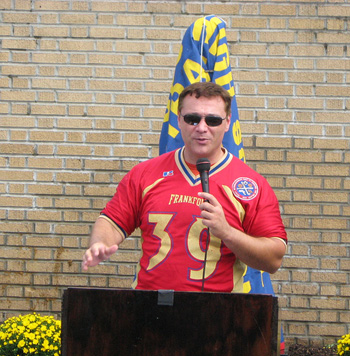 Vince DeMentri, who was last seen on NBC10 in early July, served as emcee at a weekend tribute to Frankford High football coach Al Angelo, who was honored with a memorial marker at the high school. DeMentri played football for Frankford in the early 80s for Coach Angelo, who led the Frankford Pioneers from 1965-1984 and also in 1987. For more of People Paper high school sports writer Ted Silary's photos from the ceremony, click here.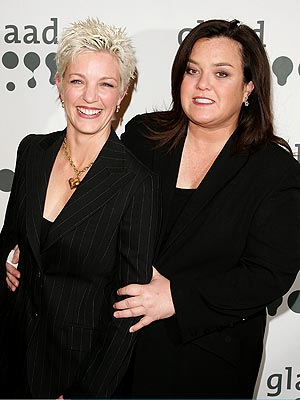 Don't be surprised if Rosie O'Donnell comes to town on Nov. 15 when her wife, Kelli O'Donnell, receives a humanitarian award from the Attic Youth Center (255 S. 16th) in its annual gala at the Ritz-Carlton. Kelli is co-founder of R Family Vacations, which organizes vacations catered to gay and lesbian families. She, Rosie and the couple's four children often travel on the family trips. Other honorees at the Attic gala will include Stephen Glassman, William Scott, Kristen Hopkins and Lee Carson.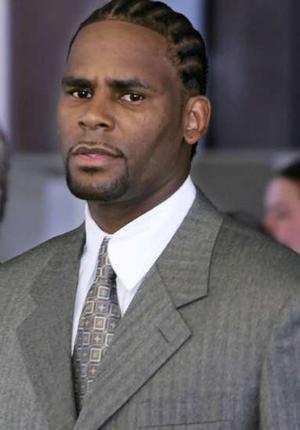 R. Kelly and four friends were happy to pay the $25 cover to see saxophonist Chris Potter at Chris' Jazz Cafe (1421 Sansom) Friday night. Kelly asked his waiter for a lobster feast for the table. The gang were staying at the Ritz-Carlton which we hear steered them toward the club. Kelly's been in and out of town over the past few months working on a record at the Studio around 7th & Willow.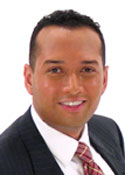 New Jersey native

Thomas Drayton

has been named co-anchor of Fox 29's News at Five and News at Ten. He'll start next week. Drayton will anchor alongside

Kerri-Lee Halkett

on the 5 p.m. and

Dawn Stensland

on the 10.
He replaces the well-liked

Dave Huddleston

whom the station chose not to renew in May. Drayton comes to the station from Sacramento's Fox affiliate KTXL where he co-anchored the 10 p.m. newscast. He's also worked in Alaska, Wyoming, Colorado, but says he's happy to return to this area which he remembers from his Jersey youth.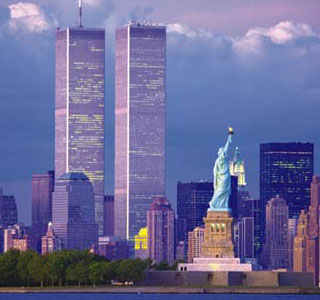 Democratic state House challenger Rich Costello yesterday slammed state Rep. John Perzel for what he calls "the height of arrogance and insensitivity." Today, the seventh anniversary of the 9/11 attacks, Perzel will host a fundraising golf outing at the Island Green Country Club on Red Lion Road.

"Once again, Mr. Perzel puts himself above our constituents and it now seems, the victims of 9/11 too," says Costello, who spent 34 years as a Philadelphia police officer and later ran the local Fraternal Order of Police.

Costello will attend an interfaith 9/11 memorial tonight co-hosted by Maternity B.V.M. Church (9201 Old Bustleton) and the nearby Temple Beth Ami synogogue. Service begins at 7 at the church and a candlelight vigil march will depart from there. Perzel was invited to the event but will not attend. Our calls to staffers at Perzel's campaign and his legislative office yesterday about the fundraiser, which will cost supporters $250-$500 to attend, were not returned.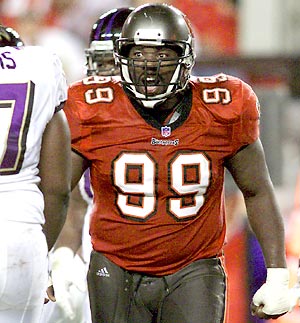 Warren Sapp

hung out with 93.3 WMMR's Jacky Bam Bam at Cheerleaders (Front & Oregon), where the rocker also serves as the bikini bar's house DJ. The former NFL star, who will soon be seen on "Dancing with the Stars," was there for the club's wet-T-shirt contest Monday. Bam Bam says Sapp politely declined a request to judge the contest, stating he wanted to smoke a few stogies, eat and relax instead. Sapp was very friendly to fans and happy to show off his Super Bowl ring, won with the Tampa Bay Buccaneers in 2002.