Archive: September, 2008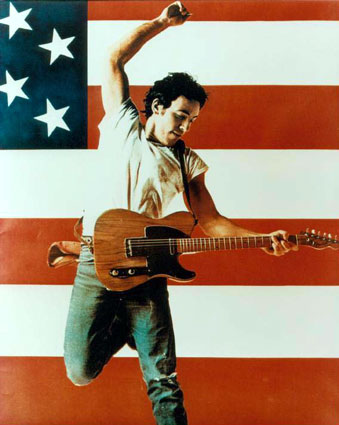 Bruce Springsteen will perform at a Saturday afternoon rally to benefit Sen. Barack Obama on Benjamin Franklin Parkway, the Obama campaign has just announced. The Boss will play between 20th and 22nd streets. Gates open at 2 p.m. with the rally to begin at 3:30. Preferred tickets go to Obama campaign volunteers who visit one of his local campaign offices starting at 10 a.m. tomorrow. General admission tickets are to be available by clicking here, though as of yet there is nothing posted to the page. The address was provided by the Obama campaign.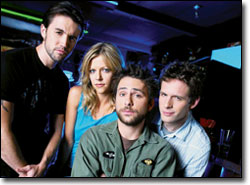 Congratulations to South Philly raised Rob McElhenney and Kaitlin Olson, his co-star on "It's Always Sunny in Philadelphia," who were married Saturday afternoon at a vineyard in Malibu, Calif. "Sunny" stars Danny DeVito, Charlie Day, Glenn Howerton and crew from the raunchy FX comedy were in attendance. Fred Savage who directs some "Sunny" episodes and "Bones" star Emily Deschanel, were also at the nuptials. McElhenney (pictured on the left) a St. Joe's Prep grad, and Olson were engaged in December after dating close to two years.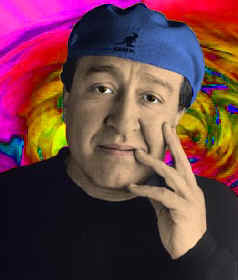 Philly-raised comedian Dom Irrera was arrested early yesterday in Los Angeles on suspicion of driving under the influence. Irrera was stopped at 12:50 a.m. and taken to a North Hollywood police station where he was being held on $5,000 bail, according to a TMZ.com report. An LAPD spokesman confirmed yesterday that Irrera had made bail and was released. The Los Angeles City Attorney's Office yesterday said that "no information was available on a filing decision" as to a court date. Irrera, who long performed at the Laff House (221 South) and more recently played the TLA and the Borgata in Atlantic City, did not return a voice mail we left at his home yesterday. The voice mail on his cell phone was full. The comedian, once a teacher at Most Blessed Sacrament parish school in Southwest Philly, credits Rodney Dangerfield with giving him his big break in an HBO stand-up special. Irrera's many credits include "The Big Lebowski," an episode of "Seinfeld" and spots on Damon Wayans' show, "My Wife & Kids."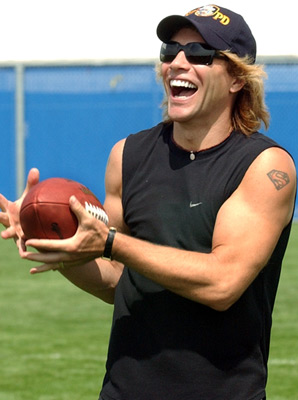 Jon Bon Jovi has been slated to perform at the Mount Airy home of Comcast exec David L. Cohen at the Oct. 10 Barack Obama fundraiser dinner we told you about the other day. Bon Jovi recently hosted his own benefit for Obama at his New Jersey home. The Philadelphia Soul co-owner will also attend an afternoon cocktail reception fundraiser with Obama at the Sheraton City Center.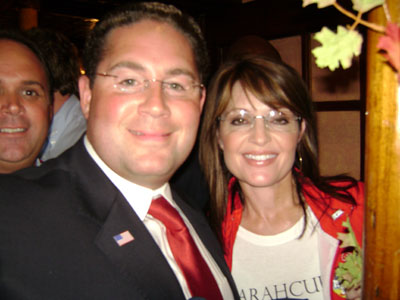 Attorney James J. Leonard, Jr. has no hard feelings that Sen. John McCain didn't choose his client Lil' Kim to be his running mate. Here's Leonard with Alaska Gov. Sarah Palin and most of the head of Atlantic City Councilman George Tibbitt (a Democrat) at the Irish Pub (2007 Walnut) Friday night where Palin greeted over 400 supporters.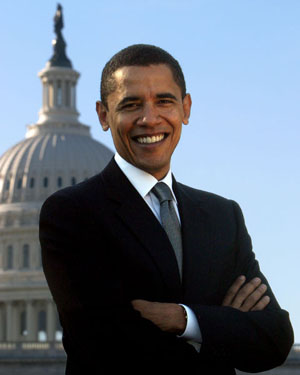 Barack Obama will be in town Oct. 10 for an afternoon cocktail reception at the Sheraton City Center, which will cost supporters between $1,000 and $2,300 to attend, and later that night for a $10,000 per guest dinner at the Mount Airy home of Comcast executive David L. Cohen, according to an e-mail sent by Obama Mid-Atlantic campaign finance director Shomik Dutta, to local fundraisers. The note told recipients to "please help get the word out immediately and please continue collecting checks at the breakneck pace you've already set!" The Cohen dinner will also allow fundraisers to attend without paying their own freight, if they have collected $50,000 from others. Funds will benefit Obama for America, the Obama Victory Fund, and the DNC.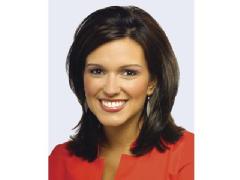 NBC 10 anchor Lori Delgado ran from the newsroom in tears yesterday morning which we are told was possibly related to having read in our column that her former colleague Vince DeMentri finally would be discussing his departure from the station with an Inquirer columnist. That interview could shed light on whatever DeMentri was alleged to have done to the married Delgado, with whom he once enjoyed a particularly close friendship. An NBC 10 spokeswoman declined to comment on Delgado's abrupt departure from the newsroom, saying that the station does not discuss matters of personnel. Delgado did not return an e-mail we sent her yesterday.
He knocked out rap mogul Suge Knight, and now Greg the Barber is seeking an opponent to battle on Nov. 15 at the Marple Sports Arena. Damon Feldman's Celebrity Boxing Promotions is offering $2,500 to the man chosen to fight Greg the Barber, who beat down Knight, Death Row Records founder, in May outside a Los Angeles nightclub. Also on the card are John Wayne Bobbitt fighting Howard Stern show regular Irish John, as well as Bam Margera's father, Phil, fighting a challenger to be announced. Anyone interested in fighting Greg the Barber can e-mail Feldman at damonfeldman@hotmail.com. Below is the post-fight footage of Knight. Click here for an interview with Greg.