Archive: August, 2009
Jerry Springer stars as the flamboyant attorney Billy Flynn in "Chicago" next month at the Academy of Music and also soon plays the role on Broadway, but fear not, the king of trashy talk shows isn't giving up his bread and butter any time soon. "It's two days a week. It's mindless. Anyone could do it," says Springer of his relaxed schedule of taping three episodes on Mondays and two on Tuesdays of the syndicated show he's hosted for 19 years.
He says "Chicago" producers offered him the role after seeing him on "Dancing with the Stars," and they hired him before they bothered to ask if he could sing. "I can carry a tune," he says of his singing skills.
The talk-show host has earned great reviews for his performance as Flynn on the London stage and before opening in Philadelphia he'll also play the role on Broadway. "The best acting is not acting," Springer told us.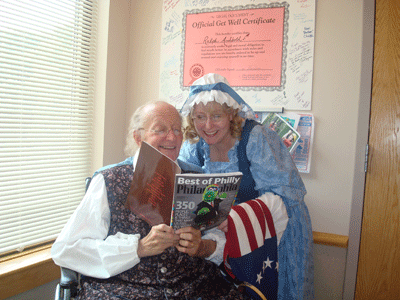 The nation's most prominent Benjamin Franklin impersonator Ralph Archbold is back at home recovering from his recent stroke, reports his wife Linda Archbold. Linda, a Betsy Ross impersonator, had to miss Philadelphia magazine's recent Best of Philly party as she was busy caring for her husband who was then at Bryn Mawr Rehabilitation where this photo was taken. Linda was honored to have won the mag's Best Colonial Impersonator award.
University of the Arts alum Clayton Reilly will be playing trumpet with John Legend when the soulful Penn grad plays the Mann Center Saturday night. Reilly, 25, a Bethlehem native, has been hooked on jazz since childhood, when he would listen to big-band records with his grandfather. He graduated UArts in 2006 with a degree in trumpet performance and has since played with Patti Labelle, Natalie Cole and Diddy. He toured with Corinne Bailey Rae in 2007, when he met Legend, though Reilly only recently joined his band.
First Lady Michelle Obama and daughters Malia and Sasha got a private tour of the Betsy Ross House (239 Arch)
Saturday afternoon. We're told Malia recently wrote a paper for school about Betsy Ross and wanted to see for herself where America's most famous seamstress had sewed the flag. The Obamas also stopped at Carpenters Hall, Independence Hall and on South Street where they took in artist Isaiah Zagar's mosaic work around 10th Street.
Reese Witherspoon and Paul Rudd dined together this evening at Alma de Cuba (1623 Walnut).
The pair are starring in the annoyingly-untitled James L. Brooks comedy shooting here through October.
Actor Charles Dutton ("Roc," "Get On the Bus") was in town over the weekend shooting an intense scene for "The Gift" at TJS Auto Imports (2149 Penrose). In the scene, Dutton faces off with Michael Wright ("Oz," "Five Heartbeats"), who plays a crooked cop. Dutton plays the father of an aspiring rapper, played by Jamie Hector, of "The Wire," who is running a credit-card scam to get money he needs for his son's surgery. Pictured here on the set are screenwriter Ken Kushner, executive producer Steve Gordon, Hector, child actor Tyire Johnson, Dutton, Wright, executive producer Terrance Glasgow and director J. Jesses Smith. The producers are hoping for festivals and a theatrical release.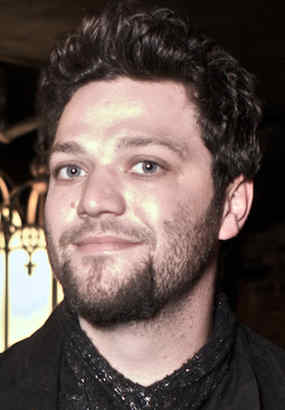 Local "Jackass" Bam Margera has been living for nearly a week at the Murano (21st & Market), with his purple Lamborghini in the building's garage.
Last month, Margera told TMZ.com that he had been hospitalized after going on a "four-day bender" stemming from marital problems. "I may get a divorce . . . booze helps," he said.
Margera's wife, Missy, has not been seen at the condo building, where he moved last Friday.
Reese Witherspoon and Jake Gyllenhaal just shopped the Bethayres Market (650 Welsh) in Huntingdon Valley where they were gracious to fans who approached them, and signed a few autographs while shopping. The couple also dined at Morimoto (723 Chestnut) last night.