Archive: August, 2008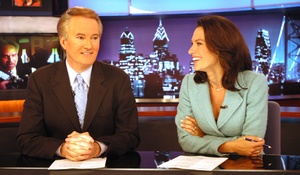 A loyal reader just sent in this CBS3 promo which ran in Fall 2003 when

Larry Mendte

and

Alycia Lane

were first paired on the anchor desk. It may have been the first and last times the anchors said kind words about each other...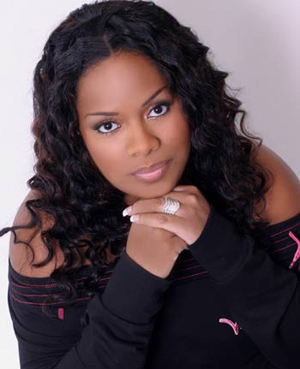 Jonesy is no longer hosting mornings on 100.3 the Beat.
The radio station had syndicated her show, based from New York's Hot 97, since January, but is now playing a mix of music in a show called "The Morning Beat."
Jonesy was dumped by Hot 97 on July 3, but was still heard on The Beat through Monday's show. She was off-air yesterday and has been removed from the station's Web site. Jonesy, aka Tarsha Jones, aka Miss Jones, did not return requests for comment yesterday, and calls to Radio One, which owns The Beat, were not returned yesterday.

94 WYSP is considering flipping formats to classic rock around Labor Day, sources say.
We're told that the plan is to drop contemporary artists and go back to hits of the '70s and '80s to go after 102.9 WMGK's listeners. Labor Day is a typical time for radio shake-ups. The station has been struggling to find an identity and listeners since it fired its franchise talent, Kidd Chris, in May over a racist song performed by a guest in March.
WYSP boss Jim Loftus did not return a call yesterday. Making things more interesting is word that Opie & Anthony, fired from 'YSP in October, may return to the station. Their agent, Bob Eatman, said as much on O&A's XM Satellite Radio show yesterday, according to FMQB.com. Their return depends on the yet-to-be-completed Sirius/ XM Satellite Radio mergers. Eatman did not return our call yesterday afternoon.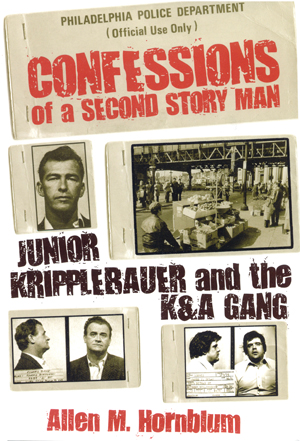 Reputed mob associate John Berkery has created a Web site to embarrass Temple prof Allen Hornblum, whom Berkery has sued for defamation.

Berkery's HornblumExposed.com is devoted to the author of "Confessions of a Second-Story Man: Junior Kripplebauer and the K&A Gang." Berkery sued Hornblum in 2006 for defamation over his portrayal in the book. A New Jersey court passed summary judgment in favor of Hornblum, citing lack of malice necessary to prove slander.

Berkery, 74, now a paralegal, doesn't quite deny a criminal past but says it wasn't as bad as Hornblum's descriptions in the book, released in January 2006 by Barricade Books. Temple University Press was supposed to publish it six months earlier, but Berkery, implicated in the infamous 1959 Pottsville heist involving showgirl Lillian Reis and the burglary of coal baron John B. Rich, threatened to sue Temple if they published it.
CHARLES BARKLEY needs to shed some pounds, so he's taken up boxing as his exercise of choice.

The soon-to-be not-so-Round Mound of Rebound has been training at Joltin' Jabs (4313 Main) in Manayunk. Barkley told us that he'd read in our column that "Joltin' " Joey DeMalavez had recently trained NBC 10's Vai Sikahema for what turned out to be his first-round knockout of Jose Canseco.

"My doctor told me I was a Happy Meal away from diabetes," Barkley told us Friday. "I have to get my fat ass back together," he said. Barkley says he was 330 pounds, but is now closer to 300 and plans to work with DeMalavez throughout the summer while he's living on the Main Line. Barkley notes that boxing's a lot different than when he used to get in fights while playing in the NBA. "When I was on the Sixers and got arrested all those times, none of those people ever hit me back. It was always little guys that messed with me," said Sir Charles, who's getting used to getting hit back.

Wonder how long it'll be until

Damon Feldman

tries enlisting Barkley for a Celebrity Boxing match.