Archive: June, 2011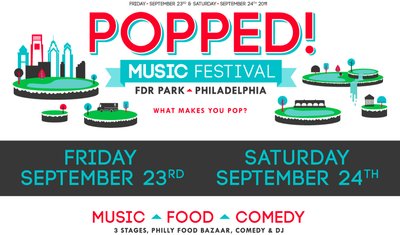 The Shins, Girl Talk and Rakim are among performers at the POPPED! Music Festival Sept. 23 and Sept. 24 at FDR Park in South Philadelphia.
The Hold Steady, the Pains of Being Pure at Heart, Panda Bear, Cults and Kreayshawn are also some of the first acts announced as performing at the two-day festival of live bands, DJs and comedians produced by POPPED! Festival, Inc.'s Alexis Rosenzweig and Larry Magid Entertainment.
Tickets are on sale Monday through Ticketmaster. The full line-up will be revealed soon on the POPPED website.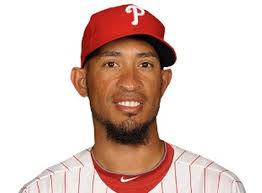 Phillies infielder and one-time pitcher Wilson Valdez is making $560,000 this year but tipped only 50 cents on two drinks he paid for with a $100 bill for him and a pal just before last call at Time (1315 Sansom) after last Thursday's late-ending game against the Cubs.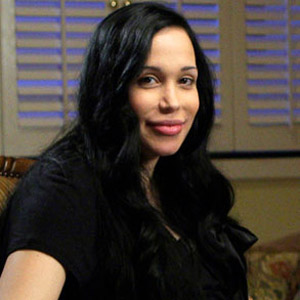 When Nadya Suleman, who already had six children, had eight embryos implanted through in-vitro fertilization, her biggest opponent was common sense.
Now Suleman, better known as Octomom, is seeking a female opponent to fight with cartoonishly oversized boxing gloves, and headgear, in a 3-minute bout being billed as a Celebrity Wrestling match June 29 at Pennant East (141 Crescent) in Bellmawr, N.J.
Tickets are $20 and on sale through webtix.net. The event can also be watched online at battlecam. com, says promoter - you guessed it - Damon Feldman.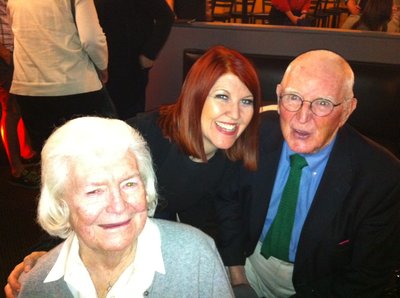 Ardmore native "Office" actress Kate Flannery partied with family and friends at Oh Shea's (19th & Sansom) after she and comedy partner Scot Robinson's The Lampshades performed at Helium (2031 Sansom).
Many Flannerys were in attendance at the show where we're told her parents Tom and Joan seemed unfettered by their daughter's repeated references to camel-toe.
In the past, the afterparty would have been at the family bar, T.A. Flannery's (11 S. 21st) but it closed after many years last spring. The bar is now Rogues Gallery.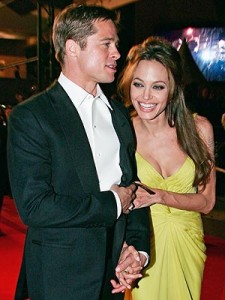 You may have heard the rumor that Brad Pitt and Angelina Jolie would be moving to, or living in Blue Bell, but that's not the case.
However, we have a pretty good idea how it might have started.
Strip-club mogul Robert Laflar, who owns Oasis Gentlemen's Club and Christine's Steakhouse, told us yesterday that he is hosting the Pitt/Jolie clan at his 40,000-square-foot Blue Bell mansion this summer while Pitt is here to shoot a movie.
Cara Hartmann's love for cats has been viewed more than 6 million times. Her character Debbie may have attended Villanova, but Hartmann did not, according to the university. Enjoy. Or dont....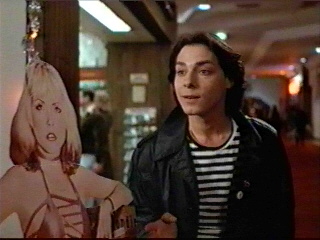 Filmmaker Eric Moyer is outraged that the Souderton Area School District rejected his request to shoot his film "School Spirits" in the closed former home of Souderton High School, from which Moyer graduated in 1991.
The movie, which deals with ghosts in a shuttered high school, stars Mischa Barton ("The O.C."); Christopher McDonald, whose credits include "Dirty Work" and "Happy Gilmore"; and Robert Romanus, remembered by a generation as Mike Damone in "Fast Times at Ridgemont High."
Romanus starred in Moyer's comedy "A Halfway House Christmas."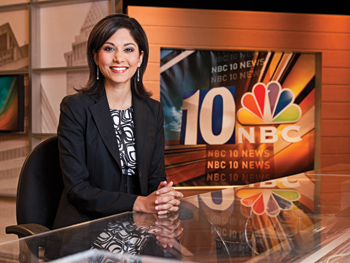 Looks like a national tryout for NBC 10 anchor/reporter Aditi Roy, who will spend the summer in Los Angeles working for NBC News. She'll be there from June 27 to Sept. 5.
If this story sounds familiar, it's because last year NBC 10's Kristen Welker also was tapped for the national stage, and spent a summer in Burbank, before being promoted full-time to NBC News.
Although Roy's summer gig isn't being billed as a tryout, it certainly seems that way, and NBC News President Steve Capus is known to have a soft spot for NBC 10. The Warminster native and Temple grad spent several years at the station in the 1980s.