Archive: June, 2010
Dan Gross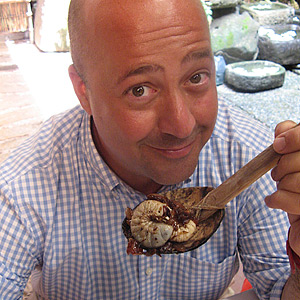 Travel Channel "Bizarre Foods" host Andrew Zimmern did some filming at Czerw's Kielbasa (3370 Tilton) in Port Richmond yesterday. Zimmern sampled kielbasa, pierogies and stuffed cabbage and later Tweeted that Czerw's kielbasa is the "Best on the planet. Seriously." Zimmern also stopped at John's Roast Pork (Weccacoe & Snyder), George's Sandwich Shop (900 S. 9th) and DiBruno Bros. (930 S. 9th) while in town.
Dan Gross
We hear the longtime girlfriend/business partner of a local hipster blogger, whose relevance continues to decline, has finally come to her senses and left him.
Dan Gross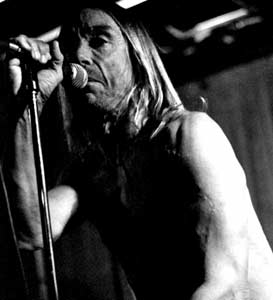 No deal has been reached, but we hear "Real World: Los Angeles" cast mate Glen Naessens and his brother Mike, who owns Eulogy (136 Chestnut), are trying to buy the Khyber (56 S. 2nd), which is mere feet away from Eulogy.
Rumors of the Old City rock club being for sale have swirled for about a year, but nothing has come to fruition.
Khyber co-owner Stephen Simons declined to comment yesterday. Simons owns the building and co-owns the bar with Dave Frank. The pair also operate the Royal Tavern, Cantina Los Caballitos and Cantina Dos Segundos.
Dan Gross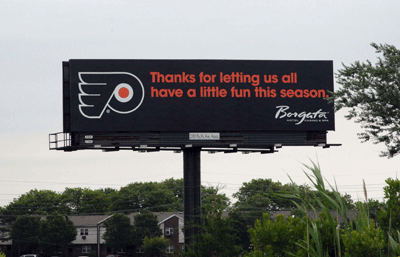 The Flyers, just about all of them, dined at the Borgata's Old Homestead steakhouse before partying at mur.mur nightclub there Friday. The Atlantic City hotel put up a special billboard at the entrance to its property with a Flyers logo that read "Thanks for letting us all have a little fun this season." The guys loved it.
Dan Gross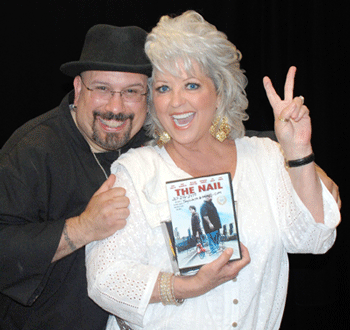 Sandwich mogul Tony Luke, Jr. and musician Skip Denenberg hit it off with Food Network Southern belle Paula Deen over the weekend at the Great American Food & Music Festival at the New Meadowlands. The guys worked Deen into a song and played it for her in the dressing room and then she asked them to perform it during her stage presentation. Tony Jr. and Denenberg also performed the "Cheesesteak Anthem" and later performed an impromptu show for about 5,000 soggy foodies huddled to escape the rain in a tunnel near the main field of the stadium.
Dan Gross
Oprah Winfrey was at the Comcast Center for a meeting this afternoon and another meeting at Table 31 on the ground floor of the skyscraper. A Comcast spokesman confirmed Winfrey was at the cable giant's headquarters but said he did not know the nature of her conversations. Winfrey's stepping down from her long-running and wildly successful talk show on Sept. 9, 2011 and will then launch OWN, the Oprah Winfrey Network, which will presumably be carried on Comcast. Inquiries to her Harpo Productions were not immediately returned this afternoon. At Table 31, Winfrey didn't eat but sipped San Pellegrino sparkling water as a bodyguard hovered nearby. She met with a man who was not recognizable to our spies.
Dan Gross
"I'm innocent, and he's a 'Jackass' just like his movies," said Elizabeth Ray of the aggravated assault charge she is facing after allegedly hitting "Jackass" star Bam Margera in the head with a baseball bat early Saturday morning.
"He uses racial slurs, uses the N-word with black in front of it," Ray, 59, who is black, said of Margera, 30, who is white. "He called me the N-word," Ray said, when asked if she had any altercation with Margera on Saturday. She was arrested on S. Matlack Street in West Chester, the block on which she lives, after witnesses at the scene said that she had struck Margera in the head with a bat, according to West Chester Police.
Ray denied striking Margera with a bat or anything else around 2 a.m. Saturday next door to The Note (142 E. Market) a bar Margera co-owns. "I did not hit him, nobody hit him," Ray said of Margera, a pro skateboarder and star of MTV's "Viva La Bam." When we asked Ray if she knew how Margera was injured, she said he wasn't injured.
Dan Gross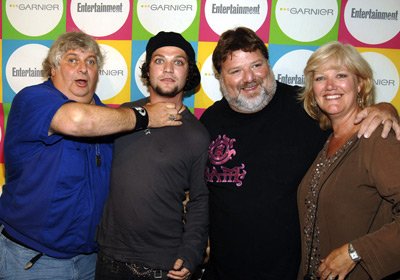 April Margera is thankful her son Bam Margera wasn't more seriously injured in a Saturday morning attack in which she says the Chester County "Jackass" star sustained a concussion. "He has a big lump on his head," April told us Sunday morning of her son, a professional skateboarder and star of MTV's "Viva La Bam."
April says Bam, 30, told her that a woman who has harassed him before came up out of nowhere and hit him in the back of his head as he walked to his car parked around the corner from The Note (142 E. Market), a West Chester bar Margera co-owns, around 2 a.m. Saturday.
Elizabeth Ray, 59, who lives on the block of S. Matlack Street where the incident occured, was arrested and charged with aggravated assault in the attack. Ray was arraigned Saturday and will later face preliminary hearing.