Archive: May, 2011
Dan Gross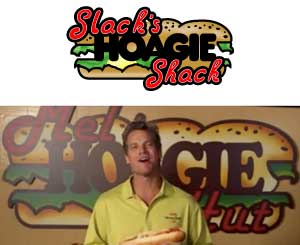 Dennis Slack was shocked to see his Slack's Hoagie Shack logo used on ABC's "Cougar Town" April 27, with the name changed to Mel's Hoagie Hut.
Slack tells us he hopes to avoid a lawsuit but has been talking with ABC's legal department about reparations. He would like the show to continue to use his logo but with the actual name of his sandwich shop. It first opened at 2499 Aramingo Ave., in Port Richmond, and now has 12 other franchise locations in the area and as far away as Atlanta.
Slack is upset because the infringed logo will continue to be seen, online and on DVD. He believes that someone who works on the show is familiar with his logo and used it to represent Mel's Hoagie Hut. Slack thought it was odd, as do we, that the Courteney Cox show, set in Florida, used the term hoagie, which is exclusive to this area. "I was trying to avert a lawsuit because I thought what I was asking should have been obvious and easy enough to do," Slack told us Monday. Slack says that had ABC asked permission to use his logo, he would have said "Of course, but with our name," and been happy to receive the prime-time exposure.
Dan Gross
Mikey Wild, the old-school Philly punk-musician-turned marker artist, is in hospice care at Penn Medicine at Rittenhouse, says his brother Ben DeLuca.
Wild, born Michael DeLuca, has had lung cancer for nearly three years.
He recently completed a short film with producer/director Issac Williams called "Paying the Price," and played some shows last year while in remission."Being mentally challenged, Mikey found his niche in life early on and made the most of it," Ben said yesterday.
Dan Gross
Yesterday's bust of reputed mob boss Joe Ligambi and 12 associates may provide fodder for Tigre Hill's next film.
The "Barrel of a Gun" and "Shame of a City" director confirmed yesterday that he will soon start production on a mob documentary, tentatively titled "Fall of the Families," that focuses heavily on South Philadelphia but also covers the mob in cities across the United States.
Fox 29's Dave Schratwieser, who broke the story of the busts yesterday morning, and Inquirer mob/crime reporter George Anastasia will be interviewed about the mob in the film.
Dan Gross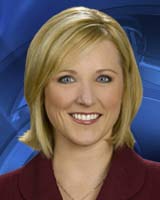 And the big story on Action News is that anchor/reporter Sarah Bloomquist is expecting a baby this fall. It's the first child for Bloomquist, who joined 6ABC in 2002, and her significant other Justin Shaginaw, a physical thearapist.

Dan Gross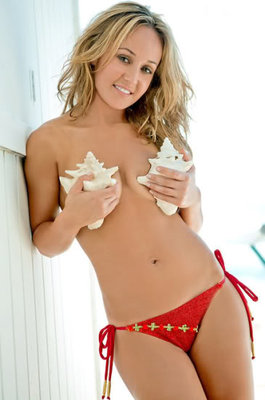 Ashley Hebert, who debuts on ABC at 9 tonight as its new "Bachelorette," did not graduate Penn Dental School May 16 as had been expected. Hebert was listed in the program but did not attend the ceremony, nor has she actually completed her studies, sources tell us. A Penn spokeswoman said the university does not comment about students and declined to say if and when Hebert, among the final three contestants on the last season of "The Bachelor," is expected to graduate.
Hebert told the Portland Press Herald in her native Maine that she had taken time off school but has every intention to become a dentist.

Dan Gross
"Those of you who pay attention tonight will have better sex for the rest of your lives," proclaimed Dr. Ruth Westheimer on Friday evening, taking the microphone to accept her Lifetime Achievement Award from the Mazzoni Center.
The organization, which helps LGBT youth, honored the famed sex therapist at its Elixir: The Cure for the Common Gala event at the Loews Philadelphia Hotel.
Dr. Ruth answered anonymously submitted sex-advice questions from the audience and chatted with the event's emcee, Carl Capotorto, who played Little Paulie on "The Sopranos." Capotorto grew up in the Bronx a close friend of Dr. Peter Mazzoni, the local AIDS activist who died from the disease at age 31 in 1990.
Dan Gross
Congratulations to former Wilhelmina Philadelphia and Reinhard model Brittani Kline who won Tyra Banks' "America's Next Top Model" Wednesday night.
Kline, 19, was raised in Beech Creek, PA and began modeling at age 7, working for Kelli Walters, who signed her again in 2009 when Walters opened Wilhelmina Philadelphia.
Kline worked for a year locally, walking in the inaugural Philadephia Fashion Week as well as doing days of shooting with local photographer Christopher Gabello including the images posted here.
Dan Gross
Adult film sensation Mary Carey believes Monday's revelation that Arnold Schwarzenegger fathered a child out of wedlock proves that California voters should have picked her in 2003.
"I think it proves that I would have been a more honest governor than he was. I have no love children and don't plan on it," says Carey who placed 10th in the recall election in which Schwarzenegger was the winner.
"We're in such a fiscal crisis and if Arnold can't be honest to his wife of 25 years how can we trust him to have been honest to the citizens of California," said Carey, an honorary Philadelphian, who no longer stars in hardcore porn but models nude on her website.