Archive: May, 2010
Dan Gross
Actors Terry Crews and Essence Atkins took a break from a busy day promoting their new WB series "Are We There Yet?" to have dinner at Buddakan (325 Chestnut) the other night. Crews, a former Eagle, who starred on "Everybody Hates Chris" and played President Camacho in "Idiocracy," went for barbecue pork while Atkins, best known from the series "Half & Half," had tuna tartare and black cod. They later joined 105.3 WDAS's Patty Jackson at Dave & Buster's (325 N. Columbus) for a show-viewing party for hundreds of contest winners.

Dan Gross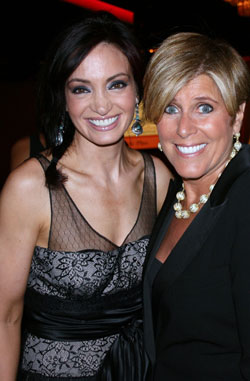 Congratulations to B101 morning co-host Tiffany Hill who is just back from Beverly Hills where she won an award for Outstanding Host Information/Entertainment at the Alliance for Women in Media's annual Gracie Awards Gala. Here is Hill with financial guru Suze Orman, who was also honored at the Gracies.

Dan Gross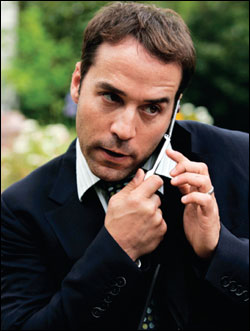 Chicago raised "Entourage" star Jeremy Piven is among celebrities who will be at the United Center in Chicago tomorrow night for the first Flyers/Blackhawks Stanley Cup game. Piven's old friend and fellow Chicago native John Cusack had been scheduled to attend the game, but now we hear he will not be at Game 1. Go Flyers!!!
This post has been updated.
Dan Gross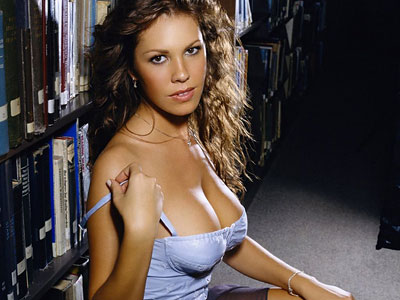 Someone drew devil horns, a mustache and fangs on a poster of comedian Jay Mohr that was hanging at Helium Comedy Club (2031 Sansom) last week, and local comedians suggest Bobcat Goldthwait was the culprit.
Mohr, formerly of "Saturday Night Live" and CBS' "Gary Unmarried," played the club May 17. Goldthwait was there several days later. Why would Goldthwait, of "Police Academy" fame, be a suspect? Because his former fiancee, actress Nikki Cox, later married Mohr.
A Helium spokeswoman said the club noticed the drawing several days after Goldthwait left but didn't believe he did it.
Dan Gross
A Delaware County judge yesterday ordered Damon Feldman, promoter for the Celebrity Boxing Federation, held for trial on six charges of promoting fights without a license and rigging bouts.
The state Attorney General's Office yesterday added five new felony charges, including bribery, theft and fraud. The office alleges that Feldman tried to pay off a State Athletic Commission official, that he didn't deliver on a promise to a former co-promoter of 40 percent of profits from a Danny Bonaduce fight and that he marketed a fight as benefiting the families of slain police officers without their knowledge.
Although Feldman admitted in a television interview that he didn't have a promoter's license, he has maintained that his bouts were for entertainment purposes only and has said he didn't steal from anybody or improperly use any officer's name.
Dan Gross
Two moving vans with the Eagles logo on Saturday carried Donovan McNabb's belongings to his new $2.1 million 5-bedroom, 7 bathroom home in Great Falls, Virginia, reports the Washington Post's Reliable Source column. The new Redskins quarterback told the paper he's excited to plant roots in the D.C area.

Dan Gross
Vice President Joe Biden now has a Flyers jersey to match his wife's. Biden told a group of friends and family Monday night at the Water Works that Jill Biden, who grew up in Willow Grove, is a huge Flyers fan and hangs a Danny Briere jersey on their door in either Wilmington or D.C. for good luck during games.
Restaurant owner Michael Karloutsos presented Biden a custom Flyers jersey with his name and the No. 2 Monday night, after Biden and about 20 friends and supporters dined at the restaurant following a cocktail fundraiser for Biden's son, Beau Biden, Delaware's Attorney General. Beau Biden, who recently spent a week at Thomas Jefferson University Hospital after suffering a stroke, did not attend but his wife, Hallie, did.
After the $1,200-a-person fundraiser, Biden stuck around for Kobe beef short ribs, some octopus salad, sea bass and a chocolate waterwheel dessert, and visited chef Darryl Harmon in the kitchen afterward, telling the chef, "Man, you can really cook."
Dan Gross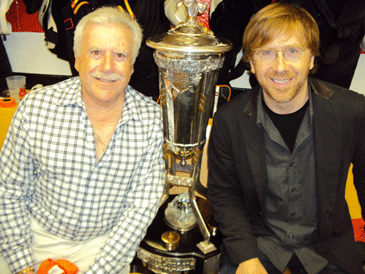 Phish frontman Trey Anastasio and father Ernie got to pose for a picture with the Prince of Wales Trophy in the Flyers locker room after the team won the NHL's Eastern Conference Championship last night. The Princeton raised musician who's performed at the Wachovia Center a number of times is a longtime Flyers fan.