Archive: May, 2008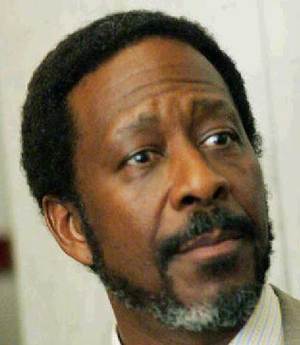 "Wire" fans around Broad & Callowhill were excited to see

Clarke Peters

, who played Lester Freamon on the HBO drama, and girls are swooning over

Owen Wilson

as the actors film "Marley & Me" in the

Inqwaster

newsroom, people are also wondering where is

Jennifer Aniston

. The answer is: Still in New York. In today's column we said she was believed to be in town, but she is not yet in the city. Center City shooting of the film is expected to end today, with the crew beginning work in the West Chester area tomorrow. Meanwhile, looks like we've got some competition in town, as tabloid magazines and paparazzi from a few photo agencies are camped outside the

Daily News/Inqwaster

HQ. Here is a video of Wilson and Peters shooting a scene this morning.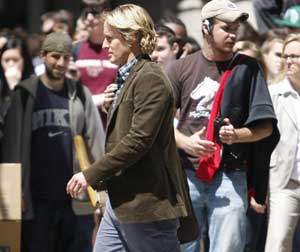 More "Marley & Me" pics, thanks to John Taggart/JohnTaggart.com.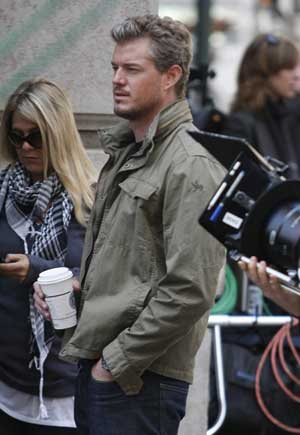 "Marley & Me" pics, part III - thanks to John Taggart/JohnTaggart.com.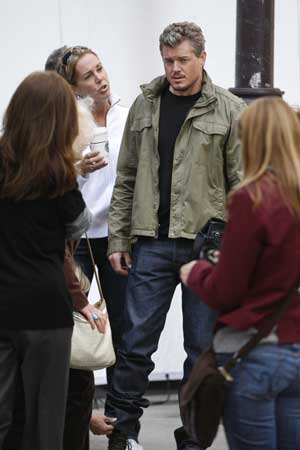 More "Marley & Me" pics, thanks to John Taggart/JohnTaggart.com.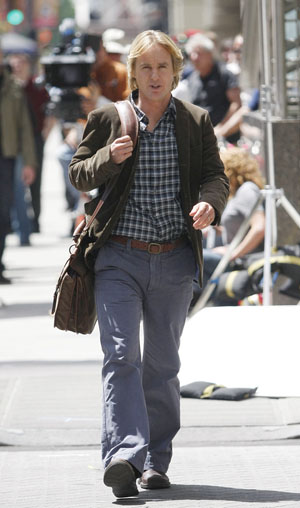 Here are a few pics from John Taggart/JohnTaggart.com of Owen Wilson and "Grey's Anatomy" actor Eric Dane, aka McSteamy, shooting a scene for "Marley & Me" this afternoon on Broad and Walnut streets. The scene involves Wilson, who plays former Inqwaster columnist John Grogan, telling Dane's character he's just been hired by the newspaper.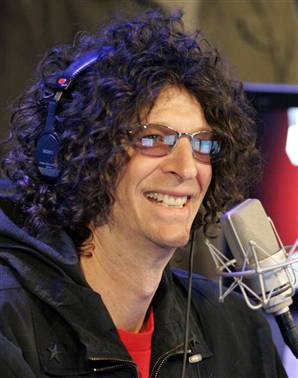 Howard Stern poked fun at Alycia Lane on his Sirius Satellite Radio show yesterday for inviting him to a surprise party she held May 3 for boyfriend Chris Booker, of Q102, a friend of Stern's, at Atlantic City's Borgata. Stern was miffed he was offered only coffee and dessert, not dinner. Jimmy Kimmel, who was on with Stern at the time, asked, "Wasn't she the one who punched a dyke cop," to which Stern replied "Allegedly." Actor Jerry O'Connell also recognized Lane's name as being the person who got in hot water over sending bikini pics to married NFL Network anchor Rich Eisen.
Meanwhile, speaking of Booker, we hear the host and the cast of his morning show Diego Ramos, Angi Taylor and Blaire Galaton were recently taped by Los Angeles producers for a potential TV pilot about a morning radio show. The producers are also considering shows in Austin, Chicago and Detroit for the gig.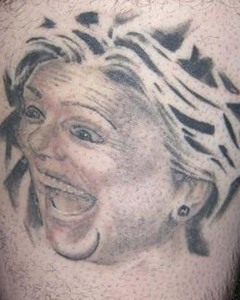 Luis Salgado

will forever see Hillary Clinton on his thigh. Salgado, 28, owner of the Ill Skillz (4948 N. 5th) tattoo parlor just got a portrait of Clinton inked on his leg at a tattoo convention in Baltimore.

Artist Buffalo Bill, of Sunbury, offered a free Hillary tattoo to any takers because his daughter Sarah Taby is a big Clinton supporter and thought the tattoo would give Clinton good exposure.

Salgado, 28, who is also a Clinton fan, jumped at the chance. Salgado's new ink is featured in Tattoo Review. The mag's publisher Carey Exton says he thinks many tattooed people are for Clinton because she "tells it like it is."
P

arker Posey

's dog enjoys a strange treat: Chewing gum. The actress, here shooting "Happy Tears" with Demi Moore, was accompanied by her pooch, Gracie, a bichon-frise/maltese, while shopping the Antiquarian (615 S. 6th) over the weekend. While browsing the Wilbur Vintage shop in the basement, Posey's dog showed an interest in shop owner Dan Wilbur's Stride Winterblue gum.Wilbur says that Posey asked him to chew a piece a little bit and then give it to Gracie because she loves to chew gum. Posey tried to retrieve the gum from her pooch, but Gracie swallowed it. Posey, who told Wilbur that she was enjoying Our Town, checked out a pair of Jessica Bennett shoes, but they weren't her size. While flipping through clothing racks, Posey sang Dolly Parton's "Two Doors Down," which played in the shop.

Photo: New York magazine