Archive: April, 2010
The Ellen DeGeneres Show has dispatched a crew to an as-yet-unknown location in town where later this afternoon people who show up in outfits made of recycled materials could win exotic prizes. "Be fun & creative – I'll tell ya where to be later," DeGeneres says on her Twitter page where the contest time and location will soon be announced.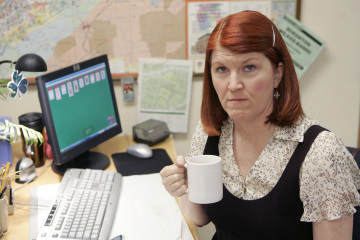 Ardmore native Kate Flannery, who plays Meredith on "The Office," will give a free and open-to-the-public lecture from 11:40 a.m. to 12:40 p.m. today at the Arts Bank (601 S. Broad). It's staged by the Ira Brind School of Theater Arts at the University of the Arts from which Flannery graduated in 1987, with a BFA in acting. The Archbishop Carroll grad was a member of the touring company of Second City in Chicago and a founding member of Chicago's Annoyance Theater before "The Office." Flannery had lunch Monday with her "Office" castmate Craig Robinson at T.A. Flannery's (21st & Ludlow), which her brother Butch owns and where her father, Tom, is bartender.
Click here to read more from our column in Wednesday's Daily News.
You may have thought color is no longer a factor in politics. But there's still the green issue.
In one of state senator Anthony Williams' campaign commercial for the governor's race, Williams throws a cardboard box in a trash can while he talks about "Thinking outside the box." We were curious if his campaign had heard from environmentally-minded folks about why he didn't recycle. "The campaign has heard from voters," spokeswoman Nia Meeks told us Tuesday. Williams has told the constituents they were right to question the appearance of him not recycling. Meeks says that in Folcroft, Delaware County, where the ad was shot, the recycling cans are the same color as the trash cans. Turns out the box was recycled, Meeks said, because Williams took the box with him and continues to use it as a prop for his thinking outside the box metaphor.
"The senator has a history of voting for environmental issues. Recycling is something he cares about," Meeks said of Williams, who regrets the trashcan scene. "In the next commercial he'll have a presence of recycling so people have a better understanding," Meeks said.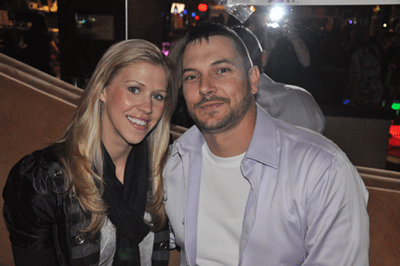 Britney Spears baby-daddy times two Kevin Federline brought his new girlfriend Victoria Prince to Adelphia (1750 Clements Bridge) in Deptford Sunday night where Federline, now seen on VH1's "Celebrity Fit Club," was hosting the party that Q102 DJ Romeo was broadcasting live. Federline graciously posed for many photos.
Renee Zellweger dropped by the Happy Rooster (16th & Sansom) this afternoon to visit her homegrown boyfriend Bradley Cooper as he shoots "The Dark Fields" at the restaurant. Zellweger brought along Cooper's dog, Charlotte, a golden retriever/chow mix.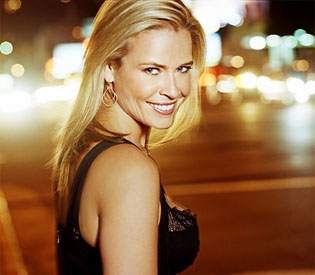 Comedian Chelsea Handler, of E's "Chelsea Lately," went for a Caesar salad and swordfish at Smith & Wollensky at the Rittenhouse Saturday evening. Handler was in town signing her book "Chelsea Chelsea Bang Bang" at the Free Library Festival where the line of her fans outside the library seemed neverending. She was in a party of six, was as gregarious as could be expected and also tipped very generously.
Click here to read more of our column in Monday's Daily News.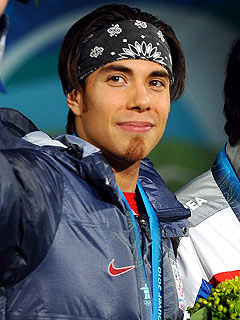 Speed skater Apolo Anton Ohno told us he had a great time with Phillies outfielder Shane Victorino over dinner Thursday at Buddakan (325 Chestnut). The pair were part of a larger party in a secluded area of the restaurant.
During Thursday's game against the Nationals, Ohno stood atop the Phillies dugout and presented the Phillie Phanatic with his NLCS ring. The most decorated winter Olympian in history, Ohno spoke Thursday at La Salle Academy, where students from several other schools were bused in, on behalf of Century Council, denouncing drunk driving and underage drinking. He also visited the nearby St. Michael's Parish. "I just try to talk to the kids about making positive, healthy, active decisions in their lives. I try and lead through examples and discuss my experiences and obstacles with them," Ohno told us Friday evening.
Ohno was excited to catch up with John Schaeffer, his strength and conditioning coach, who lives near Reading. The pair, who hadn't seen each other since the Vancouver Olympic Games planned to hang around town for most of the weekend. Ohno told us he hasn't been home since the games. By home he means several places. He calls Seattle his home, but trains in Salt Lake City and lives also in Los Angeles.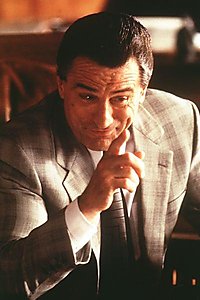 Stargazers expecting to catch a glimpse of Robert De Niro need not waste time hanging around the set of "The Dark Fields." The screen legend won't arrive in town until next month when he'll spend about two weeks shooting here, says a film spokeswoman. " The film has been shooting predominantly interior scenes around Center City this week. The thriller, which stars Germantown Academy graduate and former Daily News intern Bradley Cooper, is slated to shoot here through May 28.
Click here to read more of our column in Thursday's Daily News.