Archive: April, 2008
Parker Posey

turned heads by walking an adorable dog down the 1500 block of Walnut Street yesterday. We're not sure the breed, but we're told it was much smaller than

Beatrice

, the Weimeraner her "Best in Show" character owned. Posey and

Demi Moore

were also spottted dining outside Rouge (205 S. 18th) last night where people were feeding chicken to a dog that accompanied the actresses. Not sure whether it was Posey's pup or if Moore has a pooch with her as well. The actresses are here today doing camera tests for "Happy Tears," says associate producer

Richard Lormand

. The movie, a family drama by writer/director

Mitchell Lichtenstein

, in which the two play sisters and daughters of

Rip Torn

, is scheduled to begin shooting, largely in the burbs, toward the end of the month.
President

Bill Clinton

can work a hell of a room. While Secret Service, state and local police were stationed outside, Clinton made it around to every table at the Continental (2nd & Market) last night where he was dining in a private area that also included

Gov. Rendell

,

Mayor Nutter

and Eagles owner

Jeffrey Lurie

. Clinton popped behind the bar and strolled through the kitchen greeting staff there. When he got to local attorney

Conor Corcoran

's table, Corcoran told Clinton he would "make a great First Laddie." Clinton replied "God bless you," with his aw-shucks Southern drawl. Clinton and Co. took off around 12:30-1 a.m.

When we spoke to Pine Hill's Matt Sigel after his signature dish of diver scallops and white chocolate made Fox's "Hell's Kitchen" host puke, Sigel predicted that despite Gordon Ramsay's regurgitation, other chefs would bite on his dish. Food Network host Robert Irvine cooked diver scallops with white chocolate (Hershey's to be exact) during a "Dinner Impossible" episode that aired Wednesday. Sigel says that Irvine, for whom he used to work at Atlantic City's Caesars, clearly copied the dish from him, but he's not mad. Sigel, who's survived four episodes so far on the already-taped Fox reality show, just gave two-weeks' notice at the Warwick Radisson Plaza and Tavern 17, where he has been a bread and pastry chef. In early May he'll start cooking at Pizzicato (500 Rt. 73 S) in Marlton.






John Marzano

was found dead this afternoon in his home on Passyunk Avenue, reports 6ABC. The South Philadelphia native Central High School and Temple University ballplayer was 45. According to 6ABC's

Bob Monek

, a relative of Marzano called police to break down a door where Marzano apparently had fallen. It is unclear at this time whether the former 1984 Olympic team member died from the fall or had suffered a heart attack first, the report says. Marzano played for the Boston Red Sox, Texas Rangers and the Seattle Mariners, and in the minors with the Phillies and Cleveland Indians. Marzano worked for two years on Comcast SportsNet as an analyst on "Phillies Post Game Live" and was formerly a host on Sportsradio 610 WIP. More recently, Marzano worked for MLB.com, hosting a show along with

Vinny Micucci

.

Here's an update by way of a statement from Comcast SportsNet Philadelphia President Stephanie Smith:

"Comcast SportsNet suffered a great loss today with the sudden passing of John Marzano. John was a beloved member of our CSN family and he will be dearly missed.You knew the moment John entered the building because his infectious laugh permeated throughout our offices. His love and passion for baseball and life were a winning combination that endeared him to staff and viewers alike. John never forgot his Philadelphia roots and was thrilled to have a career talking Phillies baseball.

Our thoughts and prayers go out to John's family, including his wife Terri, his daughters Danielle and Dominique and his two grandchildren."
Below are shots of

Black Eyed Peas

leader will.i.am performing with

Live

frontman

Ed Kowalczyk

at Friday night's

Barack Obama

rally outside the Independence Visitor Center and because it's cute, Congressman

Chaka Fattah

dancing with his daughter

Chandler

during the rally. Both pictures are courtesy of

John Taggart

/JohnTaggart.com.

Meanwhile, on the Hillary Clinton front, actor/director

Rob Reiner

accompanied

Gov. Rendell

and

Chelsea Clinton

for a tour through the Gayborhood last night. The gang was set to visit Bump, Tavern on Camac, Sisters and Woody's. They skipped the Bike Stop. Maybe they were worried that Reiner and Rendell, big bears they are, would have caused too much of a commotion at the leather bar. Reiner had spent a portion of the day Friday doing private Clinton events in the Philadelphia area and today is traveling with Sen. Clinton throughout the state.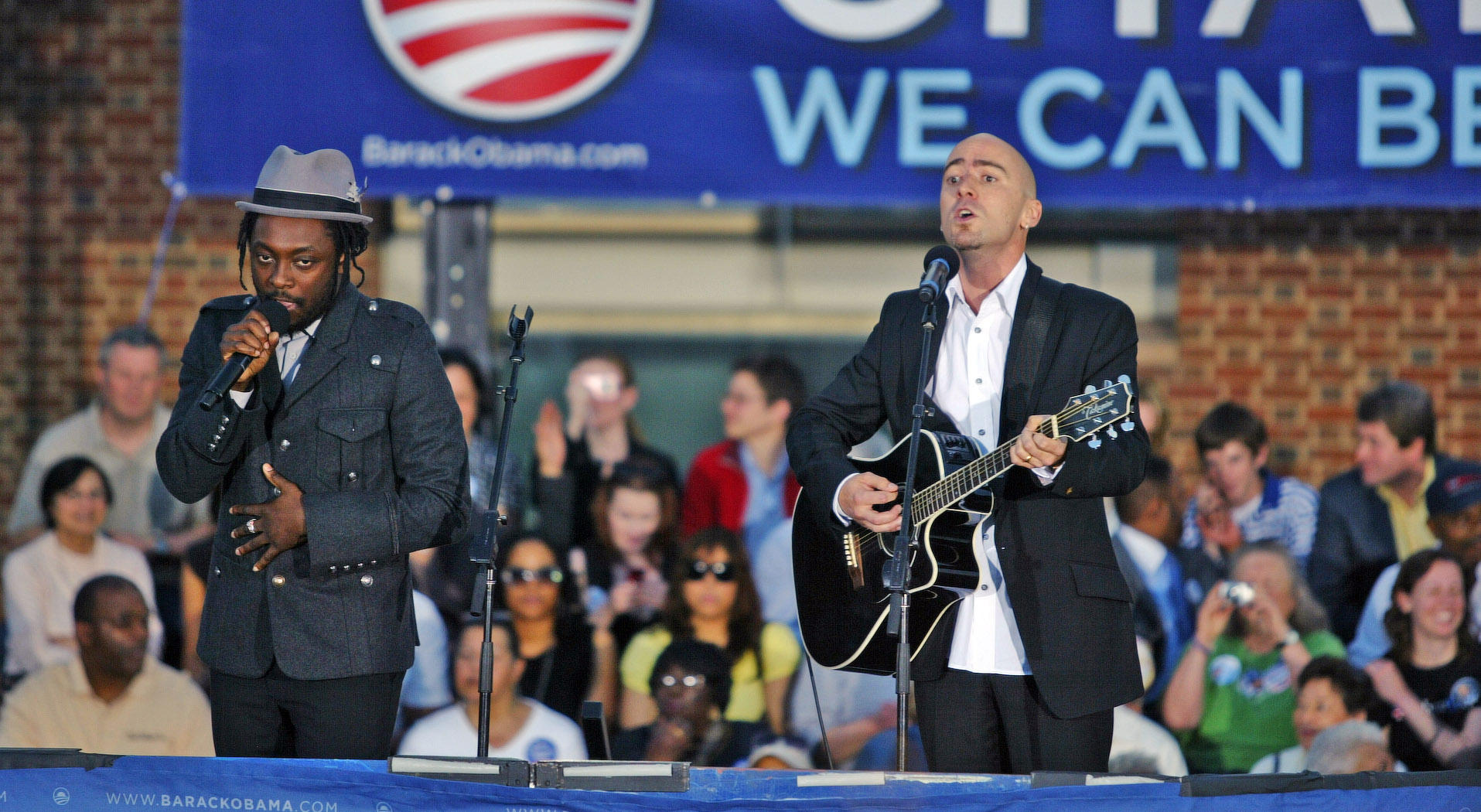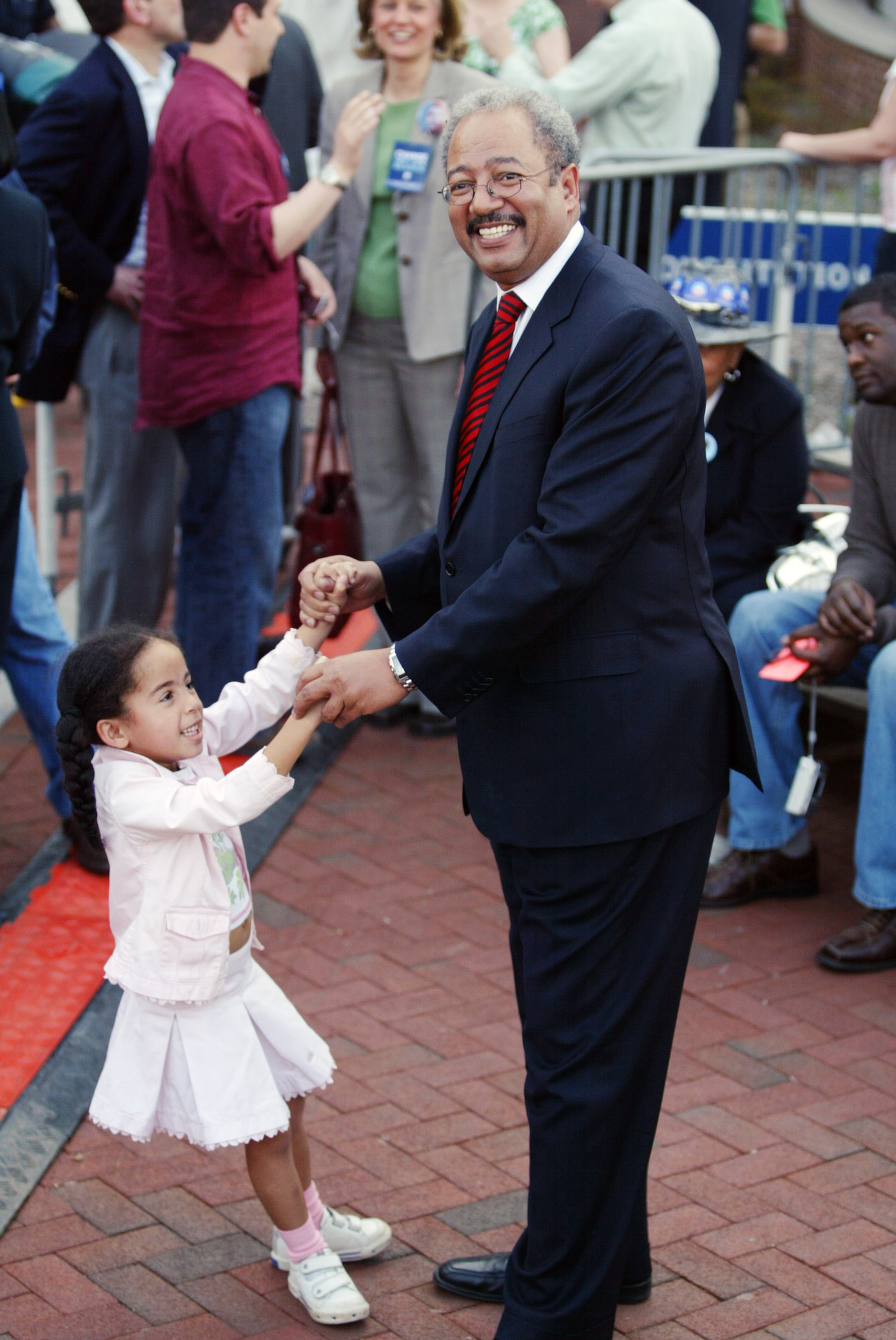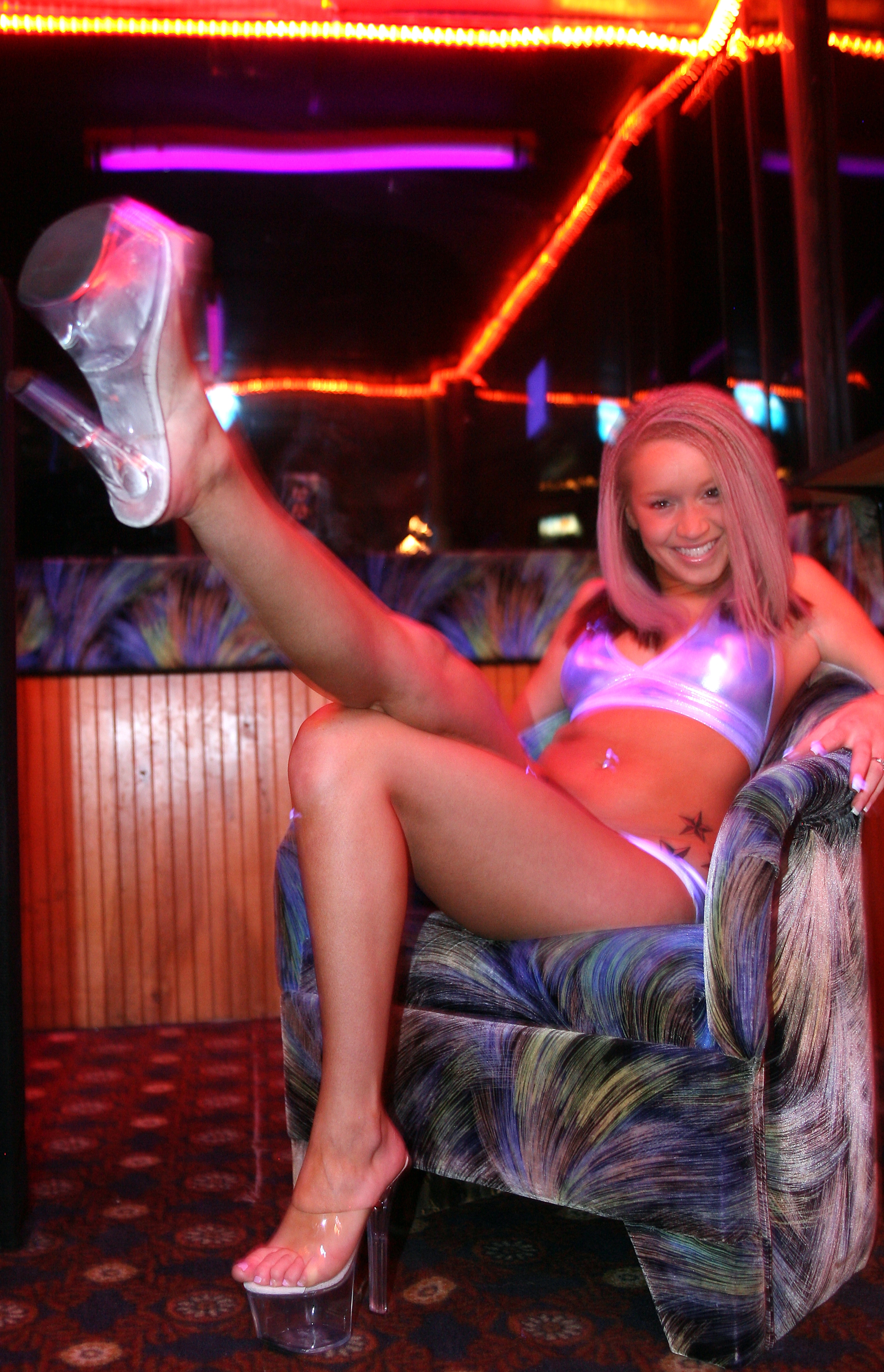 Brianna Taylor

, the 20-year-old Warminster singer and former stripper now seen on MTV's "The Real World: Hollywood," has just posted two songs on her brand-new MySpace page. Taylor, who made it to the top 40 on American Idol in 2005 has a pretty good voice as far as we're concerned. And with being on probation for a harassment charge stemming from allegedly assaulting an ex-boyfriend, she's got that rock n' roll spunk too. Taylor, who danced for two years at Double Visions (1158 Easton) in Horsham stopped stripping Wednesday, the day the MTV show premiered. Taylor told us she did the reality show purely for the exposure which she hopes with further her musical career.

Photo: Yong Kim/Daily News
Actors

Ted Danson

(a big

Hillary Clinton

supporter)

Richard Dreyfuss

, and homeboy

David Morse

were among the crowd at tonight's

Barack Obama

/Hillary Clinton debate at the National Constitution Center. Filmmaker

M. Night Shyamalan

and wife

Bhavna

were also there and briefly strolled through the media "spin room." Shyamalan wasn't ready to say who he was supporting in the April 22 Pennsylvania primary. "I'm officially undecided," the director told us.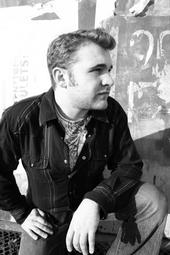 Philadelphia-born blues guitarist Sean Costello was found dead in an Atlanta motel room Tuesday, the Atlanta Journal-Constitution has reported. The singer/guitarist, who would have turned 29 today, and family moved to Atlanta when he was nine, according to Costello bio on his official MySpace page. Costello was "a sensational up and coming blues guitarist who could have gone on to become a Stevie Ray Vaughan," one of his fans told us late this afternoon. Costello's latest CD was called "We Can Get Together."