Archive: March, 2009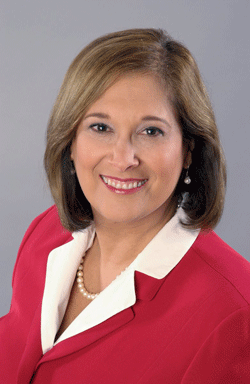 NBC 10 medical reporter Cherie Bank is leaving the station, and will be on-air tomorrow to explain "the difficult reason why she is saying goodbye," according to the station. Bank, who has worked at the news station for nearly 30 years, has been off-air more than on for the past several years due to her own health issues which include an eye ailment. NBC 10 says that starting at 4 tomorrow afternoon it will celebrate her career and achievements.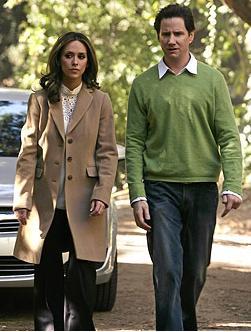 Good going, Jamie. Upper Darby native Jamie Kennedy is dating his "Ghost Whisperer" co-star Jennifer Love Hewitt. "We're more than dating . . . we're more than in love," Kennedy gushed to Ryan Seacrest on the "American Idol" host's syndicated radio show the other day. Kennedy, a Monsignor Bonner High graduate, says that the busty brunette beauty breathes life into him and makes him feel like a more complete person. The actor/comedian did not return an e-mail we sent yesterday stating that he'd made Upper Darby proud and inviting any comment.
Restaurateur Marco Lentini, the Wharton graduate who operates Gia Pronto at 1900 Market and at 3736 Spruce, was a guest of President Obama's at the White House this afternoon where Obama and Treasury Secretary Timothy Geithner met with a group of small business owners. Before a pool of reporters Obama shared a conversation he had with Lentini today in which he asked the restaurateur "what was the equivalent at his shop for a cheese steak?" Lentini replied "It's our Chicken Italiano. It's a chicken cutlet, spinach Florentine, sharp provolone, all on an Italian ciabatta bread. "Right," replied Obama. "So I wanted to know if there was Whiz on that. And he said, no." "Marco is an example of what small business is all about," said Obama. The transcript comes courtesy of the White House Press Office, which also noted laughter at various points in the exchange between Obama and Lentini.
Lentini told us Monday that he was humbled by the invitation to the White House but, more than that, it was a whole lotta fun. The 33-year-old got to introduce Obama to a roomful of reporters and business leaders. Lentini spoke to the crowd about how his business will save $26,000 this year due to a provision of the stimulus package.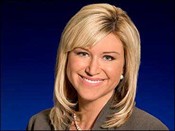 Sorry, fellas, CBS 3's Lesley Van Arsdall is off the market. The weekend anchor/reporter was just engaged to Eric Reed, a Secret Service agent whom she's been dating for two years. Reed proposed recently on a trip to Arizona. "I'm shocked he did such a great job," says Van Arsdall about the ring Reed picked out, which she says she loves, but doesn't know the size or cut of the diamond. She said the couple have not yet set any plans for their wedding. It's the second marriage for both Reed, 34, and Van Arsdall, 35, who was previously married to 93.3 WMMR DJ Matt Cord.
Last week a DNA test on "Inside Edition" concluded that there is an 88.7 percent chance that local comedienne Suzan Lewis is related to musician Gary Lewis, a son of entertainer Jerry Lewis. For years Suzan Lewis has tried to get Jerry Lewis to ackowledge paternity of her. Suzan and Gary are scheduled to appear Wednesday on Howard Stern and Cousin Brucie's Sirius XM satellite shows. We reported in September that Suzan Lewis had taken the stage during an open mic night at Helium (2031 Sansom) where she introduced herself as Jerry Lewis' daughter and performed a few of his famous bits including his typewriter pantomime from "Who's Minding the Store," and lip-synching along to an opera.
Zach Cregger, the writer, director and star of "Miss March," which earned $2.4 million in its opening weekend, is a former Temple student. Cregger, part of IFC's "The Whitest Kids U Know," graduated from New York's School of Visual Arts, but studied for two years at Temple. He lived for one year in the dorms and another year in Society Hill. On a recent visit to town to promote the film, we're told that Cregger, 28, didn't mention his time at Temple, telling reporters only that he had gone to other schools before SVA.
It seems that ESPN has put the kibosh on a promotion between its local sports-talk station, 950 ESPN, and GirlsofPhilly.com. The Web site of local lovelies and the radio station had teamed up on Battle of the Babes, a March Madness bracket-style competition of 64 models from the soft-core site.
950 ESPN's Mike Missanelli promoted the show on his increasingly popular afternoon show and some tasteful photos of the models were posted on the station's website, but after one round of voting, the plug was pulled.
Sources tell us that ESPN corporate intervened and was uncomfortable partnering with a Web site full of topless models, a regular advertiser on 950 AM. We reached GirlsofPhilly.com founder Kurt Laufer yesterday, who said, "People are such frickin' prudes. I'm pissed that I wasted two days of my life organizing this promotion. I'm sure their webmaster is upset, too, as he must have dedicated major time to setting up all the brackets."
Screen legend Mickey Rooney was in town last week to shoot scenes for a locally produced independent film, "Saddle Up! With Dick Wrangler and Injun Joe." Jerry Blavat taped a scene with Rooney the other day at the Morris House Hotel (225 S. 8th). The film, starring Tony Devon and Peter DeFeo and written and directed by Todd Wolfe, also features Joe Terry of Danny and the Juniors and Mark Stevens of the Dovells. Devon and DeFeo play '60's kids show stars who now get by performing at birthday parties. DeFeo's International Artist Studio is producing the film. Rooney and wife Jan, who also appears in "Saddle Up!" are due back in town for more shooting in May. Rooney, 88, is no stranger to the area, having formerly co-owned Mickey Rooney's Tabas Hotel in Downingtown with late bank mogul Daniel Tabas.
Speaking of the Geator, he also appears in Shawn Swords' "The Wages of Spin," about the 'Bandstand' era Philly music scene which plays the Philadelphia Film Festival/CineFest.