Archive: March, 2009
94 WYSP's Danny Bonaduce just closed on an Old City condo. We're told the loft-style-unit is close to 2,400 square feet and sold for $399,000. The apartment is a stone's throw from the station's studio. Bonaduce and girlfriend Amy Railsback have been living at the Benjamin Franklin House since November.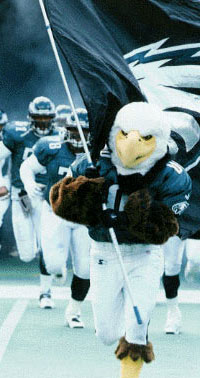 Former Eagles spokeswoman Bonnie Grant filed a lawsuit in federal court Friday alleging the team discriminated against her because of her gender and health, and then fired her when she complained about the discrimination.
Grant, a breast-cancer survivor, said in her complaint that the team also reneged on a commitment to pay her severance if she was terminated, reports the People Paper's Michael Hinkelman.
Grant, a Cardinal Dougherty High grad, began working for the Eagles as director of communications in October 2005, after working for nine years in the Office of the City Representative. Her complaint says the Eagles learned about her breast cancer through her public work raising awareness about the disease. The Eagles subsequently began to "issue petty and unsupported discipline" against Grant, the lawsuit said, and directed her not to discuss her cancer history.
Bow Wow hit up Ishkabibble's (337 South) Sunday night for a cheesesteak after arriving in town to promote his new record "New Jack City II," which he says will be his last.
The 22-year-old rapper/actor told us yesterday that he loves coming to town to hang out with his best friend, Sixers guard Louis Williams, who used to play his tracks when he hosted a Sunday show on 100.3 The Beat last year.
Bow Wow says he's giving up on music to focus on acting.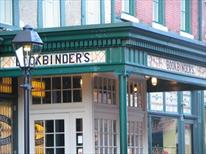 Old Original Bookbinder's (125 Walnut) is closed due to "mechanical emergencies," according to the seafood staple's outgoing voicemail. "Please check back, by calling 215-925-7027 in the next few weeks to see if we have fixed the problems," says the message. A call and an e-mail to owner John Taxin for more information were not returned today.
The historic restaurant which opened in 1865 has been having trouble paying its utility bills. Its electric was shut off on March 9 over an outstanding bill of around $70,000, confirms PECO spokeswoman Cathy Engel. Engel also confirmed a payment of $35,000 was made as were arrangements for the balance and power was turned back on at Bookbinder's on March 10. Engel said this evening that the restaurant still has electric. Sources tell us the restaurant is also severely behind in its gas bills, but PGW declined comment this afternoon, citing it could not discuss specifc client financials.
Our tipster believes the restaurant will be closed for far longer than the "next few weeks" mentioned in the voicemail.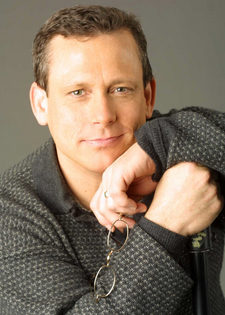 Actor Willie Aames, of "Eight Is Enough," "Charles in Charge" and "Zapped!" is coming to town looking for a fight.
And a date.
Aames is seeking a challenger to battle on May 16 at the World Gym (11000 Roosevelt Blvd.), in the Northeast, in yet another Celebrity Boxing event promoted by none other than Damon Feldman. On top of seeking a man under 180 pounds with no pro or amateur boxing experience, Aames is also looking for a local lovely to escort him to the event. Men looking to fight and women interested in a date with Aames, who was seen last on VH1's "Celebrity Fit Club," can e-mail Feldman at celebrityboxing@gmail.com. The winning woman will be selected May 14 at Alfie's (2417 Welsh).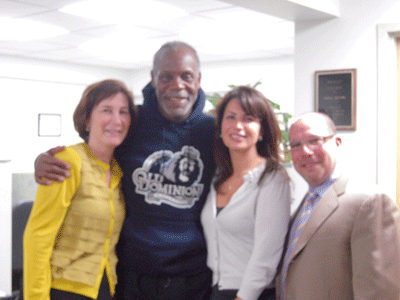 Actor Danny Glover was in town last night lending his support to the new Workers United union which just spun off from UNITE HERE, the union formed in 2004 with a merger of the Union of Needletrades, Industrial and Textile Employees and the Hotel Employees and Restaurant Workers.
"I chose this side because of their fresh ideas and meaningful response to the work of union organizing," said Glover, who joined UNITE in 2002 and fought for immigrants and other workers' rights in textile, hotel, laundry and food industries here and around the world, reports Kitty Caparella. Here's her full story.
Glover, rocking the casual hoodie, is pictured here with Lynne Fox, manager of the Philadelphia Joint Board of Workers United, the union's political director Erin Young, and advertising/PR man David Neff.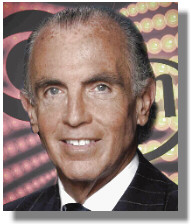 CBS3/CW Philly 57 President and General Manager Michael Colleran will be replaced at month's end by television veteran Jon Hitchcock. CBS Television President Tom Kane announced Hitchcock as Colleran's successor today. Colleran, who had previously run CBS and UPN stations in Miami, has overseen CBS3 since 2005 including of course the drama-filled period from late 2007 through much of 2008.
"Jon is a terrific station executive with many years of direct experience running a duopoly," said Kane in a written statement. "I'm confident he is the perfect candidate to succeed Michael Colleran who made many innumerable contributions in both Philadelphia and Miami during his tenure with CBS. We wish him well in his future endeavors."
Hitchcock worked for an ABC station and a sports station in Connecticut since 2002 and currently serves as chairman of the Connecticut Broadcast Association. He'll be moving here with his wife and three children.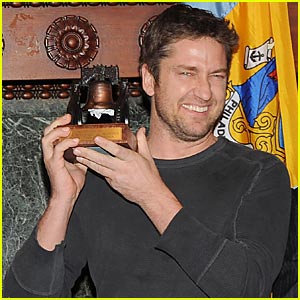 Many restaurants choose not to seat incomplete parties, as "Law Abiding Citizen" star Gerard Butler learned on Friday.
The Scottish hunk had stopped for lunch at the Continental Midtown (18th & Chestnut) with a woman believed to be his mother and the pair were asked to wait at the bar until their entire party arrived and could then be seated. Butler, perhaps perturbed that he wasn't recognized, as his co-star Jamie Foxx would have been, challenged the restaurant's policy and asked for a manager. When a manager reiterated the policy against seating incomplete parties, Butler and mom left, a restaurant publicist confirmed. Later on Friday, an "LAC" producer came by the Stephen Starr restaurant to complain to staff that Butler hadn't been seated and challenge the policy, the spokeswoman said.
We're also told the "300" star arrived the other day at Parc on Rittenhouse Square after the French bistro's kitchen had closed and was surprised that he wasn't able to order dinner. A restaurant spokeswoman said Butler had been to Parc recently but was unaware of the late-night visit we asked about. An "LAC" spokeswoman said she was unaware of either visit but passed our inquiry on to Butler's publicist, from whom we did not hear yesterday. The crime thriller will be shooting in the area through the end of the month.