Archive: February, 2010
Donovan McNabb joined Ron Jaworski at Jaws' South Beach Cigar Party at the Hotel Victor in Miami over Super Bowl weekend. ESPN's Suzy Kolber, Merril Hoge, Mike Tirico and Sal Paolantonio, along with Bill Cowher, Desmond Howard, Jon Gruden and Mike Ditka were among the boldface names to attend the cigar and Johnny Walker Scotch pairing party to raise money for the United Way Jaws Youth Fund of Camden County and the United Way of Miami-Dade. Adam Geffner, co-founder of the Philly Cigar Club was also in attendance as Jaws worked with the club to manage cigar partners. From 6 to 9 Wednesday evening the Philly Cigar Club hosts an event at Mahogany on Walnut (1524 Walnut) the city's premier cigar lounge Mahogany where Alec Bradley cigars are featured. Admission is $10 which includes the cigar of the month. Those interested may RSVP here.
Click here to read the rest of our column in Monday's Daily News.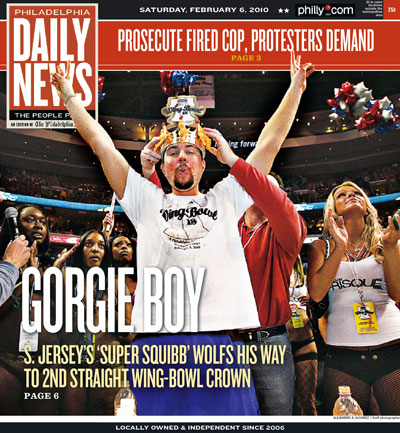 Just moments after chomping his way to another victory at 610-WIP's Wing Bowl 18 yesterday, returning champion Jonathan "Super" Squibb was already looking forward to next year's contest.
Squibb, who downed 238 wings, just shy of the record of 241 devoured by three-time Wing Bowl champ Joey Chestnut is confident and looks forward to going up against Chestnut in the annual celebration of gluttony and strippers.
Although this year's event was amateur eaters only, WIP's Angelo Cataldi told us that pro eater Chestnut would be invited to compete in next year's gluttony contest to face Squibb, 24, of Berlin, NJ.
We caught up with "Jersey Shore" star Nicole "Snooki" Polizzi after she arrived at the Wachovia Center for 610 WIP's Wing Bowl 18 and before she was savagely booed upon entering the arena floor.
For more Wing Bowl coverage, click here.
610 WIP's Wing Bowl 18 is only hours away, and yet so much is unknown. Will returning champion Jonathan "Super" Squibb chomp his way to back to victory? Or will last year's runner-up Richard "Not Rich" Razzi, a dead ringer for Tommy Chong, go all the way? Will "Damaging" Doug Canavin be able to back up his endless trash talk?
And possibly most importantly: Will we get to fist-pump with Snooki?
You'll have to stay tuned and find out. We'll be updating this blog, and you can also find wing-by-wing coverage here.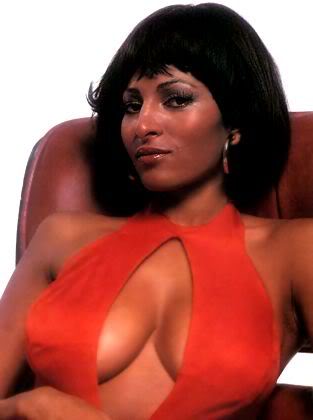 Actress Pam Grier and the Food Network's "Chopped" host, Ted Allen, will be in town tomorrow to tape a public-service announcement to promote the 20th anniversary of Dining Out for Life. The national AIDS fundraising event started in Philadelphia as a benefit for Action AIDS. It's held here this year on April 29.
Grier - famous for '70s films like "Foxy Brown" and "Coffy" and later for TV's "The L Word" and megafan Quentin Tarantino's "Jackie Brown" - and Allen, formerly of "Queer Eye"," will be joined by chef/restaurateur Jose Garces and will tape their spot at his Chifa (707 Walnut).
Laura Burkhardt, publisher of Where Magazine: Philadelphia - a Dining Out for Life sponsor and a big Action AIDS supporter - has partnered with local jeweler John Wind, who will issue a limited series to benefit Action AIDS and the Mazzoni Center. Mazzoni, on South 12th Street, is the health center for Philadelphia's lesbian, gay, bisexual and transgender community.
Mike Tyson surprised the crew at Old City Tattoo (44 S. 2nd) when he strolled in Tuesday afternoon looking for someone to ink black roses on his left forearm. Tattoo artist Martin LaCasse, who just relased an art book called "365" through Presto Art Publishing, took Tyson in the back room and spent about 90 minutes tattooing the former heavyweight champion of the world turned "Hangover" co-star. Tyson's Philly-raised wife Lakiha Spicer and their baby, who's just over a year old, hung out in the front of the shop, while their limo driver idled outside.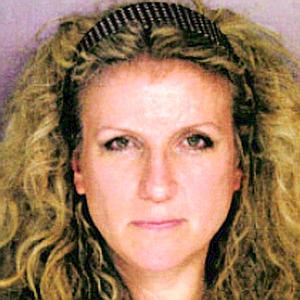 Susan Finkelstein does not encourage women to make any type of suggestive offers for tickets to the sold-out 610-WIP Wing Bowl 18 Friday at the Wachovia Center.
"Although it depends how passionate they are about Wing Bowl," says Finkelstein, the local woman who faces trial for allegedly offering sex to an undercover Bensalem police officer in exchange for World Series tickets.
She's now a part of Wing Bowl, and will be dressed as a "sexy leopard" on the ark float of contestant Hungry Hungry Hebrew, aka attorney Adam Taxin. Taxin befriended Finkelstein after interviewing her for a piece for a local paper that was never published.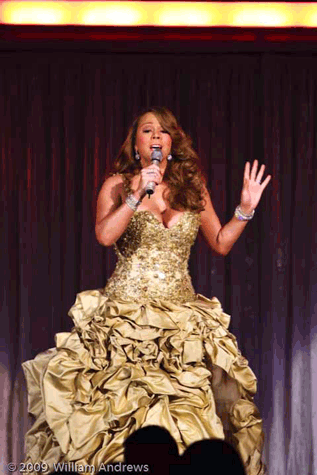 Here's a shot of Mariah Carey's show at the Tower Theater Monday night. We expect the singer, who stayed at the Four Seasons, is very happy this morning as "Precious," in which she co-starred and gave an impressive performance, was nominated for multiple Academy Awards, including Best Picture, Best Director for Wynnefield native Lee Daniels, Best Actress for Gabourey Sidibe, who plays the title character, and Mo'Nique for Best Supporting Actress.