Archive: February, 2010
Here are Jay Baruchel, (right) of "Tropic Thunder" and "Knocked Up," and actor Nate Torrence (left) seen in "Get Smart," at Pat's King of Steaks this afternoon cooking up some steaks with the Eagles Cheerleaders. The pair are in town promoting "She's Out of My League," which opens March 12 and stars Baruchel as a guy whose friends and family are shocked that he's dating a stunning, successful woman, played by Alice Eve. Abington native Mike Vogel plays one of the buddies who has a memorable scene explaining to Baruchel the importance of manscaping.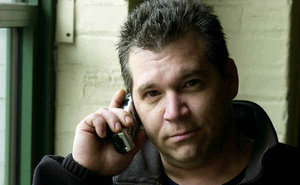 Just because Tom Cipriano spent 23 days in jail and got eight years' probation for flaking out on bar events he was pre-paid for doesn't mean his alter ego, Capt. Janks, is gonna stop making prank calls to play on Howard Stern's show on SiriusXM. On Tuesday night Janks punked ESPN's "SportsCenter" by posing as Brian Westbrook and offering to speak about being released from the Eagles. After a minute of speaking with host Scott Van Pelt and sounding nothing like Westbrook, Janks said he looked forward to "worshipping the prostate of Howard Stern," at which point he was cut off. "That's not why I'm on probation," Janks said yesterday, pledging to never give up the prank calls he's been making for 20 years.
Janks, 43, lives in Lansdale after losing his North Wales home as part of his legal dispute with 13 local clubs where he had been hired for appearances. Janks says he didn't show up for his gigs because he was in rehab for an addiction to prescription painkillers that he began taking three years ago, after hernia surgery. Janks, a former gas-station attendant, now a school crossing guard in Montgomery County, says he's been clean and sober for 54 weeks.
"I lost my house, but that's a small price to pay because I could be dead," says Janks of his drug addiction. He says he plans to work hard to pay restitution to the nightclubs and also hopes to invite club owners to sink him in a dunk tank or throw pies in his face at a benefit through which he's planning to raise funds for his court-ordered restitution. Stern sidekick Artie Lange, absent from the show for more than a month after a reported suicide attempt, previously donated $8,000 he raised at a comedy show to Janks' restitution fund.
Local filmmaker Doug Sakmann and his company Backseat Conceptions head to New York next month to shoot "Keep Your Enemies Closer," an indie film by "Sopranos" actor Federico Castelluccio. Castelluccio, who played Furio, wrote the screenplay and will also direct the crime thriller, which stars Peter Greene (Zed in "Pulp Fiction."). Sakmann, who directed "Punk Rock Holocaust," formerly spent several years working at Troma, home to the "Toxic Avenger" movies.
Tomorrow, Backseat and Philadelphia Friends of the Projected Arts present "Panic at Needle Park," starring Al Pacino and Kitty Winn, at 2424 Studios (York & Gaul) in Fishtown. The film, which Sakmann calls a "classic date movie," was scheduled around Valentine's Day, but was twice snowed out. Suggested donation is $3.
Click here to read the rest of our column in Wednesday's Daily News.
The March Playboy features an article on the murder of party-promoter/potential drug-trade figure Rian Thal. "Blown Away: The Girl from the Burbs Who Rose to Power in Hip-Hop's Cocaine Underworld," is how the story, by Frank Owen, is touted on the cover. Thal was killed last year in her apartment building at the Piazza at Schmidt's in Northern Liberties along with Timothy Gilmore in a botched robbery that she may have helped plan. Will "Pooh" Hook, Donnell Murchison and Edward Daniels are charged with killing Thal and Gilmore.
Click here to read more from our column in Wednesday's Daily News
Don't tell Lindsay Lohan that she was great in "The Parent Trap." One Lohan fan who saw the actress posing on the red carpet at The Pool After Dark at Harrah's Saturday night in Atlantic City complimented the troubled starlet on the film (in which she was great) and Lohan ran from the photo area and appeared to be sobbing in the arms of a handler, says an eyewitness. Lohan came from New York to A.C. for the club appearance with five friends and her mom/enabler Dina Lohan, who partied with her daughter and pals in a VIP cabana where the gang sipped Absolut with Red Bull, other mixers and Voss water. Lohan chain smoked throughout the night and asked to have the curtains closed on her cabana when she grew tired of the crowd, who paid to attend the party with her, kept taking pictures.
When the "Mean Girls" star addressed the crowd, Lohan asked the DJ to turn the music off, told him how much his music "sucked," and to "play some music from today," and also taunted that she "should call a certain ex-girlfriend DJ of mine and have her teach you how to be a real DJ," referring to Samantha Ronson. The DJ responded by turning the music louder when Lohan was done speaking. Lohan, who has been in rehab in the past, told Britain's Sun newspaper in an interview that ran over the weekend, that she is "allowed to drink." The 23-year-old talked about how she had abused cocaine and alcohol and said she now sees a therapist. She said she hit rock bottom in 2007 when her estranged father Michael Lohan began discussing family drama with the media.

Click here to read the rest of our column in Tuesday's Daily News.

Julius Erving was surprised Friday at the Trump Taj Mahal in Atlantic City where friends threw a 60th birthday party for the Sixers legend at Il Mulino. Dr. J, who turns 60 on Monday, was joined by his wife Dorys, daughter, tennis pro Alexandra Stevenson and son Julius Erving III as well as many friends including Sixers executive advisor Sonny Hill, NBA veterans such as Bill Russell, Charles Oakley, John Starks and Charles Smith, who heads the NBA Retired Players Association, former NFL players Jerome Bettis and Ricky Watters, and Sean McKinney, president of the Mitchell & Ness apparel company. Erving and guests later danced and smoked cigars at the hotel's Ego bar. The party continued Saturday night with a black-tie dinner with guests including "Law & Order" star Anthony Anderson, NBA star Alonzo Mourning, rapper Tone Loc, and Olympic gold medalist Sanya Richards. Guests were asked to change into Converse sneakers, in honor of Dr. J's sneaker of choice on the court, and also one of the event sponsors, as was Mitchell & Ness.

This item has been changed/updated.
Click here to read the rest of our column in Monday's Daily News.
Veteran concert promoter Larry Magid on Tuesday parted ways with Live Nation Philadelphia, but he says he isn't retiring. The 67-year-old told us earlier that he's excited about "some other things I'm working on," though he didn't really care to elaborate. Magid, who produces national shows for Billy Crystal, Robin Williams and Stevie Wonder, hinted that he may still be collaborating with Live Nation, with whom he says there's no bad blood, and is working on things "locally, nationally, and internationally," in the entertainment industry.
Magid left his post as chairman of Live Nation Philadelphia where Geoff Gordon remains as president, as Billboard reported. The concert mogul said he and Live Nation couldn't agree to financial terms for him to stay on board, but that's OK because "It's time to do something else. Pass along the day to day stuff to younger people who have been doing a great job with it for a while." Magid co-founded Electric Factory Concerts, along with Allen, Jerry and Herb Spivak, in the 1960s, named after their club at 22nd and Arch. In 1998 SFX bought Electric Factory Concerts, later becoming Clear Channel, which then spun off into Live Nation Entertainment, which is the largest concert promoter in the world.
Magid, who produced 1985's Live Aid and 2005's Live 8 was very actively involved in the company, a regular fixture backstage to greet artists and check on everything at many concerts. We asked Magid whether his Live Nation contract prevents him from opening or joining a competing concert promotion company. "We haven't had a contract for some time," he said. "Fortunately, I've been able to accomplish a lot more than I thought I would be able to do," says Magid about his 40 years promoting concerts in Philadelphia. During his down time, the longtime Phillies season ticket holder looks forward to baseball.
University of Pennsylvania Police Detective Supervisor Ted Farrell just won $25,000 on today's "Who Wants to Be a Millionare," and starts tomorrow afternoon (12:30, 6ABC) on a $50,000 question. The retired Philadelphia Police detective has no lifelines remaining but is guaranteed to leave with at least the $25,000 he secured today.