Archive: February, 2009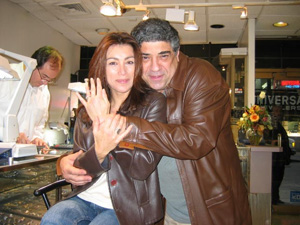 Vincent Pastore

, who played Big Pussy on "The Sopranos" today began trial in the Supreme Court of New York over an April 2005 assault of former fiancee, Gloucester Township native,

Lisa Regina

. Pastore pleaded guilty in 2006 to attempted assault on Regina, who said he punched her, pulled her hair and smashed her face into the dashboard of an SUV. Regina, an actress/acting teacher, who graduated Triton High in Runnemede, later filed civil suit against the actor.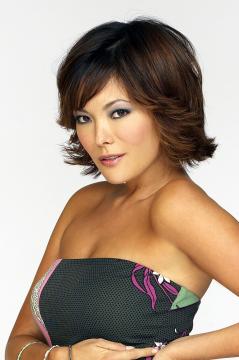 "Lipstick Jungle" hottie

Lindsay Price

, who some remember from the original "90210," came with a few girlfriends to Atlantic City's Borgata Monday afternoon. The ladies were pampered at the Immersion Spa at the Water Club, adjacent to Borgata, then dined at Izakaya on chef

Michael Schulson

's edamame dumplings and crispy rock shrimp.
"God put Oprah here for a reason. You can't get someone who believes in you the way she does," says Wynnefield native filmmaker Lee Daniels. He's thrilled that both Oprah Winfrey and Tyler Perry have agreed to do what they can to promote his new film, "Push: Based on the Novel by Sapphire," which has been picked up for distribution by Lionsgate Films. Daniels swears the film, about a teenage girl in Harlem who is pregnant for the second time with her father's baby, is "not as dark as people might think." He assures it's "OK to laugh along with the situation as our main character [played by newcomer Gabourey Sidibe] does." Despite the multiple awards heaped on the film at Sundance, where it premiered, Daniels, who won an Oscar for producing "Monster's Ball," says he "learned early on never to read any of my reviews because if I believe the good ones, I have to believe the bad ones." So he's not too excited. His next film, "Tennessee," stars Mariah Carey and is due for theatrical release next month. Carey also co-stars in "Push," which has no release date yet.
"Law Abiding Citizen" star

Jamie Foxx

threw a Super Bowl party for eight at Smith & Wollensky at the Rittenhouse. The crew hung out in a back room and Foxx went for a Caesar salad and a bone-in ribeye steak. The film will soon be shooting in North Philadelphia and the George W. Hill Correctional Facility in Delaware County, where actor/comedian/musician

Kenneth Keith Kallenbach

was incarcerated when he died last year. Foxx's "LAC" co-star and producer

Gerard Butler

partied over the weekend at Public House (18th & Cherry) where he was friendly to fans.
Porn star-turned politician-turned porn star Mary Carey will be here to dance at the World Famous Gold Club (1416 Chancellor) from Feb. 25 to Feb. 28. The busty blonde can now be seen battling her alcohol addiction on VH1's "Celebrity Rehab Presents: Sober House." The former California gubernatorial candidate last made news in this column when she made out with comedian Danny Ozark while here in May. Carey was here for what was a scheduled birthday party of 94 WYSP's Kidd Chris. But the DJ was fired the morning of his party, and didn't show.