Archive: February, 2009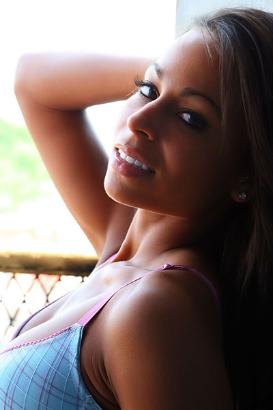 The links keep coming.
After we reported that Brianna Frost can be seen "in a lascivious webcam video" (aka spitting on her boobs and briefly masturbating) to Rihanna's "Disturbia" in a webcam video posted on PornHub.com, another reader sent in a far more graphic link on MuchoSucko.com featuring Frost, of MTV's "The Girls of Hedsor Hall," with a sex toy and a bottle of what could be Tahini sauce but which we hope is not.
"Don't link directly to porn," is one of Philly.com's rules which is why there are no direct links provided here, but if you go to either site and search Frost's name, you'll find them. As we mentioned yesterday, Frost, 21, a former Penn State student was upset Tuesday that we reported she had once modeled for GirlsofPhilly.com and hadn't plugged her new site. So, after you watch her clips on these other sites, be sure to check out Frost, who's soon moving to Arizona, at her new website, BriannaFrost.com, which is also not safe for work.
M

TV's "The Real World" is holding a local casting from 10 a.m. to 5 p.m. Feb. 28 at the Raven Lounge (1718 Sansom) seeking to cast its 23rd season which will shoot in an as yet undisclosed city. Casting Directors from Bunim/Murray Productions are seeking men and women aged 18-24 who are asked to bring a recent picture which will not be returned.

While the casting is open to any type of individuals, casting directors say that this season "We'd love to include a person who is physically challenged, an individual struggling with weight issues, someone whose family or themselves are dealing with the immigrant-to citizenship process, an individual who is coming out of the foster care system, someone who is currently grieving over the loss of a spouse or significant other, or a cast member who wants to bring the spotlight of The Real World to a cause or social issue they care deeply about." And if those people like to strip, drink a lot and fight with their new roommates, they'll probably have an even better chance.

Those who can't make the open casting call, may visit Bunim-Murray's website to apply online.
Long before local gal Brianna Frost was cast on MTV's "The Girls of Hedsor Hall," in which American bad girls learn to become ladies in an English finishing school, she posed nude on Girls of Philly, fans of the website have passed along. Frost, 21, is from Reading, but studied at one of the local Penn State campuses, and poses in a Penn State sweatshirt on the site, later in a Phillies shirt, a Brian Westbrook Eagles jersey and later nude. You can sneak a peek at Frost on the front page of Girls of Philly, which as you can imagine is not suitable for work, but you must join to see the nude pics.

UPDATE: Looks like Frost fans can see a lot more of her if they desire. She just e-mailed us asking why we didn't plug her new web site and included a picture that we can't post here due to Philly.com's "no nipples" policy. If we get a more suitable one, we'll throw it up here.

ANOTHER UPDATE: Brianna Frost can be seen spitting on her boobs and briefly masturbating to Rihanna's "Disturbia" in a webcam video posted on PornHub.com. "Don't link directly to porn," is another Philly.com rule which is why there is no link, but if you go to that site and search Brianna Frost, you'll find it. This tip comes courtesy of PhillyGossip loyalist SteakWith, who was banned as a commenter but resurfaced as Commandor SW, whose account is now under review. As we mentioned yesterday, Frost was upset that we mentioned Girls of Philly and not her new site, so in fairness, you can see much, much more of Frost here.
A fight between Philadelphia Film Festival boss and TLA Entertainment owner Ray Murray and the Philadelphia Film Society has led to the cancelation of the 2009 Philadelphia Film Festival, Philadelphia magazine's Victor Fiorillo reported late this afternoon.

However, at 5:25 (this is an updated post) Murray tells us he now plans to go ahead with the Philadelphia CineFest March 26 through April 6. "We have two hundred films, we have guests who are supposed to come, guests who are supposed to get awards,"­Murray told us this evening. Making the battle more awkward, Murray notes, is the fact that TLA (for whom in the past we wrote on a freelance basis) and the PFS share the same floor in the same Market Street building. Murray decided to move ahead with the festival after getting off a phone call with his lawyer who said if PFS aren't doing a festival, they have no grounds to complain about TLA presenting one. He'll be working all weekend writing his final blurbs for the festival guide and says to check TLAFest.com for updates. "This is something I've been working on for so long I don't want to see it die," he said. "We've cut out a lot of the receptions and parties, the real money-losing things. Just show the movies," he said.

According to Fiorillo's report, the problems began in December when Murray, angry with certain PFS members, walked away from the festival he's overseen for years, taking his contacts and some loyalists with him. "There's a Main Line group that wants to see a smaller, more boutiquey, Hamptons/Telluride type of festival," Murray told Fiorillo. "But film is a popular art. It's for people from the Main Line and the Northeast." The Philadelphia Film Society had announced a March 26 opening date for the Philadelphia Film Festival, was then sued by Murray, who planned his CineFest, and the PFS later said it would countersue, and after last-ditch efforts to reunite, the factions remain split.

Andrew Greenblatt, executive director of the Philadelphia Film Society, told Fiorillo, "I am very disappointed that this settlement is not working out, as I think the loss of the spring festival is deeply unfortunate for Philadelphia."


UPDATED 2/16/09: Greenblatt says the Philadelphia Film Festival is not canceled, but it is likely postponed. He hopes to stage it in the fall. "We have not yet confirmed dates for the fall, as we have not entirely given up on hosting the Philadelphia Film Festival in the Spring," Greenblatt told us yesterday.
Popped!, the outdoor music festival which debuted last summer at Drexel University, will be held this June in FDR Park in South Philadelphia. On Wednesday the Fairmount Park Commission approved a request from Popped, run by Alexis Rosenzweig, and LiveNation, the world's largest concert promoter, with whom Rosenzweig is partnering to book and stage the June 19-21 event.

"The Phillies are in town that weekend, it's going to be a great couple days for South Philly," says Kate Wilhelm, who runs the Fairmount Park Conservancy, the fundraising and marketing arm of the Fairmount Park Commission. "We want to do exciting things that benefit the city and the region in our parks," she said.

The Conservancy was involved last year in trying to stage another multi-day concert in Fairmount Park. Last year, C3, a concert promotion company from Austin, Texas wanted to hold a concert festival around the Belmont Plateau, but the Commission delayed a vote on the initiative, and C3 took its plans to Voorhees, NJ, but the concert festival never happened. This year's plans were approved in the Commission's monthly meeting at the Horticultural Center. Wilhelm and concert promoters told the Commission they expect 15,000 concertgoers each day of the festival, which should be no problem given the easy access by public transit and by car to the 348 acre park.

Rosenzweig this afternoon declined to discuss any potential acts who have been approached for the concert festival, saying she and LiveNation plan an official announcement soon.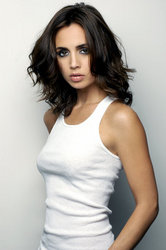 Center City native actor Christian Meoli appears tonight as a bad guy on the premiere of "Dollhouse," which stars Eliza Dushku (pictured). The new show by Joss Whedon airs at 9 on Fox.
Lance Bass and Cheryl Burke took in the first anniversary party at G (111 S. 17th) Saturday night after performing in the "Dancing With The Stars" show at Atlantic City's Boardwalk Hall. Good Charlotte's Benji Madden was spinning at the party which doubled as a soft launch for Trckd Republic, a marketing and entertainment company from G owner Mark Marek and Todd Rodeghiero, owner of Greenstar Media Labs. Sixers Andre Iguodala, Donyell Marshall and Lou Williams were also in the house as were Playboy Playmates Monica Leigh and Courtney Culkin.
Photos: Jasen Hudson/JasenHudson.com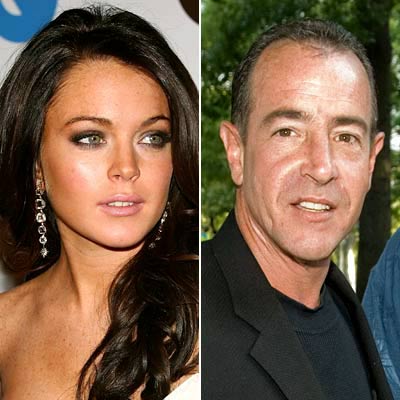 Lindsay Lohan's father Michael Lohan will be the next star of a "celebrity boxing" fight promoted by Damon Feldman. The media-hungry Lohan, who seems to talk to his daughter only through the press, is seeking a challenger to fight on April 3 at the Ramada Inn at the Philadelphia International Airport. Lohan who spent two years in jail on DUI and assault charges, and a challenger, will wear headgear in three one-minute rounds. Interested applicants under 180 pounds may e-mail Feldman at celebrityboxing@gmail.com. Professional wrestlers Tito Santana and Greg "The Hammer" Valentine will box each other on another bout on the card. Lindsay Lohan's publicist did not return an e-mail about whether her client planned to attend the fight, to cheer on her father, or perhaps even his opponent.