Archive: December, 2007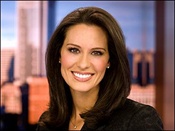 And the big story on Eyewitness News is that CBS 3 anchor Alycia Lane is currently locked up in a New York jail cell after being arrested early this morning for allegedly punching a female police officer in the face.
Daily News reporter Regina Medina is reporting exclusively that Lane, 35, was arrested at 2:04 a.m. today at the corner of W. 17th Street and 9th Avenue and later charged with one count of assault witih intent to cause physical injury to an officer, said NYPD spokesman Sgt. Carlos Nieves. The 10th Precinct officer suffered lacerations to her face, Nieves said. Lane was also accompanied by an unidentified male, according to the NYPD report.
Mark Wahlberg, who's about to leave town as production on "The Lovely Bones" wraps, made it out to Kildare's HeadHouse Square Friday night for a toy drive hosted by Q102. The actor told the Booker Show that he would make it to the party, as we reported Thursday, and lived up to his word, arriving around 10:30 with toys.
Vince Papale, who Wahlberg portrayed in "Invincible," showed up to see the actor with whom the former Eagles wide receiver spent lots of time prepping for his role. The two have stayed in touch since. Wahlberg hung late, signing lots of autographs for the packed house.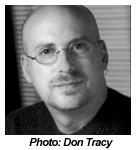 Philadelphia magazine editor Larry Platt announced to staff today that he will not run next year as a Democrat for the 6th Congressional District seat held by Republican Jim Gerlach.
"After being a prospective candidate for two days at the Pennsylvania Society last weekend," Platt tells the Daily Examiner, "I was so sick of my own voice, so tired of hearing me talk about me, that I realized this life change wasn't for me. "When you're a journalist, I realized, you're interested in hearing and conveying other peoples' stories. When you're obsessed with your own story, you create your own little echo chamber inside your head. It's not fun," he told the Daily Examiner, a Philly mag blog.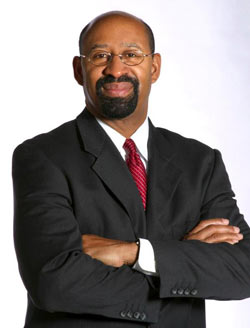 After doing it for more than a year, campaigning must be a hard habit to break. Mayor-elect Michael Nutter approached three tables to introduce himself and chat with fellow patrons at the Royal Tavern (937 E. Passyunk) Wednesday night where he and a female business associate had drinks. Nutter sipped white wine as his security detail sat at a nearby table keeping an eye on the next mayor.
Here's a clip of Your Humble Narrator banging on glass vases and a coffee pot with the cast of "Stomp."
The show plays Dec. 26 to Jan. 2 at the Merriam Theatre (250 S. Broad).
Tickets are available here. Don't worry I'm not playing at the show, only in the newsroom.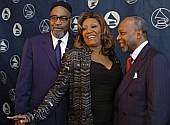 Congrats to Sound of Philadelphia hitmakers Kenny Gamble and Leon Huff, who will be inducted into the Rock and Roll Hall of Fame on March 10 in New York along with Madonna, John Mellencamp, the Ventures, Leonard Cohen and the Dave Clark Five. The Hall of Fame announced its nominees this morning and the Philadelphia International Records moguls will be honored in the non-performer category. Philly International artists include the O'Jays, the Stylistics, Lou Rawls, Harold Melvin & the Blue Notes, McFadden & Whitehead.
Photo Credit: David Maialetti/Daily News
Power 99 DJ Diamond Kuts had to prerecord her mixes being played on the "bangin' hip-hop and R&B" station while she's touring with Lil' Mama and Philly R&B sensation Chris Brown.
They play the Wachovia Center on Dec. 20. Diamond, 24, grew up as Tina Dunham, in West Oak Lane and in South Jersey, and graduated Pennsauken High. Though female mixers are uncommon, she's persevered. "When you perfect your craft, people take notice of you. What I do is special," says Diamond. She plays the flute and drums and plans to buy a keyboard to use on her down time on the road to start writing new beats that she hopes to record with various artists.
Fox News Channel host Bill O'Reilly went into a tear against former People Paper editorial board member Carol Towarnicky on his show Tuesday night over this column in Tuesday's Daily News, a tongue-in-cheek attack on his battle against the politically correct movement that's taken the Merry Christmas out of the holiday season. "Joseph Stalin, Mao and Fidel salute you, Carol," O'Reilly said after reading Towarnicky's statement that "No religion should be in the public square not even when the overwhelming majority of citizens practice it." "John Adams would be appalled. James Madison would have canceled his subscription to the Philadelphia Daily News and Ben Franklin might have moved out of Philly. All the founding fathers encouraged spirituality in the public square and opened all of their meetings with a prayer," said the host in his nightly Talking Points memo, some of which can be read here.