Archive: November, 2010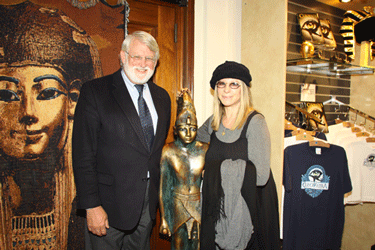 Barbra Streisand is currently touring the Cleopatra exhibit at the Franklin Institute.
The entertainer is in town for tomorrow night's gala opening of the National Museum of American Jewish History on Independence Mall. Streisand, who donated a costume and storyboard from her film "Yentl" to the museum is a guest but is not performing at the event, which will be headlined by Jerry Seinfeld and Bette Midler.
Vice President Joe Biden will speak Sunday at an opening event emceed by NBC News' Andrea Mitchell at the museum which opens to the public on Nov. 26.
Roger Waters invited The Hooters to the Wells Fargo Center Tuesday where he performed Pink Floyd's classic "The Wall." The Hooters played "The Wall" concert in Berlin in 1990. The Hooters play the Electric Factory (7th & Willow) Nov. 26 to celebrate 30 years together. Concertgoers will receive a copy of new EP, "Five by Five." Waters performs "The Wall" once more Thursday night at the Wells Fargo Center.
A testy e-mail exchange between Daily News columnist Stu Bykofsky and MSNBC blowhard Keith Olbermann reported online Tuesday was actually between an exchange between Byko and an Olbermann imposter.
Bykofsky wrote columns critical of Olbermann on Thursday and again Monday after the left-leaning cable host was suspended for making political contributions to Democratic candidates, in violation of NBC News policy.
Bykofsky wrote to Keith@KeithOlbermann.com for comment and received a reply Monday in which "Olbermann" challenged Bykofsky's journalistic chops. Byko replied and the conversation, which escalated into a respectfully argumentative battle, was first reported on Phawker.com and later picked up by several media blogs. Not too much later, the real Olbermann took to Twitter to say that Bykofsky and readers had been duped.