Archive: November, 2010
A few pranksters hopped into a NYC taxi on the set of "Safe," Friday night and drove it for about a block South on Broad Street from Walnut and then hopped out while laughing and ran off. A film spokeswoman says the taxi was promptly recovered by a crew member and that the film did file a police report.

Veteran character actor James Hong, who we loved in "Blade Runner," "The Golden Child," and "Revenge of the Nerds 2" joins the cast of "Safe" any day now. The film has been shooting interior and exterior scenes at the Bellevue including a shoot out between the NYPD and Chinese gangsters who are looking for Mei (Catherine Zhao) a 12-year-old Chinese girl being protected by Luke (Jason Statham), a former U.S. government agent.

On Monday the film shoots along 18th Street between Chestnut and Walnut and on Sansom Street between 17th and 19th. Wednesday's work is along the 400 block of Chestnut Street.
(Photo information: Here is Hong in the "Chinese Restaurant" episode of "Seinfeld," as Snotty in "Revenge of the Nerds 2," and in "Balls of Fury.")
Click here to read more from our column in Monday's Daily News.
Dan Gross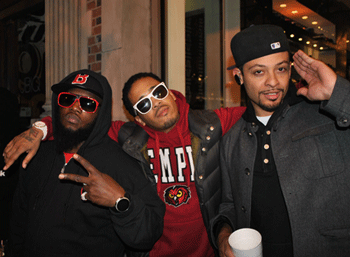 Rappers Freeway and Peedi Crakk stopped by the Complex EA Sports NBA Jam launch party at Ubiq (1509 Walnut) Thursday night.
Dan Gross
Big Talker 1210 AM morning host Michael Smerconish moves to afternoons on Jan. 17, 2011, the talk station is expected to announce today, among other changes such as Glenn Beck and Sean Hannity's shows being dropped from the station.

Smerconish, who already hosted a syndicated show in the afternoon for other markets will now be heard from 3 to 7 p.m., or 3 to 6 p.m. during Phillies season. Chris Stigall, a syndicated conservative host from KCMO in Kansas City takes over the 5:30 to 9 a.m. shift on Jan. 3.
Despite the addition of a syndicated morning show, we hear the decision to drop Hannity and Beck was made in efforts to have live, local programming from 9 a.m. to 7 p.m.

Current nighttime host Dom Giordano moves to 9 a.m. to noon shift with Rush Limbaugh on from noon to 3, followed by Smerconish. We're told the station has not formalized a nighttime plan yet.

The move seems to please Smerconish, also an author and Daily News and Inquirer columnist, whom we hear is glad he won't be waking up at 3 a.m. anymore and broadcasting two shows per day instead of one.
Dan Gross
Doylestown popstar Pink, nee Alecia Beth Moore, announced today on "The Ellen DeGeneres Show," that she was pregnant, which US Weekly reported last week.
After hearing the good news, Ellen gave Pink a baby onesie and mini-motocross bike as the baby-daddy is her husband, Motocross rider Carey Hart.
Congrats to the happy couple indeed, but Daily News reporter Molly Eichel wonders if we shouldn't be a little concerned, as Pink once told "Access Hollywood," that "I think parents need to beat the crap outta their kids."
Dan Gross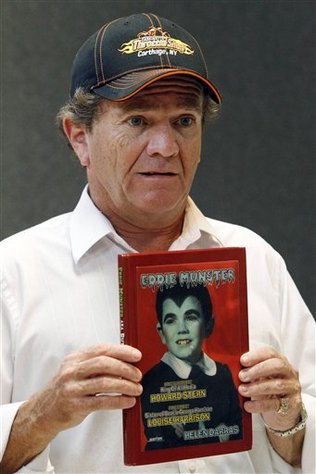 Good luck to Butch Patrick, who played Eddie Munster on "The Munsters," who checked himself out of a South Jersey rehab facility on Monday.
Patrick, 57, told us he entered a five-day detox program at Maryville in Williamstown because he was "drinking way more than I should have been."
Monday night, Patrick and friend Robert Minto, a DJ, discussed a business opportunity with several women at Mad River (126 Chestnut) Buffalo Billiards (118 Chestnut) and Crocodile's (110 Chestnut) in Old City where Patrick says he drank only Cokes.
Dan Gross