Archive: January, 2011
In Saturday's Inquirer and Daily News it was reported that a confidential settlement had been reached between me and former CBS 3 anchor Alycia Lane that resulted in my being dropped as a defendant in her civil conspiracy case that is ongoing against former co-anchor Larry Mendte and CBS 3 which fired them both in 2008.
In providing comment to the papers I took the high road, in accordance with the terms of the settlement, and said that I was confident I would have been vindicated had the case gone to trial as I had done nothing wrong. Unfortunately, Lane's attorney Paul Rosen acted irresponsibly and in violation of the spirit of the agreement by remarking that the settlement was "a nice Christmas present for Alycia Lane."

Our decision to settle was based solely on the reality that it would cost our insurance carrier more to litigate these claims against me than to settle and put the matter behind us. It is truly unfortunate that, in America, you can be forced to pay money to settle claims that you know are false.
One thing that doesn't suck for Lenny Dykstra: The Los Angeles County Prosecutor's Office.
Prosecutors declined to file charges against the former Phillies great over sexual-assault allegations by a former housekeeper, the Los Angeles Times reports.
The maid told authorities that Dykstra forced her to give him oral sex on Saturdays, but investigators noted a lack of evidence that the fellatio had been forced upon her.
Enough talk about "Limitless," the Bradley Cooper movie. The horror film "Crossbearer" is shooting in the area for another week. The film, about a religious fanatic who murders strippers and drug dealers with a hammer in an attempt to cleanse the earth, is written and directed by Adam Ahlbrandt, whose previous films unclude "Sight," "The Burnt House," and "The Cemetery." "Jackass/Viva La Bam" cameraman Joe Frantz is also in the film, produced by Doug Sakmann and Natalie Jean. Several bloody stripper scenes were just shot at Daydreams (5200 Unruh) in the Northeast.
Be warned: After this innocent photo are two violent stills from the movie.
Speaking of Sakmann, his company, Backseat Conceptions, is working on a reality show pilot starring Lloyd Kaufman, the head of Troma Films, where Sakmann was head of production from 1999 to 2002.
Phillies ace Cliff Lee and his wife, Kristen, closed Monday on a condo in the Rittenhouse Square area, according to a Realtor website, CenterCityRealEstate.com. The building has 29 full-floor units, each at least 4,100 square feet. The website, run by the Atacan Group, did not provide details about the purchase price.
This post has been updated/changed.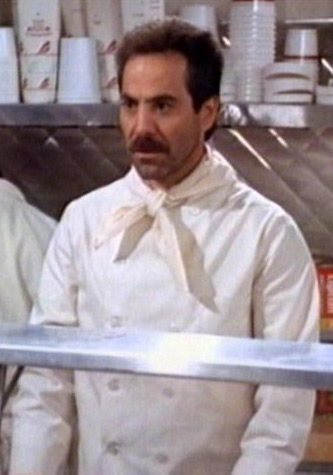 Yes, soup for you!
Larry Thomas, who played the Soup Nazi on "Seinfeld," serves up soup from noon to 3 p.m. Saturday at the newly opened Doc's Gourmet Soup (169 W. Girard).
Thomas, who you may also remember as the blackjack dealer in "Austin Powers," is proud of how closely identified he is with the Soup Nazi character.
Looks like we can confirm the rumor that Packers QB Aaron Rodgers is dating "Gossip Girl" actress Jessica Szohr (whose head is unfortunately turned away in this photo.) The pair dined Saturday at Bistro Romano (120 Lombard) along with Packers longsnapper Brett Goode and a date. Szohr, who recently broke up with co-star Ed Westwick, posed for a few pictures with the waitstaff on her way out of the Italian restaurant.
This post has been updated/changed.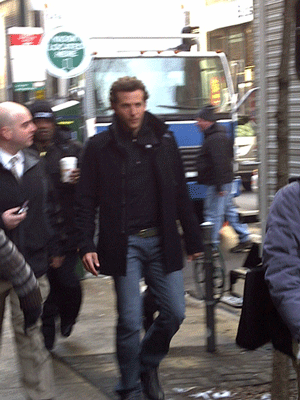 Here's Bradley Cooper around 13th & Walnut this afternoon around the corner from chef Michael Schulson's Sampan (124 S. 13th) where the Rydal-raised actor is re-shooting a scene for "Limitless," with Australian actress Abbie Cornish. Cooper warmly greeted CBS3's Ukee Washington and invited the anchor to interview him inside his trailer. Clips air on CBS3 on the 4 and 6 p.m. newscasts today and the interview will be played in its entirety Monday morning on CBS3.
As we reported Monday, the scene is said to be a new ending for the thriller about a wonder drug that allows Cooper's character, a writer, to use maximum brainpower. At least one other scene, in an underground subway platform, is being filmed today.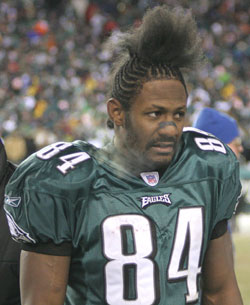 Freddie Mitchell's "Millionaire Matchmaker" episode airs at 9 p.m. Tuesday on Bravo. The former Eagles wide receiver, whose famous 4th & 26 reception against the Packers is being talked about as the Birds prepare to face the Pack on Sunday, is the "millioniare" who asked the show's host Patti Stanger to help him find love. No word on how successful he is. When we asked FredEx about the show over the summer, when we first reported he would be seen on the Bravo series, he told us he couldn't discuss it.