Archive: January, 2009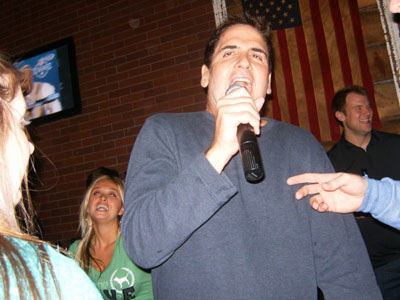 Pittsburgh native Dallas Mavericks owner

Mark Cuban

cheered on the Steelers at the Public House (18th & Cherry) Sunday night. Cuban arrived alone but was soon having a great time singing, buying drinks for the crowd and doing SoCo and lime shots with loan consultant

Dan McDade

and his buddies. Cuban left a $300 tip for the bartenders. The "Dancing with the Stars" alum and his new friends later hit Delilah's (100 Spring Garden) where the dancers are always happy to entertain a billioniare such as Cuban who got a neck massage from one of the girls. Cuban and crew sipped Ketel One and the business mogul paid for all on his black AmEx. He's here as the Mavericks are playing the Sixers right now at the Wachovia Center.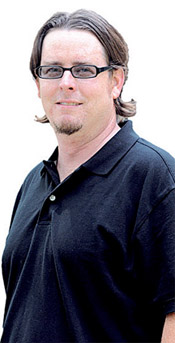 Congrats to former City Paper managing editor Brian Hickey, who is back in his East Falls home for the first time since the Nov. 28 hit-and-run accident in Collingswood that landed him in a medically induced coma. Surgeries and therapy kept him in Cooper Medical Center and Magee Rehabilitation Hospital since.

"I wouldn't have been able to go home so quickly without the Magee therapists who pushed me harder by the day," says the longtime Philadelphia journalist, who was released from Magee Friday.

"I can't thank them enough for that, and for not letting me dwell on the unknown person who left me for dead in the street. I hope [that person has] been sleeping well at night, because I certainly wasn't for the first month after waking up from the coma." Hickey, 35, has a surgery scheduled tomorrow but will then be recuperating at home, and in very good hands, as his wife, Angela Klem, is studying to become a nurse.
Good news. About 90 minutes ago,

Donovan McNabb

showed up at Talk of the Town (3020 S. Broad) to pick up his lucky chicken cheesesteak hoagie with American cheese, mayo, ketchup, lettuce and tomato. While D-Mac insists on picking up his own sandwich, the shop delivered a few more steaks to the Nova Care Complex for kicker

David Akers

and a few other Iggles, who have since departed for Arizona. The Portland Trailblazers also took a few dozen steaks with them on their team bus when they left town after playing the Sixers a couple nights back.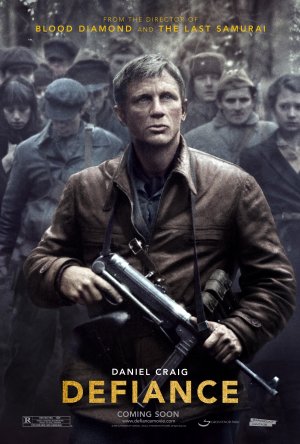 Barry Belsky has already seen "Defiance" twice, but the owner of Mr. Barstool (167 N. 2nd) will be among moviegoers who will catch the film, which opens today, over the weekend. The film, about three Jewish brothers who escape from Nazi-occupied Poland to join Russian resustance fighters, is based on Belsky's uncles Tuvia, Zus and Asael Bielski. Belsky says his uncles, who are played by Daniel Craig, Liev Schreiber and Jamie Bell, are deceased but their youngest brother, Aron, who is also portrayed in the film, is still alive. Over the years their surname Bielski, became Belsky, as such alterations were common for many European Jews who emigrated to the United States. Belsky attended a screening for family in New York as well as another sneak preview there. He knew his late uncles well, he says. We plan to speak more at length tomorrow, so we'll update this post then.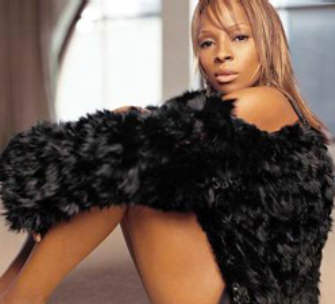 Two New Jersey songwriters have filed a copyright-infringement suit against mega-producer Rodney Jerkins, singer Mary J. Blige, rapper Jay-Z, Universal Music Group and a dozen other defendants in U.S. District Court in South Jersey. The songwriters, Jermaine Jumpp, of Willingboro, and Michael C. Adams, of Union Township, claim that they sent Jerkins a CD with several tracks they wrote in 2001 and that in 2005 Jerkins produced a song "Enough Cryin'" by Blige that they claim sounds a lot like their song "On My Grind." The pair is seeking to halt the sale or distribution of the song until they are properly credited as songwriters, as well as an accounting of any royalties they may be owed from sales. The complaint gives no indication why the pair waited so long to sue. We called the law firm representing the songwriters to ask for a copy of their track so we could decide if the song and "Enough Cryin'" were similar, but their attorney did not return several calls. Reps for Jerkins and Universal did not return our requests for comment.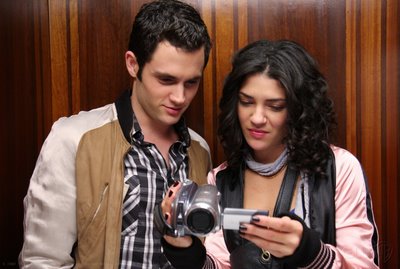 South Philly's

Kristin Thomson

received a flurry of texts Monday night from friends telling her that her old record label Simple Machines was just namedropped on "Gossip Girl." Dan (

Penn Badgley

) asked Vanessa (

Jessica Szohr

) to "swear on your Simple Machines 7-inches," to keep a secret. Thomson, now education director for the Future of Music Coalition, ran co-owned the indie rock label with her

Tsuami

bandmate

Jenny Toomey

. Ending in 1998, Simple Machines put out records by

Tsunami

,

Monorchid

,

Retsin

,

Ida

and a limited-edition cassette called

Late

by a pre-

Nirvana

Dave Grohl

, an old friend of Thomson and Toomey, of songs that later became

Foo Fighters

tunes. "I think it's really interesting when people who write movie and TV scripts get wider in their cultural references," Thomson told us yesterday. "Simple Machines throws back to the '90s but for a certain set of people and given the context of the show it makes sense even though the characters are one generation from Simple Machines," she said. Future of Music is a national non-profit which works to ensure that artists can be properly compensated for work in the age of downloads.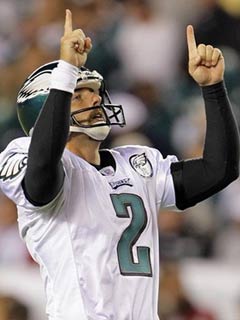 Thankfully Donovan McNabb picked up his regular chicken-cheesesteak hoagie from Talk of the Town (3020 S. Broad) Saturday afternoon before the Iggles rolled up to East Rutherford to dwarf the Giants Sunday. We told you last week how the Birds were victorious several times on the road when D-Mac stopped into the steak shop for his last Philly meal before leaving. After our report, B101's Morning Show with Tiffany and Michael had kicker David Akers on-air Friday, and he said that he would try a sandwich there. He did. The shop delivered a steak with provolone to Akers before the team departed Saturday. Akers, who previously had only 50 percent field-goal accuracy at Giants Stadium, went a perfect three-for-three on Sunday.

In other Iggles news, Fox 29 received a handful of e-mails and phone calls from what a station spokeswoman calls Philadelphia's "famously vocal fans," regarding the technical error that caused meteorologist John Bolaris to appear on local television screens for 10 seconds with just under 4 minutes left in the 4th quarter of Sunday's game, followed by 2 seconds of a Verizon commercial.
Jamie Foxx is lunching now on mussels at Stephen Starr's Parc on Rittenhouse Square where he also ate this weekend. The Oscar-winning actor is in town getting ready to start shooting "Law Abiding Citizen," in which he plays a district attorney. His lunch companion is the film's director F. Gary Gray.