Celebrity Hookups
Dan Gross
Playboy model Kendra Wilkinson was on E!s "Chelsea Lately" show Tuesday night where she discussed her relationship with Eagles wide receiver Hank Baskett. "So are you porking him," asked host Chelsea Handler. "Actually, uh, he lives across country so you know we Skype," Wilkinson said citing the popular online call/video service. "When you're across the country you kinda have to do the whole Skype sex thing," she says, adding that it's "way better than phone sex. Way better. Try it," she gushed. Handler then implied that Baskett could probably have sex with Wilkinson from across the county "because he's black," to which Wilkinson replied "You were talking about black d--- earlier, where was I?" We were the first to report that Wilkinson, whose mother was an Eagles cheerleader, and Baskett were dating though Baskett has said the pair were only friends. Wonder if he Skype sexes all of his pals. Wilkinson can currently be seen on E's "Girls Next Door," but admits that she's no longer dating Playboy founder Hugh Hefner.
Dan Gross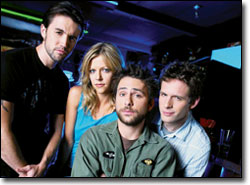 Congratulations to South Philly raised Rob McElhenney and Kaitlin Olson, his co-star on "It's Always Sunny in Philadelphia," who were married Saturday afternoon at a vineyard in Malibu, Calif. "Sunny" stars Danny DeVito, Charlie Day, Glenn Howerton and crew from the raunchy FX comedy were in attendance. Fred Savage who directs some "Sunny" episodes and "Bones" star Emily Deschanel, were also at the nuptials. McElhenney (pictured on the left) a St. Joe's Prep grad, and Olson were engaged in December after dating close to two years.

Dan Gross
The plot thickens. It turns out that

Playboy

model

Kendra Wilkinson

, who's rumored to be dating Eagles wide receiver

Hank Baskett

, attended Sunday's Eagles/Steelers game wearing a midriff-baring No. 84 Baskett jersey. Wilkinson, whose mother

Patti

was an Eagles cheerleader, is one of

Playboy

founder

Hugh Hefner

's alleged live-in girlfriends, and co-stars on E!'s "The Girls Next Door." In a video interview with Eagles Insider

Dave Spadaro

, Wilkinson says she met Baskett "at a golf tournament. He's a great guy, he plays with heart," she said, adding that she hoped Baskett has a good game (which he did) and hoped

Donovan

throws to him (which he did). Click here to watch the interview. Baskett has said the pair are "good, good friends," and our repeated efforts to reach Wilkinson through Playboy publicists have been unsuccessful.

UPDATE: On Monday night, the Playmate posted on her MySpace blog, "hiiiiii just wanna let yall know that i am not engaged! if i was id be very happy though n i wouldnt hide it..hahahahaha!!!!!." The post, which went on to say that "love is a beautiful thing n i think the world needs more of it. lol," was removed from her page by this afternoon. While Wilkinson denied an internet rumor she and Baskett were engaged, she did not deny they are dating. No word on why the post was taken down, though we suspect it may have been requested by Playboy, which, along with "Girls Next Door," keeps up the perception that Wilkinson is romantically involved with Hefner.
Dan Gross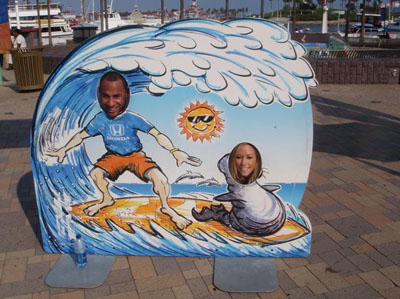 Eagles receiver Hank Baskett seems to be quite chummy with Kendra Wilkinson, a Playboy model and one of the co-stars on E!s "The Girls Next Door." Wilkinson is, on the show at least, one of Hugh Hefner's live-in girlfriends. We're told Wilkinson, 23, and Baskett, 26, (pictured together here) recently dined together at Redstone (500 Rt. 73 S) in Marlton. She lists "HB3" as one of her heroes on her MySpace page, and Baskett's page, which is private, says "HB3 in LOOOOOVVVVEEEE!!!!" An Eagles spokesman contacted Baskett and told us he didn't hear back from the receiver. E-mails to Playboy publicists were not returned since Thursday.

UPDATE: Baskett was on Wired 96.5's Chio in the Morning show today and was asked (hear the clip here) about our report about he and Wilkinson, whose mother Patti was a former Eagles cheerleader. "It's funny how I woke up to that stuff on my front porch," Baskett told the radio station. "She's a good good friend of mine. She loves the team. She's a die hard Chargers fan too but she loves the Eagles," said Baskett. Perez Hilton, who borrowed heavily from, yet linked to, our report this morning, says that Wilkinson was at yesterday's Eagles game in a private suite. We're awaiting confirmation from the Eagles on that. Meanwhile, What Would Tyler Durden Do, claims to be reporting an exclusive that Baskett and Wilkinson are engaged and have been for some time. Hmmm. Still no word from Playboy.



Dan Gross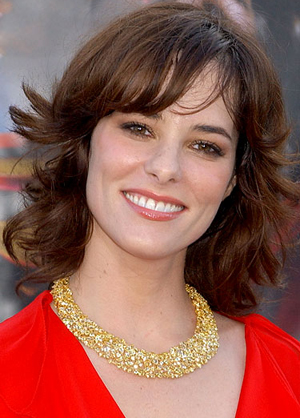 Looks like Parker Posey found romance with a local lawyer while the actress was here for five weeks shooting "Happy Tears." Sources say Posey and attorney John Giordano have known each other for years, but only became romantic when Posey was shooting here. The movie also stars Demi Moore and Rip Torn.

Posey, 39, whose films include "Best in Show" and "Superman Returns," and Giordano, 33, a Moorestown High and Villanova grad who lives in Center City and works in Washington D.C., were spotted together talking with Gov. Rendell recently at Table 31, Georges Perrier's and Chris Scarduzio's new restaurant in the Comcast Center. They were also spied looking quite cozy at Amada (224 Chestnut). Yesterday we reached Giordano, who said only that he and Posey are "very good friends and we enjoy each other's company." Posey could not be reached yesterday for comment.
Dan Gross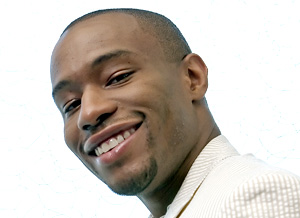 Newly single Star Jones was photographed having dinner Monday night in New York with former Daily News Sexy Single Marc Lamont Hill. The Temple professor is also a regular political analyst on Fox News. The pictures can be found at Bossip. Doesn't look romantic to us, but, hey, you never know. "Star Jones and I are just two good friends who had dinner," Hill told us last night. "There is nothing romantic going on."
Dan Gross
Here's a bigger and better picture of CBS 3 anchor Alycia Lane and Q102 morning host Chris Booker, taken Friday night at Kildare's HeadHouse Square where Q102 contributor Weatherboy was celebrating his birthday. More pics on Weatherboy's MySpace page.
We reported last week about the new couple.
Dan Gross
Here's a picture of CBS 3's Alycia Lane and new beau Q102's Chris Booker (they do look cute together) at Kildare's HeadHouse Square Friday night. The couple were there celebrating the birthday of Weatherboy, a regular on Booker's show, pictured far left, with 102.9 WMGK's John DeBella, Booker, Lane and Kildare's owner Dave Magrogan. Also there were Q102's Diego Ramos, Blaire Galaton and Jessie Jordan, 94 WYSP's Monkeyboy. The Holmesburg Bakery, owned by Q regular Buddy provided the cake.