Archive: February, 2013
Molly Eichel
Mazel tov to embattled former Phillie Lenny Dykstra who is going to be a grandfather.
Dykstra's son, Cutter and new fiancee, "Sopranos" star Jamie-Lynn Sigler, are expecting their first child together, Sigler's rep confirmed.
"She couldn't be more excited!" a source told People magazine, which is good because it would be weird if she was just kinda "meh" about the whole thing.
Molly Eichel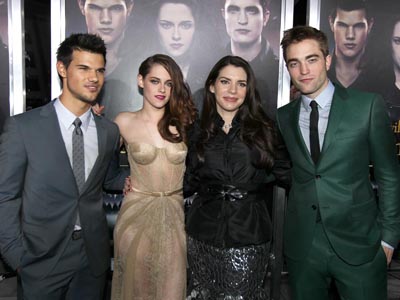 Stephenie Meyer, author of the mega-crazy best-selling Twilight series, will participate in a free book signing in Philly on February 22 at the Free Library's Central Branch. Each attendee can get only two books signed (so choose your favorites, teen girls and vamp-obsessed housewives). Meyer's appearance was just announced so that's why you don't see any tent cities of rabid fans popping up around the Free Library yet.
Meyer will be in town to promote "The Host," the film adaption of her book. Joining Meyer will be "The Host" actors Max Irons (son of Jeremy) and Jake Abel. "The Host," about a race of parasitic aliens, hits theaters March 29, and stars Saoirse Ronan.
Want more literary goings-on in Philly? Today, I've got notes on a New Hope author's scandalous new memoir and interview with new Philly resident, Pulitzer Prize-nominated Karen Russell (Swamplandia) in today's column.
Molly Eichel
NBC cancelled Philly-set drama "Do No Harm" after only two episodes. The show was a modern take on Jekyll and Hyde in which a surgeon (Steven Pasquale) turns into a cruel-intentioned badboy each night night. The cast also featured Phylicia Rashad, Samm Levine and Alana De La Garza.
The first episode of the show did not get off to a good start, carrying the dubious honor of the lowest rated in-season premiere since 1987 when current ratings metric were implemented. Last night's ratings only got worse, dropping 22 percent in the demo from the premiere. Episodes of "Law & Order: SVU" will air in its place for the next two weeks.
Settings for "Do No Harm" included the School District of Philadelphia building and the Franklin Institute.
Molly Eichel
NBC10's Aditi Roy is leaving Philly for the West Coast.
We hear Roy has a new job already lined up, I've got a call into the former morning anchor to see where she'll be heading. According to PhillyChitChat's HughEDillon, Roy cites her engagement as the reason for moving away. She plans to wed in May.
Roy has already had a prolific career, working for NBC News for a summer and popping up on the "Today" show. Most recently, Roy was a morning anchor.
Molly Eichel
Rydal's pride and joy Bradley Cooper and David O. Russell, the director of the Delco-shot/set "Silver Linings Playbook," are meeting with Veep Joe Biden today, according to Politico.
According to Biden's aide:
"[T]he Vice President will meet with director David Russell and actor Bradley Cooper of 'Silver Linings Playbook' to discuss the importance of ensuring access to quality treatment for those with mental illness."
The item goes on to say that Diamond Joe Biden is meeting with Cooper and Russell to foster a dialog about mental health in the wake of the Newtown, Conn. shooting. In "Silver Linings," Cooper plays a man with bipolar disorder. Recently, Cooper and co-star Robert De Niro talked with Katie Couric about the role of mental health in the film.
Molly Eichel
In today's column, I told you about Rob Zombie's new Broad Street Bullies Flyers' flick, with hopeful fall start date in Philadelphia.
But Zombie had more to say about fan involvement in the film. "A lot of the fan portions of the movie would revolve around [West Collingswood Heights, NJ bar and restaurant] Rexy's because that was the hang out. There's a lot of fan stuff because when you go back and watch the footage, there's a lot of outrageous looking fans," Zombies said. "That's part of why I wanted to learn from being there. That's an important feature that's not in the books. In the books you can find the hockey facts. So coming here and learning what the fan vibe is like is something you can't pick up from books."
Zombie has described the film as a mix between "Rocky" and "Boogie Nights," and producer Les Borsai said that Zombie is the perfect person to direct the project. "He understands the period and this movie has to be raw and gritty," said producer Les Borsai. "This can't be glossy."
Molly Eichel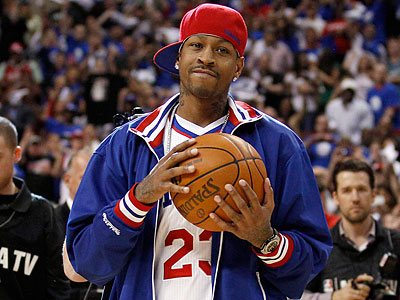 Allen Iverson is having a no good, very bad week.
The former Sixers No. 3 lost his Atlanta mansion at a foreclosure auction, according to TMZ. Foreclosure proceedings began in December after Iverson defaulted on his $1.2 million mortage. TMZ reported Iverson was able to stave off foreclosure in December by filing a lawsuit claiming he never consented to the terms of the loan set up by his now-estranged wife Tawanna. Iverson bought the house, worth $4.5 milllion in December 2010. Sources told the gossip website that Iverson's bank bought the mansion for $2.5 mil.
This news comes after the ATL judge presiding over Iverson's divorce slammed the erstwhile basketball great over his parenting skills.
Molly Eichel
On Monday, I told you that West Philly-born dancer Abdur-Rahim Jackson will appear on tonight's second season premiere of NBC's Broadway-themed "Smash," but Jackson isn't the only Philly name in the credits this week. Friend Central grad Benj Pasek and his writing partner Justin Paul have a song featured on tonight's episode called "Caught in the Storm." You can check it out early on iTunes.
Pasek and Paul are fast becoming major names on the New York stage. Recently, they wrote the music and lyrics for the Broadway adaptation of "A Christmas Story," and they didn't shoot anyone's eyes out in the process.
Want to catch up on "Smash" before tonight's premiere? Read Ellen Gray's review.