Sharon Gless here next week for Q Fest honor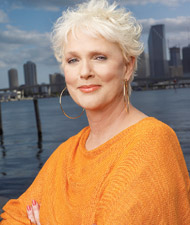 "I am not gay, but I am festive," says actress Sharon Gless who receives the Gay Icon Award Sunday after a Philadelphia Q Fest screening of "Hannah Free," in which she stars. Gless says the gay and lesbian community has warmly embraced her since she played Christine Cagney on "Cagney & Lacey," and that many lesbians have told her they thought her husband of 18 years, Barney Rosenzweig, is a beard. Gless's gay cred also expanded when she played the cool and approving mother of a gay character on "Queer As Folk."
Sharon Gless here next week for Q Fest honor
"I am not gay, but I am festive," says actress Sharon Gless who receives the Gay Icon Award Sunday after a Philadelphia Q Fest screening of "Hannah Free," in which she stars. Gless says the gay and lesbian community has warmly embraced her since she played Christine Cagney on "Cagney & Lacey," and that many lesbians have told her they thought her husband of 18 years, Barney Rosenzweig, is a beard. Gless's gay cred also expanded when she played the cool and approving mother of a gay character on "Queer As Folk."
"Hannah Free," which screens at 4:45 on June 19 at the Prince Music Theater (1412 Chestnut) was written by Claudia Allen, in whose play "Cahoots" Gless appeared in in Chicago. The actress calls the film " a labor of love," shooting over 18 days with a budget of only $200,000.
Gless now appears on USA hit "Burn Notice," in which she plays Madeline Westen, the no-nonsense mom of a former U.S. spy who was blacklisted by the government and now takes odd jobs helping people in trouble. It tapes through September in Miami which she calls home. In January and February Gless will perform a play, "A Round Heeled Woman," in San Francisco. Gless optioned movie/TV rights to the book by Jane Juska, but said it didn't work as a series, so she turned it into a play.
Juska wrote the book about her experience after placing a personal ad in the New York Review of Books that said "Before I turn 67--next March--I would like to have a lot of sex with a man I like. If you want to talk first, Trollope works for me."