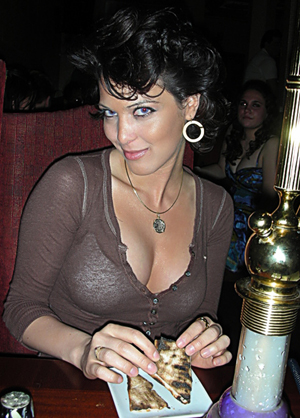 Guard your wallet and protect your personal information. Alleged identity thief Jocelyn Kirsch is back in Philadelphia.

Sources tell Daily News reporter Regina Medina that Kirsch, 22, arrived in Baltimore yesterday afternoon and driven back to Philadelphia.

It is here of course where Kirsch was nabbed in December, along with ex-boyfriend Edward Anderton, 25, a Penn grad. The pair whom police nicknamed "Bonnie & Clyde," are accused of identity theft, conspiracy and making terroristic threats among other charges. Kirsch, a busty brunette and former Drexel senior, is out on bail and living in Northern California, working at a Napa Starbucks, as Medina reported last month. Ironically, around the same time as Medina's report, the Federal Trade Commission issued a report that Napa, California, ranked number one metropolitan area in the country per capita for identity theft consumer complaints. Reliable sources also tell Medina that the First Judicial District Warrant Unit went to Kirsch's old address March 29 at the 640 Lofts (640 N. Broad) with an arrest warrant.