Out and about: Wyclef Jean, Jerry Jones, Demarcus Ware, Ben Francisco, Ray Lamontagne, Jim Florentine...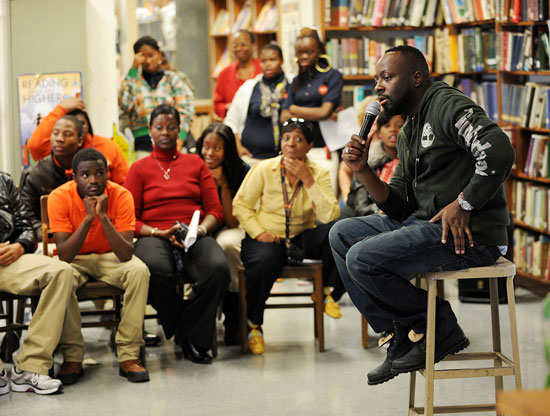 Cowboys owner Jerry Jones and family dined at Buddakan (325 Chestnut) Saturday night while his longtime Philly limo driver Big Penny hung outside. Also Saturday, a crew of Cowboys including Demarcus Ware and Igor Olshansky dined at Del Frisco's (15th & Chestnut) on porterhouse, snapper, duck and crab claws. A few nights earlier at Del Frisco's, in separate parties, were Flyers defenseman Chris Pronger, Mayor Nutter and Her Royal Highness Princess Maha Chakri Sirindhorn of Thailand...Wyclef Jean caught the last game of the World Series from the Four Seasons where the musician stayed last week during a visit to town. Jean, who had a craving for jerk chicken, dined at Caribbean Feast (1338 Rising Sun) after an autograph signing at Villa (1018 Market), which was selling new eco-conscious Timberland boots. Jean also helped renovate West Philadelphia High School with Villa staff, the Sixers and City Year...Miley Cyrus and her crew ordered 30 sandwiches, cheesesteaks, chicken cheesesteaks and turkey hoagies from Talk of the Town (3020 S. Broad) to be delivered backstage toward the end of her show the other night at Wachovia Center...Singer Ray Lamontagne and a business partner at Davio's (111 S. 17th) sipping barolo, had salmon, caprese salad, pumpkin cheesecake and left a great tip. Phillies outfielder Ben Francisco and a female companion also dined at Davio's. They had angel hair pasta, shrimp and lobster, and shared gelato. Francisco signed a couple autographs, too...Comedian Jim Florentine dined at McCormick & Schmick's (1 S. Broad) the other night with a hot blonde. Florentine, who co-hosts "That Metal Show" on VH1 Classic and will soon be seen opposite Jenna Fischer, of "The Office," was in town performing at Helium (2031 Sansom). He's also the former beau of Howard Stern sidekick Robin Quivers...Eagles Brent Celek, Trevor Laws and Todd Herremans went for drinks at Rouge, on Rittenhouse Square, Thursday...Eagles wide receiver Jason Avant attended the Wednesday ribbon-cutting of Eye Innovations (1204 W. Township Line) in Drexel Hill...As much as we'd all love to see him in an Eagles uniform, Jon Runyan seems to be enjoying his free time with his family. The big man took his kids bowling at Pinsetter (7111 Maple), in Pennsauken, Friday night. All this and more in today's column.
Out and about: Wyclef Jean, Jerry Jones, Demarcus Ware, Ben Francisco, Ray Lamontagne, Jim Florentine...