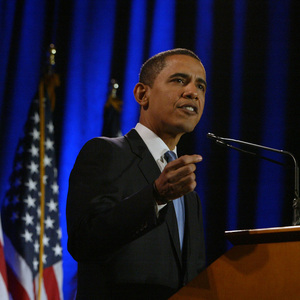 ALEJANDRO A. ALVAREZ / PHILADELPHIA DAILY NEWS
Looking for the key sports-fan vote in the upcoming PA primary, Sen. Barack Obama will be interviewed by Angelo Cataldi and Co. on 610 WIP at 7:40 Thursday morning, Cataldi confirmed earlier tonight. The host joked that any rumors of him becoming Obama's running mate are just that. No word on whether Cataldi will offer Obama a spot in next year's Wing Bowl during the interview which can be streamed online here. Last week Sen. Hillary Clinton was interviewed on Q102's Booker morning show.
UPDATE: No bombshells dropped during Obama's five-minute interview, but the senator called Hillary Clinton "a smart lady," but said his years in the Illinois State Legislature have given him more legislative experience than Clinton has. "The issue is not how long have you been in Washington, but the decisions you make," Obama said, though he managed to hold his tongue and not deliver the rest of his popular soundbite about Clinton voting for the Iraq war while he was always opposed to it. After Obama hung up the next caller said he was a 26-year-old who was undecided between Obama and Clinton, but thought it was cool of Obama to do the WIP interview, and says he's now supporting Obama.