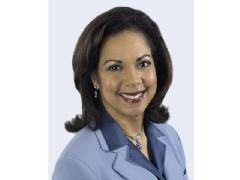 NBC 10 reporter Monique Braxton just returned from a weeklong off-air suspension.
Braxton, sources say, had been suspended for making calls and inquiries about the criminal case of Steve DiDonato, of Lower Salford Township, who happens to be the husband of NBC 10 Managing Editor Lisa Spinosa.
Last month a judge sentenced DiDonato, 47, to a probation-like program over charges that DiDonato set a fire in January 2006, outside a Lehigh Valley bar. The fire was set to distract police from the fact that he was about to get in his car and drive under the influence, Debbie Garlicki of the Allentown Morning Call reported. DiDonato was not arrested until seven months after the blaze, which he allegedly drove through.
We're told Braxton was paid during her suspension, and also made personal appearances, but was not reporting for NBC 10. She did not return calls from us about the suspension. Our call to Spinosa was referred to an NBC 10 spokeswoman who offered no comment.