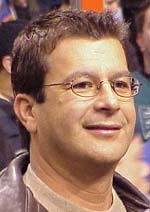 Mike Missanelli is coming back to Philly to take over the afternoon drive slot on 950 ESPN. The former 610 WIP sports talker starts April 1 hosting the 3 to 7 p.m. show which bumps

Jody McDonald

to 9 a.m. to 1 p.m. and ESPN's

Mike Tirico

from 1 to 3 p.m. Harry Mayes and Dan Schwartzman will move to the 7 to 11 p.m. shift.
We told you yesterday that 950 had become ESPN's local affiliate and would be starting the "Mike & Mike" show April 1 with former Eagle

Mike Golic

and ESPN's

Mike Greenberg

.
Missanelli, worked a total of 13 years at 610 WIP, with a brief stint at 93.3 WMMR in between, when he was fired in March 2006 after punching a colleague during a live broadcast at Brownie's 23 East in Ardmore. Missanelli of late has been co-hosting a show for ESPN Radio with former

Inqwaster

columnist

Stephen A. Smith

.