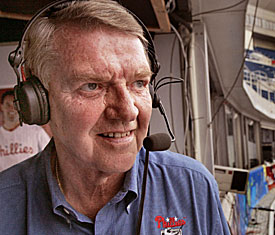 Harry Kalas
isn't used to leisurely watching a Phillies game, but the legendary broadcaster
did just that Sunday
. ESPN was carrying the Phils/Mets battle on TV and Kalas was off from the 1210 AM broadcast, which
Larry Andersen
,
Tom McCarthy
and
Scott Franzke
handled. 98 WOGL's
Bob Pantano
invited Harry the K to join him and
Michael Divine
, a casino consultant, in a Citizens Bank Park suite to watch the game, with one condition. If there was a Phillies homer, Kalas had to call it. Sure enough,
Chase Utley
hit two home runs, which Kalas graciously confirmed were in fact
outtahere.
Pantano says Kalas told him it was the only time he'd been at the ballpark in 31 years that he wasn't working.