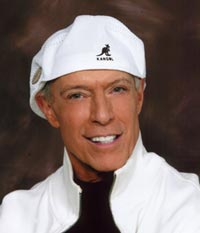 The Geator never quits.
Two days after having a hole in his heart repaired by Dr. Shelly Goldberg at Hahnemann University Hospital, Jerry Blavat was back in action working a gig last night at the Philadelphia Park Casino.
Blavat, who'll be 68 in July, knew he had a hole in his heart for years, but only recently started experiencing symptoms associated with it. He didn't want to get his chest broken into, so Goldberg went into his heart through a groin artery. Blavat spent nine hours recuperating in a Hahnemann bed, the longest he has stayed still in years.
"I'm feeling wonderful," the Geator gushed yesterday. "It's not my time to stop playing my music and making people happy. It's also important, the Geator notes, "that people know they don't have to open you up for heart surgery anymore." On an unrelated note, the Geator, like Mayor Nutter, is now driving a hybrid. He's zipping around in a Chevy Malibu hybrid that has his caricature on the sides with the words, "The Geatormobile: The Geator Goes Green."