So, on Tuesday's "LIVE with Kelly and Michael," host Michael Strahan talked about a 1999 game he played against the Doug Pederson-led Eagles in which he intercepted a pass and ran the ball in to the end zone for a touchdown. In spectacular fashion, Strahan celebrated wtih a Ricky Martin-style pose.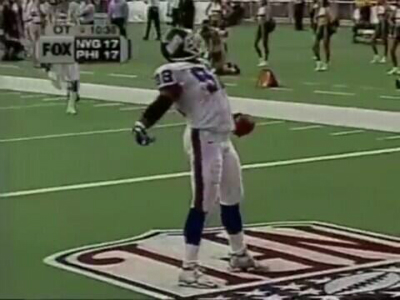 On today's show, producers tracked down a clip of the game with Strahan's celebration. Cute, right?
But that's when things went nuts. During the commercial break, former Eagle Lonnie Palelei stood up and made himself known. The former offensive lineman happened to be the guy chasing Strahan in the clip.