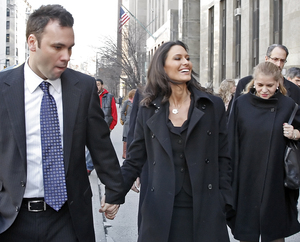 Steven M. Falk/Philadelphia Daily News

Radio legend Howard Stern revealed on his Sirius Satellite Radio show yesterday that he and girlfriend Beth Ostrosky had dinner last week with Stern's pal, Q102 morning man Chris Booker, and his girlfriend Alycia Lane. The couple's dined at Atlantic City's Borgata following a comedy show there by Stern sidekick Artie Lange.


"She's hot...she has nice big t---ies... and is the best piece of ass Booker's ever had," Stern said of the former CBS3 anchor.. Lange chimed in that he had only met Lane for 10 seconds, but he had enough of a lasting impression that he was able to, we're paraphrasing here, fantasize about her while masturbating.