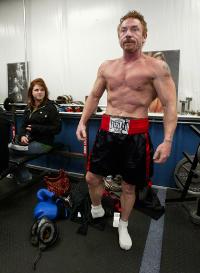 Danny Bonaduce will be back in town March 15 for another boxing match at the Marple Sports Arena. The Broomall-born "Partridge Family" actor will square-off against Steve Kwasnik, host of "The Real Estate Connection," which airs on Comcast cable.
94 WYSP's Kidd Chris will be guest referee for the Bonaduce fight, part of a full card of boxing from Damon Feldman's Celebrity Boxing Promotions, Bobby Capone and Philly Music Video.
Also on the bill is Phil Margera, father of Chester County "Jackass" Bam Margera, who will take on Jessie Sheffield, a pro wrestler and musician.