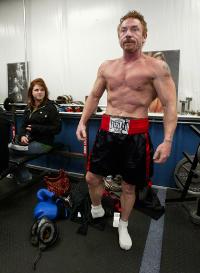 Danny Bonaduce will be back in town March 15 for another boxing match at the Marple Sports Arena. The Broomall-born "Partridge Family" actor will square-off against Steve Kwasnik, host of "The Real Estate Connection," which airs on Comcast cable.
94 WYSP's Kidd Chris will be guest referee for the Bonaduce fight, part of a full card of boxing from Damon Feldman's Celebrity Boxing Promotions, Bobby Capone and Philly Music Video.
Also on the bill is Phil Margera, father of Chester County "Jackass" Bam Margera, who will take on Jessie Sheffield, a pro wrestler and musician.
Margera, who was seen on VH1's "Celebrity Fit Club," seems to take his son's abuse without fighting back so we'll see how he fares against the 6'8" Sheffield.
Last month when Bonaduce boxed in town, he defeated Wired 96.5's Justice in a very close fight that prompted much of the crowd to chant that the fight was fixed.
Bonaduce later agreed on The Howard Stern show to have a re-match with Justice, but clearly that will have to wait for another day if it ever occurs. Tickets for the March 15 spectacle are $40 ringside seats and $25 for general admission, available through Center Stage Tickets, 800-677-8499.
A portion of proceeds will benefit the Gennaro Pellegrini, Jr. Scholarship Fund. Pellegrini was a Philadelphia Police Officer and National Guard serviceman who was killed in Iraq in 2005