Archive: July, 2008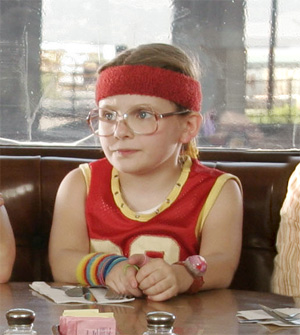 "Little Miss Sunshine" star

Abigail Breslin

accompanied CBS Evening News anchor

Katie Couric

on a visit to Children's Hospital of Philadelphia earlier this week to interview doctors and patients about cancer. The CHOP visit was taped for possible inclusion in "Stand Up to Cancer," the Sept. 5 hour-long telethon that will be simulcast on CBS, NBC, and ABC, and co-hosted by Couric,

Brian Williams

and

Charlie Gibson

.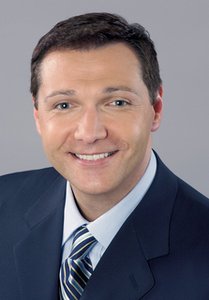 NBC 10's Vince DeMentri was at the station for the first time in nearly a month on Tuesday for a meeting with station management. DeMentri has been off air since July 3, when the station began to investigate an incident in its Bala Cynwyd parking lot in which DeMentri is alleged to have vandalized morning anchor Lori Delgado's car. Lower Merion police have an incident report of Delgado's car being vandalized but say the case is closed, and they don't expect any arrests.

Sources say DeMentri told colleagues Tuesday that he didn't touch Delgado's car. In the past, DeMentri and Delgado had a particularly close friendship. Delgado is married. In May 2007 we reported that DeMentri was in the process of a divorce from QVC-host wife Pat James DeMentri. NBC 10 spokeswoman Eva Blackwell said the station does not comment on personnel matters. DeMentri's attorney, Paul Rosen, did not return our e-mail or a phone call yesterday.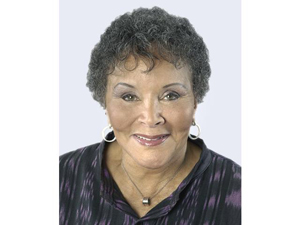 Veteran NBC10 broadcaster

Edie Huggins

has died after a "hard fought, lengthy illness," the television station announced this afternoon. She was 72.
Huggins began at WCAU in 1966 as a feature reporter on the Big News Team with John Facenda and spent her 42-year-career in television at NBC10. She would have turned 73 on Aug. 14.

"In her uniquely dignified way, Edie helped open the doors and blazed the trail that made it possible for so many of us to be here," said NBC 10 Vice President of News

Chris Blackman.

"Personally, I will always appreciate her support ... checking in on me whenever I had a rough day. Although she'll no longer be in our newsroom, she'll remain in our hearts."

Huggins was the first African-American woman to report on Philadelphia television. In the 1970's she co-hosted "What's Happening," with

Herb Clarke

and also hosted "Morningside" a live-magazine-style program. In recent years, her regular "Huggins Heroes" segments profiled local people doing great deeds.
A founding member of the National Association of Black Journalists, Huggins also this year was scheduled to be honored by the Mid-Atlantic Chapter of the National Academy of Television Arts & Sciences. She will be honored posthumously at the Emmys on Sept. 13.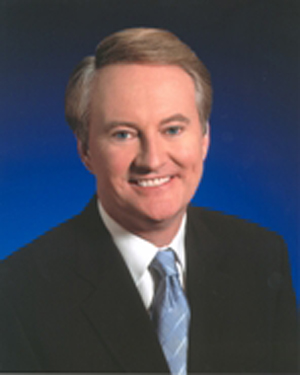 We highly doubt he'll show up to collect any statues, but Larry Mendte will be permitted to be nominated for and/or win regional Emmys this year, Susan Buehler, president of the mid-Atlantic chapter of the National Academy of Television Arts and Sciences, announced yesterday. Last week, we reported that some on the local NATAS board expressed concern about Mendte's nominations following his being charged with a felony by the U.S. Attorney's Office, which alleges he hacked into former colleague Alycia Lane's e-mail more than 537 times over six months. The charging document also alleges that Mendte provided info obtained in those e-mails to the Daily News. In recent years, Mendte has won dozens of Emmys, and we're told he submitted more than 20 stories for consideration this year."NATAS has no authority involving itself in the personal situations of its members or entrants. None of the work entered by Larry Mendte is connected to his criminal case, which is still being adjudicated," Buehler saidin the statement. Entries already have been judged, out of the Philadelphia-market area, and nominations will be announced Aug. 5.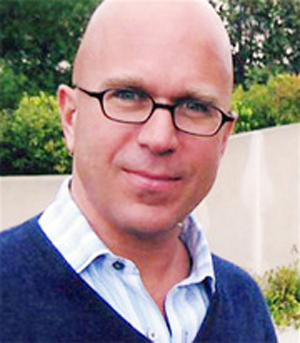 Michael Smerconish rode 65 miles on a bicycle in Saturday's heat to raise money for police charities. But it was the author and radio host's short ride over the Ben Franklin Bridge in the backseat of a Camden Police car that kept some people talking.

Smerconish argued with the Delaware River Port Authority that the Tour de Shore riders, about 800, "in a 65 mile trek for police charities . . . should be allowed to ride on the bridge where cars travel and not "funneled into a bike path," he told us by e-mail over the weekend. The DRPA disagreed and before things got worse, a Camden police officer intervened and drove Smerconish over the bridge with his bike in the trunk.

The Big Talker 1210 AM host and columnist for the Daily News and Inquirer joined back up with the ride. The 21st annual event raised $150,000 for police charities including the Daniel Faulkner Educational Grant Fund, the Hero Thrill Show and the Philadelphia Police Survivors Fund. Riders traveled from the Irish Pub (20th & Walnut) to the Irish Pub in A.C.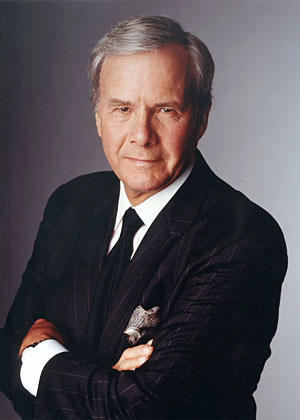 Veteran newsman Tom Brokaw will be the keynote speaker at the Greater Philadelphia Chamber of Commerce's 208th Annual Meeting Oct. 22 at the Pennsylvania Convention Center. Brokaw, now interim moderator of "Meet The Press,"and NBC Special News Correspondent, will discuss the upcoming election, global economy and his new book "Boom! Voices of the Sixties: Personal Reflections on the '60s and Today," with the crowd of up to 1,500.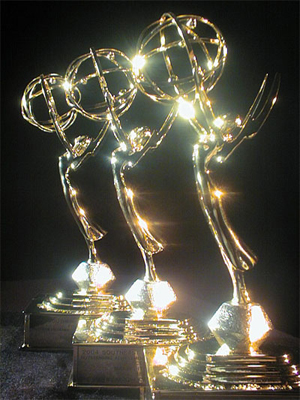 Larry Mendte

usually cleans up at the mid-Atlantic Emmys, raking in awards every year, but this year the local chapter of the National Academy of Television Arts and Sciences is trying to figure out how to handle his entries.

Mendte was charged in federal court Monday with one count of illegally accessing former co-anchor Alycia Lane's e-mails 537 times and will soon plead guilty to the charge. The U.S. Attorney's charging document against Mendte also alleges that he provided information he got from Lane's e-mails to the Daily News.

NATAS board members are scheduled to have a conference call today to discuss whether Mendte should be allowed to be nominated or win an Emmy. Nominations will be announced Aug. 5.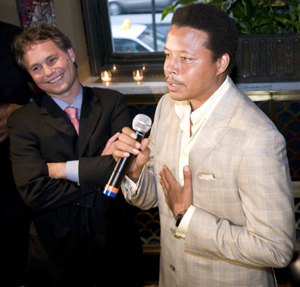 Terrence Howard is excited to go on tour when his CD comes out in September. Howard says he'll play Philly in October as part of the tour for his debut album. We caught up with the "Iron Man" and "Hustle & Flow" actor at a Tuesday-night party by Philadelphia Style at 10 Arts, chef Eric Ripert's new restaurant at the Ritz-Carlton. Howard's the cover story of the magazine's new issue. Howard, who lives in Lafayette Hill, addressed the crowd before his first single "Love Makes You Beautiful" was played.
The actor caught up with Jim Ellis, longtime swim coach and employee of the city's Department of Recreation. In the movie "Pride," Howard portayed Ellis, whose longtime pool at the Marcus Foster Recreation Center was recently closed. Ellis now trains swimmers at Kelly Pool in Fairmount Park and at LaSalle University's pool.
Chef Ripert says he's enjoying Philadelphia and loves the hour-long commute by Acela from New York. We asked Ripert whether viewers of Bravos' "Top Chef" could expect to see him next season and he cited a confidentiality clause he signed for the show indicating he could be sued for up to $2 million if he discusses it. "I don't have that kind of money," Ripert said, begging off discussing the program with us. Ripert was hanging out with BJ Spencer, who, along with husband Craig, owns the Ritz-Carlton and co-owns the Philadelphia Soul.