Archive: January, 2012
Sportscaster Lou Tilley introduced District Attorney Seth Williams to speak Friday at a Ritz-Carlton event kicking off the Philadelphia Soul/Greater Media Radio's Stand Up campaign against child sexual abuse.
As the event ended, Tilley went over to shake Williams' hand and compliment the speech, only it wasn't Williams, but a member of his security detail, whom Tilley had mistaken for the district attorney.
Dan Gross
Sixers center Tony Battie wasn't hard to miss Thursday night while sipping Michelob Ultras during porn actress Richelle Ryan's dance set at Tattletales (6900 New Falls Road) in Levittown.
Chase Utley, who's been spending the offseason with his wife Jennifer and their baby boy Benjamin in California, was seen with a few friends heading into L'Etage (6th & Bainbridge) about 11 Saturday night.
Dikembe Mutombo stopped by the Union League after a National Constitution Center board meeting Thursday night. The retired NBA star and former Sixer is an NCC board member. At the Union League, Mutombo drank cranberry juice and talked politics and fundraising with Dana Spain, Philadelphia Animal Welfare Society President. PAWS is raising money for its second local animal adoption center and Mutombo has been very successful raising money for his charity efforts in his native Congo. Click here for more info on PAWS, or Mutombo's foundation.
Dan Gross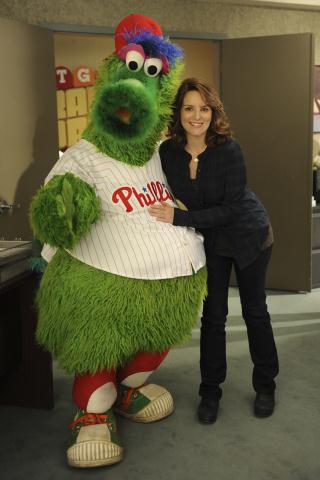 Tom Burgoyne, the Phillie Phanatic's best friend, says the Phanatic didn't know his "30 Rock" episode was airing Thursday until "The Phanatic got a text from Swoop." Apparently, the Phanatic and the Eagles mascot are buds.
Burgoyne said he and the Phanatic spent about 5 hours in October shooting the scene in which Alec Baldwin's character Jack Donaghy gets the Phanatic, TastyKake, soft pretzels and other Philly staples to impress visiting Kabletown (Comcast) executives.
Burgoyne says Upper Darby native Tina Fey was happy to meet the Phanatic and told him she was glad the show was able to land him since the script had to be approved by Major League Baseball. "I told her the Phanatic would love to be on every week," he said.

Dan Gross
Partial Sixers owner Will Smith will attend his first game Friday and sit courtside as the team takes on the Bobcats on Jrue Holiday bobblehead night. The Overbrook native superstar is in the area shooting "After Earth" with director M. Night Shyamalan. The futuristic thriller also stars Smith's son Jaden. The team's been waiting for the chance to present Will Smith his custom No. 76 jersey that the team made for the new ownership group when it was announced in October.

Dan Gross
"Shameless" star William H. Macy stopped by DJ and clothing designer Nigel Richards' 611 Lifestyle booth at the Sundance Film Festival and picked up a 611 scarf for himself and a 611 Records Philadelphia t-shirt for actress wife Felicity Huffman.
"Extra" host Mario Lopez, or Slater from "Saved by the Bell" if you prefer, also picked up a 611 Turntable shirt and hung out with rapper Lil' Jon who chose a Sex, Lies & Vinyl shirt from 611. "Law & Order: SVU" actor/rapper Ice-T took a 611 Record Box shirt and bodacious blonde bride Coco picked up the women's version of the Sex, Lies & Vinyl shirt. "Bachelor" Ben Flajnik picked up a 611 longsleeve flannel.
Meanwhile, "Mad Men" stunner Christina Hendricks, "The Sing-Off" host Nick Lachey, actors Andie MacDowell, Justin Long ("He's Just Not That Into You") Laura Prepon "Are You There, Chelsea?") and Katie Aselton of "The League" and E! host Ben Lyons all stopped by the Philadelphia Industry Lounge and signed a giant LOVE statue there.
Dan Gross
"It's almost surreal to me that he is part of our stupid wing eating contest," said Sportsradio 94 WIP's Angelo Cataldi about Japanese eating machine Takeru Kobayashi's participation in Wing Bowl XX Feb. 3 at Wells Fargo Center.
Kobayashi, a longtime champion of the Nathan's Famous Fourth of July Hot Dog Eating Contest, had been Cataldi's white whale. "For the last ten years I've wanted Kobayashi in the event," Cataldi said yesterday.
Cataldi saw Kobayashi inhale Twinkies on "Wendy Williams Show" (See video below) but does question his endurance. " I don't know. He 's never eaten for this long in his great career," Cataldi said. "From what I understand he is intently training on it. It would bring shame to him if he would lose," Cataldi said noting that the Japanese love the pro eater.
Dan Gross
Ruthann Seccio, the mistress, or "goomah," of former mob boss Ralph Natale, was just filmed for an upcoming episode of "I Married a Mobster," which airs on Discovery. Executive producer Dan Pearson contacted former longtime Daily News reporter Kitty Caparella looking for women in the mob for the show, and Caparella, who was also interviewed in New York for the episode, recommended Seccio.
Kevin Kaufman, of Kaufman Films, shot Ruthann telling her complicated life story from abandonment as a child to becoming the mistress of Natale, who then abandoned her when he cooperated with the FBI, as mobsters threatened to kill her since they couldn't murder him.
A film crew is expected to soon film in town for the episode, which has no airdate set. Pearson and Kaufman produce "I Married a Mobster," along with "Sopranos" actress Lorraine Bracco, who introduces the show.
Dan Gross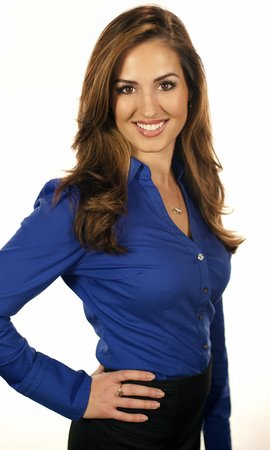 New NBC 10 meteorologist Sheena Parveen told us Friday that she was excited to report on snow for the first time over the weekend. The Tampa Bay native has worked only in Florida. Parveen said that growing up in the lightning capital of the world inspired her interest in the weather.
Parveen, who has two dogs, is also an artist and enjoys painting nature scenes on canvas. She's adjusting to the colder weather and the Philadelphia area very well and can't believe how helpful people are, she said.
And, on behalf of those who have written to ask or posted their affections for Parveen on Philly.com, we can report that yes, she is single.